Volkswagen AG has set up accounts on fast-growing Twitter Inc. alternative Mastodon amid questions over the future of the social network under Elon Musk.
Europe's biggest carmaker on Friday confirmed it created the handles @VWGroup and @Cariad_Tech on Mastodon for communications related to its group and software unit, respectively.
"Mastodon is an attractive platform that we would like to try out," the company said in a statement.
Volkswagen is among a number of major car brands that have paused advertising on Twitter following Musk's buyout of the platform. While the German manufacturer maintains several Twitter accounts, it has been distributing less content in recent days, and its premium brand Audi has halted posting altogether.
Mastodon, an open-source micro-blogging platform run by a German non-profit, has seen a surge in sign-ups since Musk took over Twitter. Uncertainty hangs over Twitter's ability to continue normal operations after the company dismissed its executive team and roughly half the workforce in Musk's first few days in charge.
Mastodon Can't Keep Up With The Influx Of Ex-Twitter User Signups
As scorned Twitter users abandon the platform en masse following Elon Musk's takeover, many are turning to the decentralized network, Mastodon, in hopes it's the next best thing. The nonprofit, open-source social platform founded by German developer Eugen Rochko has been around since 2016 and primarily caters to audiences looking for a more tailored experience around their interests. It's the bespoke answer to the profit-driven model that currently dominates the social media landscape.
In contrast to the deluge of often irrelevant information Twitter brings the average user, Mastodon is home to thousands of distinct servers, known as 'instances,' where users can congregate in more focused communities. There are Mastodon instances for art, memes, fandoms, social movements — the list goes on and on (upwards of 4,000 counts). That means users aren't bombarded with things they have no interest in, like sponsored influencer posts or updates from a certain billionaire CEO.
Amid the tumult of Elon Musk's first few weeks at Twitter, which has brought mass layoffs to the company, the introduction and immediate repeal of new features, and outrage around plans for a paid verification model, fed up users are heading elsewhere – many of them to Mastodon. So many, in fact, that servers are experiencing major feed delays and more signup requests than admins can feasibly address, and in some cases, crashing entirely. On Monday, Rochko shared that Mastodon had seen 489,003 new user signups and over 1,100 new servers created since October 27.
Is Mastodon The Next Twitter? Not Exactly
Over the last week and a half, the Mastodon founder said he's had to quadruple the server database's processing power, among other hardware upgrades, and change the server sign-up process. Just two days after Musk stepped into his new role at Twitter, Rochko posted, "The past few days have extracted a heavy toll from me." Similarly, server administrators told Wired their instances have been completely overwhelmed by the new users. Unable to keep up with the signup requests, Mike Stone, co-founder of the tech-focused server, Fosstodon, said admins eventually gave in and "just opened the floodgates." Fosstodon briefly went down at the beginning of the week. Other instances like mastodon.social had to temporarily close registrations, and users have griped elsewhere online about how long it's taking for them to receive verification emails, Wired notes.
For those expecting Mastodon to be a direct analogue of Twitter, though, it may be a rocky transition. Users must choose an instance to enroll in before they can start interacting in the wider Mastodon universe of microblogging (or "fediverse," as the decentralized social network is often described). These sometimes require approval and conditions prospective applicants must meet. Once in, users can then navigate other servers and start following other users, chatting, and "boosting" (reposting) or favoriting others' posts.
It's a smaller pool of voices relative to Twitter that requires more direct involvement to curate, which may be tough for people who spent years building up an audience. But proponents insist it's worth it for an ultimately more enjoyable, less toxic online experience than what Twitter can offer. The current moment is "a great opportunity for people to finally see that social media can be done differently, that it can be a protocol not under control of any single company," Rochko wrote about Mastodon's sudden popularity, and right now, that seems to be exactly what a lot of people fleeing Twitter are looking for.
This brings us to:
Which Is The Best Mastodon App For iOS?
Finding the best Mastodon app for iOS is tricky and time-consuming, but it's worth it. Apple's App Store has a growing list of third-party apps available, which makes venturing into the Mastodon realm easier than ever. While many are free, plenty of paid clients are worthwhile too.
Users looking to get away from Twitter have landed upon Mastodon. The platform is a free and open-source social networking site. It is unique because it has many servers, and its decentralized nature requires each server to cover its own upkeep cost. Users love it for its microblogging features, an eerie resemblance to Twitter. Because it is open-source, many developers have taken a shot at crafting their own Mastodon clients, equipped with tools and custom features packed into an app.
Luckily for iPhone users, plenty of third-party apps make their Mastodon experience delightful. Narrowing down which one to use is tricky, as they are all unique. Mastodon's native app is ranked #16 on the free social networking chart in the App Store and even is reviewed highly with a 4.5 rating. But judging by the reviews, it isn't very user-friendly for users who aren't used to Mastodon's servers, and the app needs some tender love and care. The high reviews were mainly about the presence of the platform rather than the app itself. Still, there are two Mastodon clients that users seem to agree with much better than the native app, Metatext and Toot!
Metatext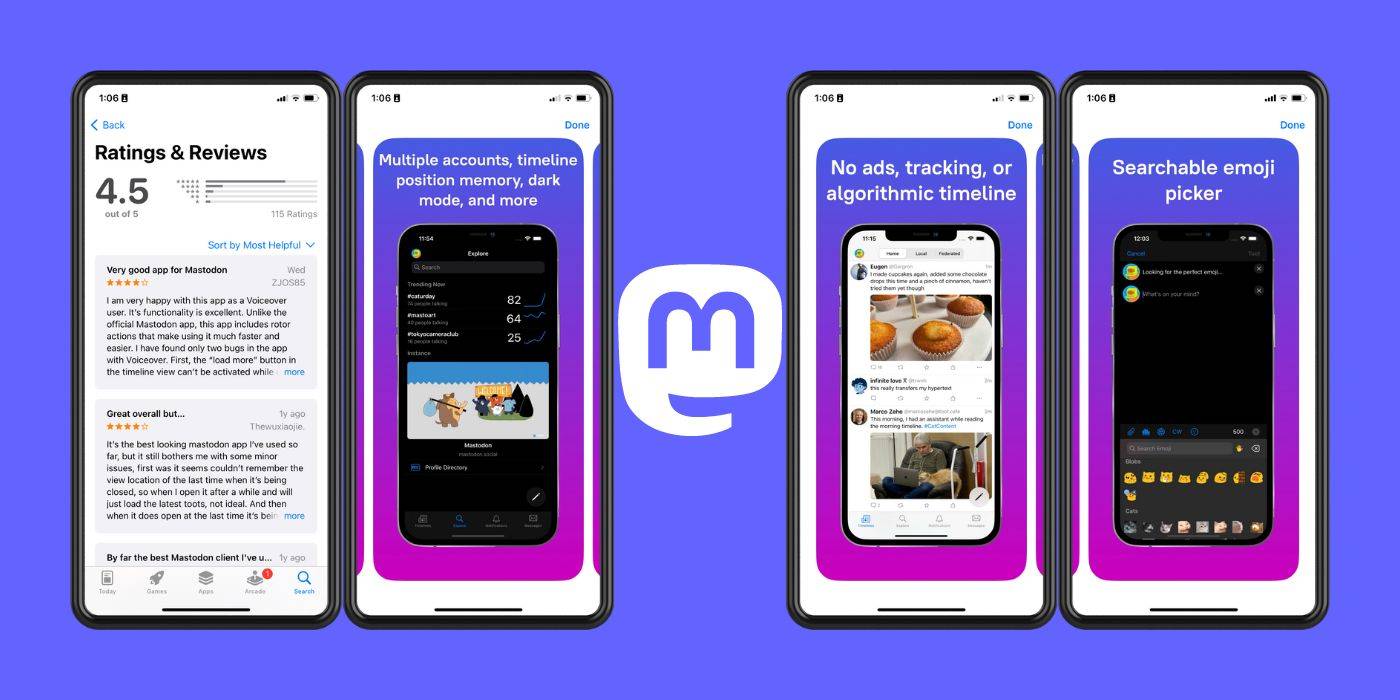 With a high 4.5 rating in the App Store, what users love the most about Metatext is its clean and intuitive interface. Metatext receives many comments about being fast and easy to use. Several users even call it the 'Best app for Mastodon.' That doesn't mean the app isn't missing a few features. There seem to be several people asking for dark mode, and users discovered a few bugs. The advertisement does display a dark mode ability, so perhaps it is buried within the settings. But Metatext's key feature is the ability to use multiple accounts simultaneously. The combined feed is handy since users have multiple accounts to access different servers. Another feature favorite is the app's complete absence of ads, tracking, or algorithms, so users can view their feed how they want to and not worry about privacy violations. As far as free apps go, Metatext is a great companion for Mastodon users.
Toot!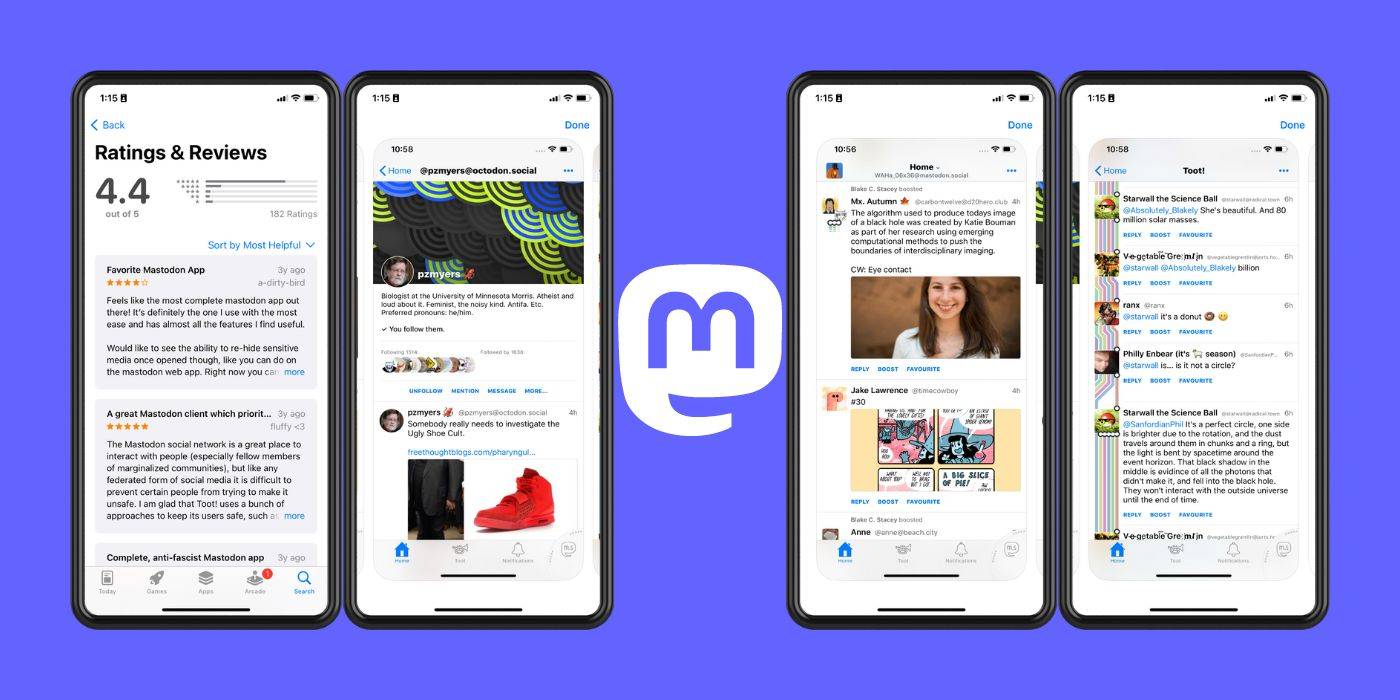 Free is great, but there is a reason Toot! holds the number one spot in the paid social networking of the App Store. While the app does cost users $3.99, it is the best app for new Mastodon users. Toot! 's 4.4 ratings are backed by users' appreciation of the design, animations, and UI touches. It is fast and powerful, allowing users to swap between accounts effortlessly. People don't like that it still has a few kinks regarding font size changes and, apparently, a bug regarding hashtags. Some users also complain about the app icons being customizable but at an additional cost. Even with these shortcomings, users rave about its ease of use, filters and feature tools.
As Mastodon grows, so will the number of third-party apps. While Metatext and Toot! are favored among users today, it wouldn't take much for another app to grab the spotlight. Mercury for Mastodon is new, but users are raving about its design and growing features, such as scheduling posts. iOS users should keep an eye on Apple's App Store for the latest Mastodon client apps. Before choosing an app, though, the first step is selecting a Mastodon server.