Imran Khan Assassination Attempt – Protesters have taken to the streets of Pakistan after a gunman opened fire on a convoy carrying the former prime minister Imran Khan, wounding him and killing a supporter as he led a march on Islamabad to demand snap elections.
A party aide said Khan, 70, had been wounded in his lower leg and was stable after an incident described by his supporters as an assassination attempt. "A man opened fire with an automatic weapon. Several people are wounded. Imran Khan is also injured," said Asad Umar shortly after the shooting.
The identity of the gunman, who was arrested at the scene, was not immediately known. Footage circulated online of a dishevelled man in apparent police custody with his hands tied behind his back claiming he intended to kill Khan. Video from the scene shows a gunman being taken down by another man as he tries to fire his gun, reportedly a 9mm automatic weapon, at Khan. In the panic the crowd start dispersing and some people chase and catch the attacker.
Protests erupted across Pakistan in the wake of the shooting, blocking main roads across the country and leading to massive traffic jams in many cities including the capital, Islamabad. Khan's aides said there would be further protests on Friday.
The attack happened in the Wazirabad district in the east of Punjab province, where the former international cricket star's party, Pakistan Tehreek-e-Insaf (PTI), is in power. The former prime minister was travelling in a large convoy of lorries and cars heading towards Islamabad as part of his campaign aimed at forcing the government to hold early elections that could see him return to office.
Faisal Javed, a senator from Khan's party who was injured in the incident, talked to local media with blood on his shirt. "One political worker has been killed and some political aides are injured including Imran Khan. He is out of danger and we pray for him," he said.
Zeeshan Bakhsh, a local reporter who was present, told the local media that in the beginning, no one knew what was happening and some thought it was fireworks. "After the first burst I saw someone lying on the ground … everything happened in 15 seconds," he said.
Punjab police confirmed that seven people had been injured and one person, identified as Muazzam Nawaz, had been killed.
Pakistan has a long history of political violence. The former prime minister Benazir Bhutto was assassinated in December 2007 in a gun and bomb attack after holding an election rally in the city of Rawalpindi, next to Islamabad.
Khan's first wife, Jemima Goldsmith, tweeted: "The news we dread … Thank God he's okay. And thank you from his sons to the heroic man in the crowd who tackled the gunman."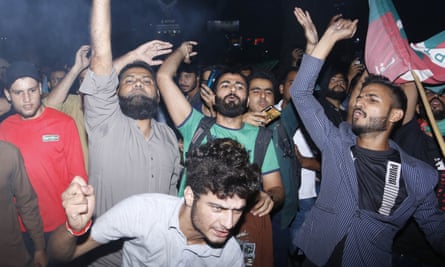 Dr Faisal Sultan, a senior PTI figure, said Khan had been treated in hospital and was out of danger. "Imran Khan has bullet fragments in his leg and one bone is slightly chipped," he said. "He is in surgical theatre at Shaukat Khanum hospital in Lahore. He is coherent and has been given pain medication during the emergency examination. Khan is out of danger and his heartbeat is fine and nerves are doing good."
The attack happened less than a week after Khan began his march from Lahore, the capital of Punjab province, along with thousands of supporters. Since his ousting in a no-confidence vote in parliament in April, Khan has alleged that he was the victim of a conspiracy engineered by his successor, Shehbaz Sharif, and the US – claims that the new premier and Washington have both denied.
Party officials on Thursday blamed Sharif for the shooting attack and said he should be removed from office. Sharif said in a statement: "I condemn the incident of firing on PTI chairman, Imran Khan, in the strongest words. I have directed the interior minister for an immediate report on the incident. I pray for the recovery and health of the PTI chairman and other injured people."
The information minister, Marriyum Aurangzeb, told a press conference the attack should not be politicised and demanded a thorough investigation.
A senior PTI leader, Ejaz Chaudhary, told local media he had received information from a source on Wednesday about an assassination attempt on Khan. He said the district police chiefs and other PTI leaders had been given this information and advised to take security precautions.
Khan's latest challenge to the government came after Pakistan's election commission disqualified him from holding public office for five years for allegedly selling state gifts unlawfully and concealing assets as premier. Khan has challenged the disqualification in a pending court case.
He claimed in May that his life was in danger and he had recorded a video in which he mentioned the names of all those who conspired against him.
Sharif's government has also said there will be no early vote and that the next elections will be held according to schedule, in 2023.
… we have a small favour to ask. Millions are turning to the Guardian for open, independent, quality news every day, and readers in 180 countries around the world now support us financially.
We believe everyone deserves access to information that's grounded in science and truth, and analysis rooted in authority and integrity. That's why we made a different choice: to keep our reporting open for all readers, regardless of where they live or what they can afford to pay. This means more people can be better informed, united, and inspired to take meaningful action.

In these perilous times, a truth-seeking global news organisation like the Guardian is essential. We have no shareholders or billionaire owner, meaning our journalism is free from commercial and political influence – this makes us different. When it's never been more important, our independence allows us to fearlessly investigate, challenge and expose those in power.
Was Pakistan's Imran Khan Shot Because He Was Too 'pro-Israel'?
Pakistan's former prime minister, Imran Khan, was targeted by an assassination bid at a political rally organized by Khan's party in Punjab's Wazirabad town last week.
The attack, which Khan claims was carried out by two separate shooters, killed one rally attendee, wounded two senior party leaders, and left the former premier with leg injuries. A suspected attacker, who has admitted to shooting at Khan, has been arrested by the Punjab police.
In separate confessional videos leaked on social media, the suspect underlines why he shot at Khan. "He was leading the people astray, and I couldn't stand it… While the azaan [Islamic call to prayer] was going on, they were creating noise [with music] on [DJ] decks. My conscience did not accept that," he says in the first video.
In another, he cites acceptance for Israel as the rationale for attacking Khan: "They [Khan's government] accepted Israel. Accepting Israel is not something a Muslim should do. Our prophet (peace be upon him) said only a kafir (infidel) can be friends with another kafir, and [any Muslim attempting the same] will also become kafir alongside them."
Khan, who has been at loggerheads with the army since his own government was ousted from power in April, has accused the top political elite and the military establishment of plotting his killing, specifically naming Prime Minister Shehbaz Sharif, Interior Minister Rana Sanaullah and senior intelligence officer Major General Faisal Naseer.
Pakistan's most popular leaders have a long history of being unexpectedly eliminated from running in elections. When they aren't being ousted by the military, via coups or political skullduggery, they have been killed – from the country's first prime minister, Liaquat Ali Khan (assassinated) to Zulfikar Ali Bhutto (executed) to Benazir Bhutto (assassinated). Even the deaths of Pakistan's founder Muhammad Ali Jinnah and his sister Fatima Jinnah remain shrouded in mystery. The attack on Khan comes at a time when his popular, albeit largely conspiratorial, narrative has seen unprecedented anti-army sentiment simmering in Pakistan.
The police have found the cellphone of Khan's self-confessed attacker stacked with sermons by Saad Rizvi and his late father Khadim Rizvi, the founder of the radical Islamist Tehrik-e-Labbaik Pakistan (TLP). The group, which has called for a nuclear bomb to be dropped on France over Charlie Hebdo's Muhammad caricatures and rallied for the mass murder of the Ahmadiyya Muslim minority in Pakistan, was actually created by the military establishment to continue its decades-old practice of using Islamist outfits to target and outflank popular political parties.
The TLP, whose chant 'labbaik ya rasool Allah' [O Allah's prophet, here I am at your call] is the latest to weaponize Pakistan's bloodthirsty Islamic blasphemy law, which facilitates vigilantes in their quest to perpetrate violence over any construed sacrilege against Islam.
Also weaponized in Pakistan, as Khan's attacker has reaffirmed, is the anti-Israel hyperbole which remains etched in the country's religious and political narratives. While anti-Israel conspiracy theories in the country are as old as the state itself, largely owing to the deep-rooted antisemitism among the populace, they have exploded in recent years as Pakistan inches closer to its inevitable formalization of ties with the Jewish state.
And while Saudi Arabia, hand in hand with Pakistan's military leadership, are the ones pushing Pakistan closer to formal diplomatic relations with Israel, much of the progress on that front happened on Imran Khan's watch – while he was in government.
In October 2018, two months into the Khan-led government taking over, the local media was brimming with claims that Israel's then-Prime Minister Benjamin Netanyahu had visited Pakistan. Next year, a meeting with George Soros over potential developmental reforms in Pakistan, rekindled the antisemitic conspiracy theories against Khan, rooted in his first marriage to Jemima Goldsmith.
Around this time, the erstwhile military touts in the media were already peddling a rationale for supporting recognition of Israel, as the prospect of official ties between the two countries moved in synchrony with the efforts towards the Abraham Accords in 2020.
By 2021, Khan's closest aides were issuing clarifications over their own reported visits to Israel, while Saudi Arabia was pushing for normalization of relations between Pakistan and Israel before making its own ties with the Jewish state official.
Imran Khan, who for three-and-a-half years was the civilian frontman of the military's moves, and whose fallout with the army today is largely due to his replacement by a new puppet regime, spent much of his tenure reiterating that any progress on Israel would only be possible over a 'just solution' for Palestinians, even as Khan conceded that he was under (Saudi) pressure to recognize the Jewish state. And following his ouster, Khan took little time to redirect accusations of appeasing Israel and the Jews, erstwhile aimed at him, towards the new Sharif regime.
Indeed, Khan has been an active peddler of much of what his attacker alleges motivated his attempted assassination, as well as the instrumentalization of violence itself for political gain. This ranges from undermining parliamentary supremacy, to justifying attacks on civilian leaders, to spreading Islamic blasphemy codes. As he fell out with the military, Khan quickly pieced together a desperate confection of conspiracy theories used to target him over the years as the "real" reason for his own exit.
When a Pakistani group visited Israel in May, Khan regurgitated the same antisemitic allegations that had been used against him, referencing the new government's movement towards recognizing the Jewish state.
Even so, Khan is hardly the first Pakistani leader to endorse venomous narratives for political gains. The Sharif and Bhutto families, who have long been the target of suppression by the military, have now replaced Khan in doing the military's bidding, including the same gaslighting about how they won't give in on the Israeli front.
Interior Minister Sanaullah, who insisted on Friday that religious extremism is to blame for the attack on the former premier, has helped forge the ties of his party, the Pakistan Muslim League-Nawaz, with anti-Shia radical Islamist groups in Punjab to help the Sharifs consolidate their power in the country's most populous province. And amid these political musical chairs, it is the military's jingles in the backdrop that remain the only constant.
Whether Khan's attacker is a lone wolf actually inspired by Islamist Judeophobic rhetoric, or a hitman parroting a bloodthirsty antisemitic, Islamist purist cover story, it is evident that these narratives give fodder to fundamentalist violence. These homicidal ideologies don't limit themselves to victimizing those that they claim to target, and have a knack of devouring even their staunchest proponents. This in turn sustains the volatility that allows totalitarian powers like Pakistan's military establishment to suppress democracy through absolutist rhetoric and its paramilitary executioners.
Today, the 'democratic supremacy' that Imran Khan still insists he is fighting for, and his opponents claim they have already achieved, is merely a contest to front this autocratic superstructure. No progress in Pakistan, parliamentary or otherwise, is possible without uprooting the Islamist peril that awaits anyone who aspires to disrupt the status quo.
And unfortunately, even Imran Khan, having been whiskers away from death, is unlikely to challenge the weaponization of conspiratorial Islamist hysteria of which he's both proponent and victim.
Khan Blames Government for Assassination Plot
Pakistan's former Prime Minister Imran Khan said Friday in his first public address after surviving an apparent assassination attempt that he was hit by four bullets in his right leg and sustained a fracture.
The 70-year-old populist leader spoke from a hospital in Lahore, the capital of Punjab province, where he had surgery and was recovering from his injuries.
Khan was leading a pro-election rally of his opposition Pakistan Tehreek-e-Insaf (PTI) party Thursday and waving to his supporters from atop a purpose-built truck when the shooting happened in Wazirabad, about 150 kilometers from the provincial capital. The attack killed a PTI supporter and injured 13 others, including a lawmaker.
While sitting in a wheelchair, Khan said in his hourlong televised address that two gunmen had tried to assassinate him.
"There was a burst from one side, and another coming from the front," he said, adding that he wouldn't have survived if the gunmen had "synchronized" their attack.
A man suspected of firing at the political rally was swiftly detained by police. In a leaked purported video confession, the detainee said he had acted alone and wanted to kill Khan for "misleading the public."
Khan accused Prime Minister Shehbaz Sharif along with the country's interior minister and a senior military officer of plotting the attack, but he did not produce any evidence. He went on to demand the Pakistani army chief take action against what he called "black sheep" within the military and its intelligence services.
The opposition leader called on his supporters to stage street protests against the three top officials until they resign, making way for an impartial probe into the attempt on his life.
"As long as these three men don't resign, you have to agitate and stand against injustice," he said.
Federal Information Minister Marryam Aurangzeb swiftly refuted the charges.
"How Imran Khan, who has a government in Punjab where this incident took place, can demand [the] resignation of these three persons prior to any investigation into the matter," Aurangzeb told a late-night news conference.
The PTI and an allied party govern the country's most populous province.
The military's media wing, the Inter Services Public Relations (ISPR), denounced Khan's allegations against the security services as baseless and irresponsible.
"No one will be allowed to defame the [military] institution or its soldiers with impunity," warned the ISPR.
The shooting angered Khan's supporters, who again took to the streets across Pakistan on Friday, blocking roads and clashing with police in some cities. Security forces fired tear gas shells to prevent a large group of protesters from entering Islamabad and subsequently detained several of them.
Khan vowed to resume his protest march to the Pakistani capital once he recovers so he can press ahead with his campaign for early elections.
"I will take to the streets again as soon as I get well and will give a call to march on Islamabad," he said.
The former prime minister was ousted from office in April through a parliamentary vote of no-confidence, allowing the then-opposition leader, Sharif, to replace him and form a new coalition government.
But Khan rejected his ouster as illegal, saying it was orchestrated by the United States in collusion with Sharif and Pakistan's powerful military. He has yet to substantiate his allegations with any evidence. Washington and Islamabad deny any role in his removal.
Khan has been able to mobilize tens of thousands of people at his anti-government rallies across Pakistan, where he has increasingly directed his criticism at the military for its alleged meddling in politics.
His growing popularity has enabled the PTI to sweep recent by-elections for the National Assembly, the lower house of parliament, and the Punjab legislature, allowing Khan to step up pressure on the Sharif government to call for "snap" general elections.