Fenway Park is one of the US' most historic ballparks, and it witnessed even more history on Tuesday as Aaron Judge hit his 56th and 57th homers of the 2022 season, guiding the New York Yankees to a 7-6 win against their bitter rivals, the Boston Red Sox.
With these latest two home runs, Judge edged closer to immortalizing his season in Yankees lore alongside Babe Ruth's 60 home runs in 1927 and Roger Maris' record 61 in 1961, which has also stood as the American League record for 61 years.
Judge's first homer of Tuesday night – a 383-foot drive through right-center field – tied the game at three in the third inning.
His next one was even bigger, as he blasted a high ball 389 feet through to deep left field and into the stands to tie the game at 4-4 in the sixth.
"You really just don't look at it. If you're checking the numbers, you're gonna get caught," Judge said afterwards, according to ESPN.
"I just keep trying to do what I can do, and the numbers will take care of themselves. If I have a good plan and have a good approach, do what I need to do in the box, all that other stuff will show up."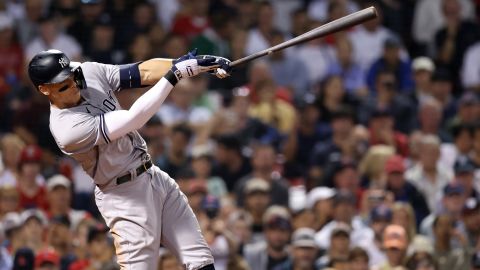 The Yankees have opened up a six-game lead in the AL East.Maddie Meyer/Getty Images
As well as Maris' American League record, Judge is now within sight of several other landmarks.
He is one homer short of tying the AL record for right-handed hitters, currently held by Hank Greenberg (1938) and Jimmie Foxx (1932); has now notched up 20 more home runs than the next highest total in the MLB this season – the first time such a gap has existed since the final day of the 1928 season; and achieved his 10th multi-homer game of the season on Tuesday, just one behind the major league record of 11.
"I'm out of adjectives. Just really impressive," Yankees manager Aaron Boone said, according to ESPN.
"To take one out the other way, and then get [Red Sox pitcher Garrett] Whitlock on a breaking ball, he's riding balls out so well… Just in such good hitting position and so strong and lays the bat in the zone to ride it out so long that he gets a good piece of it and puts it up in the light stand. Just amazing what he's doing."
If Judge is able to finish the season with 65 homers – which would require one every 2.5 games – it would be the fifth 65-plus home run season in MLB history.
The most ever in a single season was by Barry Bonds in 2001 when he finished with 73.
Aaron Judge Was Asked Whether He'd Sign With Red Sox
Aaron Judge is having a season for the ages. On Tuesday night, he continued his torrid Yankees campaign at Fenway Park against the rival Red Sox, blasting home runs 56 and 57 on the season in a 7–6 win.
The homers put him just four shy of Roger Maris for the franchise single-season record, and the mark that many consider the true milestone, given the steroid concerns that loom over Barry Bonds, Mark McGwire and Sammy Sosa—the only three players to hit more than Maris's 61 home runs in a season.
In most situations, Judge's season would make him a locked-in franchise cornerstone, a player with no questions about their future with baseball's most historic franchise. However, Judge will hit unrestricted free agency in the offseason after avoiding arbitration earlier this year with a one-year, $19 million deal.
A few months before he could conceivably walk away from New York after one of the greatest seasons in Yankees history, one reporter had to ask: would Judge ever play for the Red Sox?
"Ooh," Judge said, eliciting a laugh from the encircled reporters. "We'll talk about that at the end of the year."
The non-answer came after Judge remarked about how much he enjoyed playing in front of Red Sox fans in Boston.
"It's the best, they're some of the best in baseball. They're going to boo you, they're going to say some things, they're going to make you laugh," Judge said. "It's all part of it. A lot of great history here, and this is one of the best places to play, so it's always fun going out there and trying to put on a show for them."
Judge continues his pursuit of history at 7:10 p.m. ET Wednesday at Fenway Park.
35 FUN FACTS YOU SHOULD KNOW ABOUT AARON JUDGE
If you're a baseball fan, you've probably seen or heard of Aaron Judge. He's one of the most popular professional baseball players right now – and he's got the records to prove it. For more facts about this stellar athlete, keep reading below!
1. Yes, his last name really is Judge. His full name? Aaron James Judge.
2. He's 25 years old, his birthday is April 26, 1992.
3. He was born in Linden, California.
4. He's currently playing the right field for the New York Yankees. He made his debut in 2016.
5. At 6'7 and 282 pounds, he's physically one of the largest players in the major leagues.
6. He both bats and throws right handed.
7. He was actually adopted the day after his birth. He has an older brother, John, who was also adopted.
8. In high school, he also played football and basketball in addition to baseball.
9. While in school, he maintained a 3.2 GPA and was on the student council for 2 years. He also participated in tons of different community service opportunities.
10. He was actually recruited by a ton of colleges to play football, but he preferred baseball.
11. In college, he played baseball for the Fresno State Bulldogs.
12. His jersey number is 99.
13. He's a Christian and has spoken out about his faith on his social media account. He even has a Bible verse as his Twitter header! "For we walk by faith, not by sight" 2 Cor 5:7
14. He appeared on an episode of The Tonight Show with Jimmy Fallon where he posed as undercover to ask Yankees fans questions about himself. Check out the funny video below!
15. He had a contract with Under Armor from 2014-2018.
16. He currently has endorsements with Pepsi and Adidas.
17. He's appeared on the covers of the magazine Sports Illustrated and the videogame MLB The Show 18.
19. He's hit 33 home runs in Yankee Stadium, breaking the previous record held by famous baseball player Babe Ruth, in 1921.
20. He was selected as 2017's Rookie of the Year and placed 2nd in The Most Valuable Player (MVP).
21. He's super close with his family. He loves taking his mom to games or out on the town with him.
22. He has a "bubble gum ritual" where he chews two pieces of gum during the game. If he gets a hit, he keeps it; if he doesn't, he gets rid of it. Watch Aaron explain it below!
23. He's a fan of J.Cole's music. He attended an NYC show in November 2017.
24. He attended the 2015 wedding of one of his teammates, Rob Refsynder. Check out the fun black & white photo of him and his teammates!
25. He has an adorable dog. 
26. He likes spending time in or by the pool.
27. He's also interested in cars, golf and fishing.
28. He enjoys arcade games.
29. He apparently has his own set of bleacher seats! Fans can sit in "The Judge's Chambers" – a three row set of seats made to look like a faux courtroom. Fans are chosen at random and can wear wigs and judicial robes, as well as use foam gavels. How fun is that?
30. His mother, Patty works in the school system. Aaron dedicated his first Instagram to her when he went "back to school" for a visit.
31. His father Wayne and adopted brother John are also both teachers.
32. He always felt very close to his adoptive parents.
33. He credits his mom for most of his success, saying that she molded him into who he is today.
34. Despite being on a New York team, he was originally intimidated by the big city. He said it was "a bit too busy, too hectic." Good thing he adjusted!
35. He's seen the Rockettes at Radio City Music Hall.
Sources:
https://www.feelingthevibe.com/archives/35-fun-facts-you-should-know-about-aaron-judge/
https://apnews.com/article/mlb-sports-new-york-yankees-kansas-city-royals-18588285046032582bd30f958a645aa8
https://www.si.com/mlb/2022/09/14/aaron-judge-free-agency-contract-red-sox-home-runs-roger-maris-chase-yankees
https://edition.cnn.com/2022/09/14/sport/aaron-judge-57th-home-run-yankees-spt-intl/index.html
https://www.pinstripealley.com/2022/6/25/23182032/yankees-mlb-aaron-judge-arbitration-2022-contract-extension-free-agent-settlement-midpoint