On Monday, Zendaya won her second Emmy Award for best actress in a drama series for her portrayal as Rue in "Euphoria." Her win made history – she is the only Black woman to win two Emmys in this category.
Her character Rue Bennett is a teen who is recovering from drug addiction. In her acceptance speech, Zendaya, who is also an executive producer on the show, said she hopes it can help heal people.
"I want you to know that anyone who has loved a Rue, or feels like you are a Rue, I'm so grateful for your stories and I carry them with me and carry them with her. Thank you so much," she said.
The star first won the award in 2020 for the same role. That time, she also made history, becoming the youngest person to win the Emmy for best actress in a drama at 24 years old.
There are only two other Emmy winners who took home their awards at a younger age. Roxana Zal won a supporting actress Emmy in 1984 at the age of 14 for her role in "Something About Amelia." Kristy McNichol won an Emmy for supporting actress in 1977 at age 15 and again in 1979 at 17 for her role in "Family." 
However, because Zendaya's wins were in the lead actress category, she holds the record as the youngest to win two Emmys in this category.
Other actresses have won multiple Emmys in various categories. Maya Rudolph won two for guest actress on "Saturday Night Live" in 2020 and 2021 and two for her voice-over work in "Big Mouth," also in 2020 and 2021.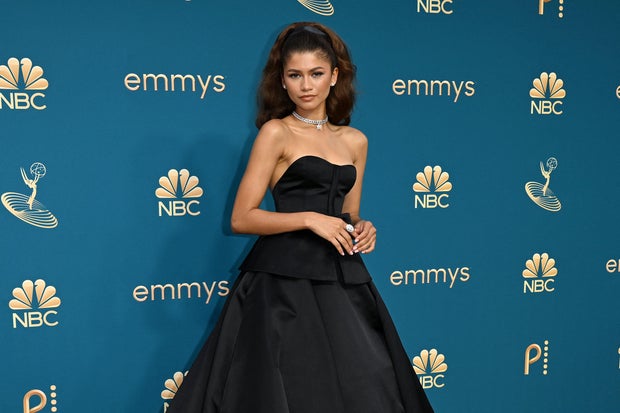 However, few others have won multiple Emmys for best actress in a drama series like Zendaya has. Notably, Edie Falco won three Emmys for best actress in a drama series for her portrayal of Carmela Soprano in "The Sopranos." She also won an Emmy in that category for "Nurse Jackie."
Another standout: Tyne Daly won four best actress awards at the Emmys – three of them consecutively – for her role in "Cagney & Lacey" in the 1980s.
And while several other women have won two in the category, Zendaya is the first Black woman to do so.
Other notable winners at this year's Emmy's include "Squid Game" actor Lee Jung-jae, who made history as the first Asian actor to take home the award for best actor in a drama. His co-star, Lee You-mi, won the Emmy for guest actress in a drama series, becoming the first Korean actress to win in that category. "Squid Games" Hwang Dong-hyuk won best directing for a drama series.
Quinta Brunson won best writing for the comedy series "Abbott Elementary." Brunson is the second Black woman to win in this category, after Lena Waithe won in 2017 for "Master of None."
Her co-star, Sheryl Lee Ralph, became only the second black woman to win the award for outstanding supporting actress in a comedy series. Jackée Harry was the first, winning for "227" in 1987. 
Barack Obama won an Emmy for his narration of the documentary "Our Great National Parks."
Chadwick Boseman posthumously won an Emmy for his voice acting in "What If…?" a Marvel animated series in which he plays Black Panther, the titular character he brought to life in the Marvel movie.
Why Tom Holland didn't join Zendaya at Emmys 2022
While Zendaya was making history at the 2022 Emmys, one familiar face was noticeably absent: her boyfriend, Tom Holland.
The "Euphoria" star flew solo at Monday's awards show in Los Angeles while wearing a strapless black Valentino gown as her "Spider-Man" co-star remained in New York City.
Holland is in the midst of filming his forthcoming Apple TV+ show, "The Crowded Room," and was spotted on set earlier in the day.
Zendaya has also been busy filming "Dune: Part Two" abroad in Budapest, Dubai, Jordan and Italy, though she was able to quickly jet across the Atlantic to attend TV's biggest night, where she took home the award for Outstanding Lead Actress in a Drama Series.
The "Shake It Up" alum is the first black woman to win in the category twice and the youngest two-time Emmy winner in history thanks to her role as teen drug addict Rue Bennett.
"My greatest wish for 'Euphoria' was that it could help heal people, and I just want to say thank you to everyone who has shared their story with me," she said in her acceptance speech Monday.
"Anyone who has loved a Rue or feels like they are Rue, I want you to know that I'm so grateful for your stories and I carry them with me and I carry them with her."
After the show, Zendaya told E! News that she "texted [her] boyfriend" immediately after her big win.
The notoriously private actress, 26, previously revealed that she found the public's fascination with her relationship with Holland, also 26, "quite strange and weird and confusing and invasive."
"The equal sentiment [we both share] is just that when you really love and care about somebody, some moments or things, you wish were your own," she told GQ in November 2021.
"I think loving someone is a sacred thing and a special thing and something that you want to deal with and go through and experience and enjoy amongst the two people that love each other."
In the same profile, Holland discussed the paparazzi photos of the couple kissing in a car in July 2021 that confirmed their romance after years of rumors.
"One of the downsides of our fame is that privacy isn't really in our control anymore, and a moment that you think is between two people that love each other very much is now a moment that is shared with the entire world," he said.
"I've always been really adamant to keep my private life private, because I share so much of my life with the world anyway. We sort of felt robbed of our privacy."
Facts You Probably Didn't Know About Zendaya's Boyfriend, Tom Holland
From her role in Spider-Man: No Way Home, to her Emmy-winning turn in Euphoria, we've grown to love Zendaya over the years. And of course, how could we forget her incredible style? But when it comes to relationships, she's been pretty private in the past…that is, until she started dating her Spider-Man co-star, Tom Holland.
While Holland is an A-list star in his own right, with leading roles in blockbusters like Uncharted and the Avengers movies, how did these two meet and how long have they been together? Here's everything you need to know about Zendaya's current beau.
1. Who Is Tom Holland?
Karwai Tang/Getty Images
In case you haven't heard his name, Tom Holland is currently one of the biggest actors in Hollywood. Born in London, England, Holland showed an interest in the performing arts from a young age. He started taking dance lessons when he was a kid and he even attended the BRIT School for Performing Arts and Technology.
His first major role was in a 2008 theatre production of Billy Elliot the Musical, where he played Elliot's best friend, Michael Caffrey. Later, he was promoted to the lead role.
2. What Has Tom Holland Starred In?
Ernesto Ruscio/Getty Images
While Billy Elliot was Holland's first major part, his breakthrough film role was that of Lucas Bennett in 2012's The Impossible alongside Naomi Watts and Ewan McGregor. A year before that, he also provided voice work for the British English dub of the Studio Ghibli film Arrietty.
In the past few years, Holland starred in Spider-Man: Homecoming, Spider-Man: Far From Home and Spider-Man: No Way Home, which made him a globally-recognized name. Around the same time, he was also cast in Avengers: Infinity War, Avengers: Endgame and Uncharted.
3. How Did Zendaya and Tom Holland Meet?
Cindy Ord/Getty Images
Like many Hollywood love stories, Zendaya and Tom Holland met while on set. They first connected during filming of Spider-Man: Homecoming in 2016, and rumors of their relationship circulated due to the fact that they were paired as romantic interests in the film.
However, there wasn't confirmation of the couple's relationship until July 2021, when they were captured kissing in photos from Page Six. Then, Holland posted a picture on September 1 in honor of Zendaya's birthday, where he said, "My MJ, have the happiest of birthdays. Gimme a call when your up xxx."
 4. What Is Tom Holland's Dating History?
Holland keeps his personal life fairly private, but he was rumored to have been dating a few different people before being linked to Zendaya.
According to Life & Style magazine, Holland is believed to have been with a childhood sweetheart named Elle Lotherington, another childhood friend named Olivia Bolton and English actress Nadia Parkes.
5. How Old Is Tom Holland?
As of the publication of this article, Tom Holland is 26 years old. He was born on June 1, 1996. He is only three months older than Zendaya, who also just turned 26. She was born on September 1, 1996.
6. What Is Tom Holland's Height?
Emma McIntyre/Getty Images
According to Cosmopolitan, Tom Holland is about 5'8″, while Zendaya is about 5'10".
Although Zendaya is taller than Holland, the couple have expressed that they don't care about their height difference. During a chat at the Sirius XM Town Hall, Holland said that he thought it was "a stupid assumption" to believe their heights would have an effect on their relationship. Meanwhile, Zendaya challenged gendered stereotypes by saying, "This is normal too. My mom is taller than my dad. My mom's taller than everyone."
7. Does Tom Holland Have Social Media?
Yes, Holland does have social media, and he has often been very active on his Instagram account, @tomholland2013.
However, recently the star has been taking a break from the platform, which he discussed in the caption of his most recent post (shared above), where he wrote, "Hello and goodbye… I have been taking a break from social media for my mental health, but felt compelled to come on here to talk about @stem4org . Stem4 is one of the many charities @thebrotherstrust is extremely proud to support – and I'd like to take a moment to shine a light on their fantastic work."
Sources:
https://www.cbsnews.com/news/zendaya-makes-history-emmys-best-actress-euphoria-rue-drama-series/
https://www.yahoo.com/lifestyle/5-facts-probably-didn-t-000000770.html
https://www.news18.com/news/movies/zendaya-turns-26-top-movies-of-the-hollywood-star-5865565.html
https://www.vanityfair.com/hollywood/2022/07/emmy-nominations-2022-zendaya-reacts-four-nominations-euphoria
https://edition.cnn.com/2022/09/13/entertainment/zendaya-emmys-history-euphoria/index.html
https://pagesix.com/2022/09/13/why-tom-holland-didnt-join-zendaya-at-emmys-2022/