He was blamed for turning a black woman's winning Emmys speech into "The White-Man Show." Late-night host Jimmy Kimmel is being accused of "white privilege" after overshadowing "Abbott Elementary" star-creator Quinta Brunson's 2022 Emmys speech with a decidedly obnoxious sketch. Footage of the stunt is going viral as awards-show fans rip the funnyman for allegedly ruining her big moment.
For the uninitiated, the inflammatory interlude occurred after presenter Will Arnett dragged the 54-year-old "Jimmy Kimmel Live!" host by his feet onto the stage as part of a skit before announcing the winner for Best Writing in a Comedy Series at the 73rd Primetime Emmy Awards in Los Angeles.
"Jimmy couldn't be here tonight," Arnett, 52, joked while addressing his "passed out" co-host lying on the floor. He added that "Jimmy had gotten into the skinny margaritas" after losing the Emmy for his late-night series for the "13th time in a row."
The sketch garnered audible guffaws — and groans — from the crowd. However, things took a turn after Arnett announced that Brunson had won the Emmy for her ABC series "Abbot Elementary," whereupon Kimmel shockingly remained on his back in front of the microphone for the duration of her speech. At one point, Brunson even tried to rouse him by saying, "Jimmy, wake up, I won," but the former "Man Show" host stayed put.
Twitter wasn't about to take the TV host's antics lying down.
"So Jimmy Kimmel is really gonna upstage her speech by laying on the floor in front of her?" fumed one incensed viewer. "Like what the f – – k."
Another chastised, "Jimmy Kimmel should have left the stage during Quinta's speech. Highly disrespectful."
Many accused the host of epitomizing "white male privilege" with one critic writing, "If #QuintaBrunson stepping over #JimmyKimmel who literally laid in her spotlight on the day she won an Emmy isn't a metaphor for what it means to be a WOC in a white mans world I don't know what is."
One angry Twitter post seconded their sentiment, writing: "Jimmy Kimmel owes Quinta an apology but the messed up part is every image of her accepting her award has his ass in it. White men really are insufferable."
"CAN SOMEONE TELL THE HUMAN PERSONIFICATION OF WHITE MALE PRIVILEGE THAT IS @jimmykimmel THAT HE IS NOT ENTITLED TO TAKE UP ALL THE SPACE—ESPECIALLY WHEN THAT SPACE BELONGS TO @quintabrunson WHO HAD TO LITERALLY NAVIGATE AROUND HIM TO ACCEPT HER HISTORIC #EMMY," exclaimed another enraged commenter.
"Me watching black twitter give Jimmy Kimmel the dragging he deserves. I love it," said one schadenfreude-filled viewer of the host's supposed online comeuppance.
Despite Twitter's discontentment with the skit, Brunson said backstage that she didn't mind Kimmel's antics.
"I know Jimmy Kimmel. The bit didn't bother me," said the writer-actress, who is slated to appear on Kimmel's late-night show Wednesday. "Honestly, Jimmy gave me my first big late-night spot. He was one of the first people to see 'Abbott Elementary.' He was the first person to message me on Instagram."
She added, "He was so excited it was going to be on ABC. I was happy it was Jimmy. He's one of the comedy godfathers."
Although Brunson cheekily joked that maybe she'd "punch him" during her guest appearance as revenge for his antics.
10 Things You Didn't Know about Quinta Brunson
10 Things You Didn't Know about Quinta Brunson
1 Year Ago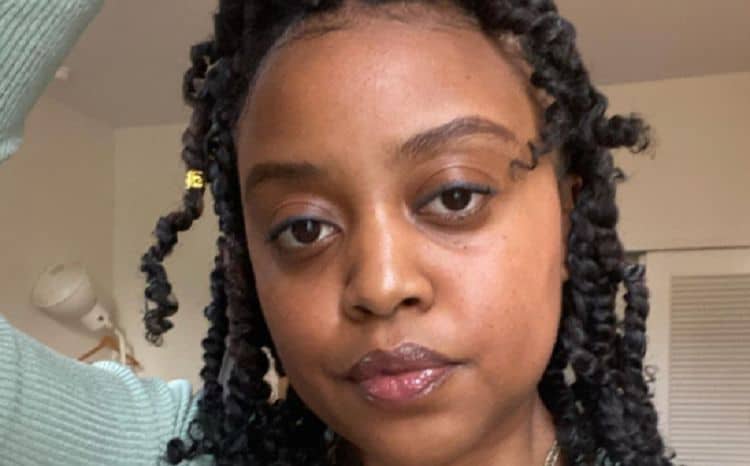 Like most millennials, Quinta Brunson has been using the internet for most of her life. Even though she's always felt at home with the technology, she could've never imagined that it would eventually make her famous — and presumably, rich. Quinta initially gained popularity for her quick video "He Got Money" which went viral in 2014. After that, things quickly took off for Quinta and she established herself as one of the funniest social media comedians. Soon, however, her reach surpassed social media and she started to get TV opportunities as well. If you haven't seen any of Quinta's work, you might want to do yourself a favor and check it out. Keep reading to learn 10 things you didn't know about Quinta Brunson.
1. She's A Philadelphia Native
The city of Philadelphia has a long history of producing incredibly talented people, and Quinta Brunson is another name we can add to the list. She was born and raised in the city which is where she got her start. Eventually, however, she relocated to Los Angeles.
2. She's Working On A New Show
There are lots of funny people on the internet, but Quinta's creativity is one thing about her that has always made her stand above the rest. Now she's about to share even more of her skills through a new TV show called Harrity Elementary which is set to premiere on ABC. According to Variety, the series "is a workplace comedy about a group of teachers brought together in one of the worst public schools in the country, simply because they love teaching. "
3. She's A Voice Actress
Most people are familiar with Quinta for the work she's done in front of the camera, but live-action work hasn't been her only contribution to entertainment. She has also had a few acting roles throughout the years. Most notably, she voiced Alex in Magical Girl Friendship Squad. She was also in two episodes of Big Mouth.
4. She Studied At Temple
Quinta briefly attended Temple University in Philadelphia although it's unclear what she majored in. While in college, she also took some time to study improv at Second City in Chicago. She ultimately decided to leave school early so that she could pursue a career in comedy. Dropping out of school can be a very risky choice, but it proved to be the right one for Quinta.
5. She Likes Superhero Movies
Since Quinta's work is focused on making people laugh, most people would probably assume that comedy is her favorite thing to watch. That isn't entirely true, however. Quinta enjoys superhero movies, but unfortunately she didn't share which superhero is her favorite.
6. She's Releasing A Book
Throughout her career, Quinta has proven that she isn't afraid to step out of her comfort zone and try new things. One of those 'new things' we can expect to see from her in the near future is a book called She Memes Well: Essays. While many of the essays will be comedic, she will also focus on some more serious topics.
7. She Loves Hanging Out Near The Water
Growing up in Philadelphia means that Quinta had to deal with cool weather for much of the year. Now that she lives in L.A., she's taking advantage of the beautiful year-round weather that southern California has to offer. Quinta loves hanging out at the beach and you can usually catch her soaking up the sun on a beautiful day.
8. She Used To Work At American Eagle
Like almost every other person in the entertainment industry, Quinta has had to work a few less than glamourous jobs. While talking to The AV Club, Quinta shared that her least favorite job was working at American Eagle where she spent most of her time folding jeans. Although she liked the people she worked with, she wasn't really a fan of the tasks.
9. There's A Chance She Could Be Back On A Black Lady Sketch Show In Another Season
If you're a fan of A Black Lady Sketch Show, you've probably noticed that Quinta didn't return for the second season. While there's no official word on why she didn't return, it's likely due to scheduling issues. Her fans will be happy to know that there is a possibility that she may return for the following season.
10. She Has A YouTube Channel
Instagram is the platform where Quinta built most of her following, but for a while, she was posting content on YouTube as well. Her YouTube channel has more than 84,000 subscribers and her videos have gotten more than 5.5 million views. Sadly, she hasn't posted any videos since 2017.
Sources:
https://nypost.com/2022/09/13/jimmy-kimmel-accused-of-white-privilege-after-emmys-stunt/
https://www.today.com/popculture/awards/jimmy-kimmel-quinta-brunson-emmys-backlash-rcna47483
https://www.tmz.com/2022/09/13/jimmy-kimmel-quinta-brunson-emmys-skit-online-backlash/
https://tvovermind.com/quinta-brunson/
https://www.vulture.com/2022/09/quinta-brunson-jimmy-kimmel-laying-emmys-2022.html