Proclamation events to the new King are taking place across the South East. Charles III was formally proclaimed king at a historic ceremony at St James's Palace on Saturday morning.
Flags which were lowered in mourning for the late Queen are flying at full-mast after the Accession Council, which was televised for the first time.
A wave of further proclamations will take place across the UK, after which flags will return to half-mast.
Here are the proclamation events across the South East on Sunday:
Kent
Jubilee Square in Maidstone was the location for the first reading of the proclamation in Kent, followed by the following locations.
Rochester: Castle Gardens, Castle Hill at 15:15 BST
Tunbridge Wells: War Memorial at 15:00
Folkestone: Civic Centre, Castle Hill Avenue at 15:00
Tonbridge: Tonbridge Castle at 15:00
Ashford: Civic Centre at 15:00
Canterbury: Buttermarket, outside Christchurch Gate at Canterbury Cathedral at 15:00
Dartford: Dartford Library, Market Street at 15:00
Dover: District Council offices in Whitfield at 15:00 (by invitation only. To be broadcast on council's website)
Gravesend: Civic Centre, Community Square at 15:00
Sevenoaks: Council offices at 15:00.
Margate: Hawley Square at 15:00
Sussex
The proclamation was read outside in Lewes at 13:00.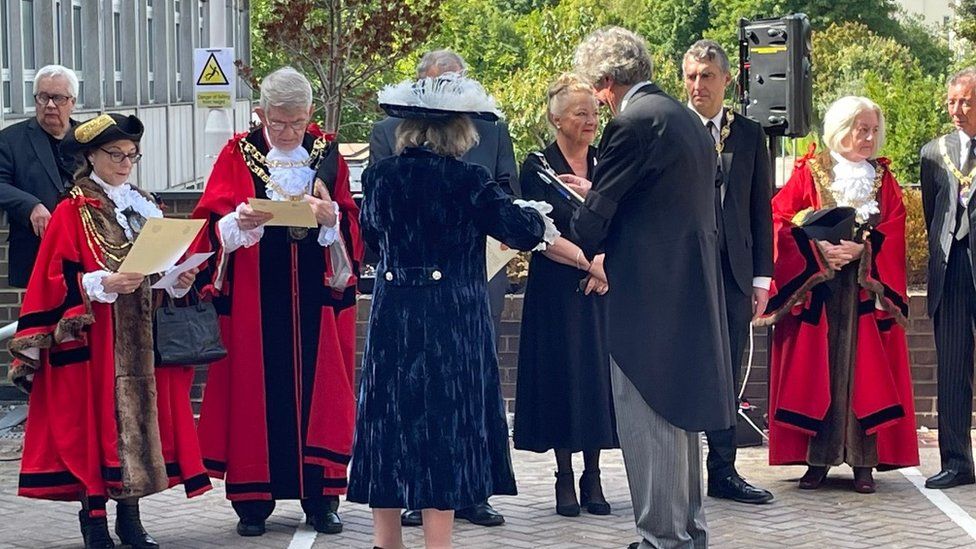 A sombre crowd of about 100 gathered outside County Hall to hear the Proclamation read by The High Sheriff of East Sussex, Jane King.
Local mayors in ceremonial dress, MPs and representatives from Sussex Police, East Sussex Fire and Sussex and local councils watched on. There were cheers for the new King and a rendition of God Save The King.
Further readings will take place across East and West Sussex through the afternoon.
Eastbourne: The steps of Eastbourne Town Hall at 16:00
Uckfield: By the flagpole outside the Civic Centre at 17:30
Crawley: Outside the Town Hall at 14:00
Haywards Heath: Mid Sussex Council offices in Oaklands Road at 14:00
Chichester: County Hall at 13:00
Hailsham: War Memorial on the High Street at 16:00
Bexhill: Bexhill Town Hall at 14:30
Hastings: Queen's Square at 15:00
Horsham: The Carfax at 15:00
Worthing: Town Hall at 14:30
Shoreham: Shoreham Centre at 15:30
Brighton: North balcony of the Royal Pavillion at 15:00
Surrey
The proclamation was first read in Surrey outside Guildford Cathedral at 13:00 BST, to be followed by several other locations.
Esher: Elmbridge Borough Council offices at 15:30
Epsom: Epsom & Ewell Borough Council offices at 15:30
Goldalming: Waverley Council chambers at 15:30
Staines-upon-Thames: Spelthorne Council offices, Knowle Green at 15:30
Camberley: The lawn outside Surrey Heath House at 16:30
Woking: Jubilee Square at 15:30
'Future history': how Charles III first trod the boards of London stage
Stage and film dramas have fictionalised the lives of Queen Elizabeth II and Diana, Princess of Wales, but rarely has Prince Charles been placed centre stage. The few writers who have imagined him as a future king have tended to portray him as an enlightened hero, a monarch who might stand up to a malign political regime in Westminster.
Eight years ago, the playwright Mike Bartlett, perhaps best known for creating the popular television series Doctor Foster, surprised London theatre audiences with King Charles III.
Written in blank verse, like a modern-day Shakespearean history play, the acclaimed drama told of the accession to the throne of the Queen's eldest son. This weekend, Bartlett has watched scenes he had dared to envisage for the stage now playing out in real life.
"Sitting at my desk on Friday, I could hear the bells ring out, as they do in my play," he said. "These first days of hearing the words of King Charles III spoken on television have been strange, along with growing talk of the funeral."
Writers, Bartlett suspects, have generally not been drawn to describe such an alien world, despite the fact that even when he wrote his own play it was clear that the Queen would die fairly soon and that her son would accede.
In Bartlett's work, which was premiered in 2014 at the Almeida theatre in Islington, north London, with the late Tim Pigott-Smith in the title role, the new king takes issue with proposed government legislation to limit press freedom. He withstands pressure from parliament and ultimately, from within the royal family. A piece of what Bartlett calls "future history", it also contains some uncanny predictions.
"Some of the specifics I got wrong," said Bartlett. "Prince Harry did not go on to marry a republican Londoner, as in my play, but many of the attitudes and basic psychology were there."
An evocation of national mourning after the Queen's funeral opens his drama. "It was one of the things the director, Rupert Goold, was so good at. He made sure we touched on the strong feelings of the country, although I was wondering why we needed all that when my play is about the decisions the King takes later."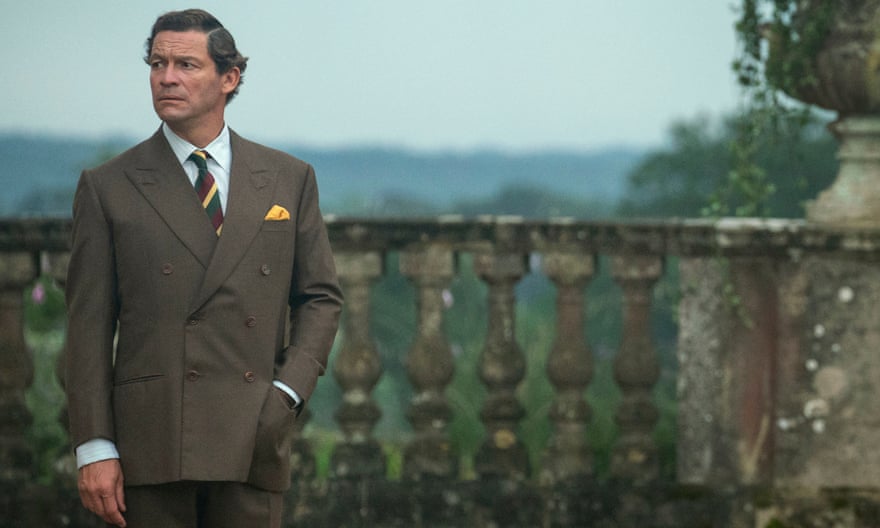 But Bartlett was not the first to dream up a new king who would go against the legislature to protect his people. In 1993, a television drama adapted by Andrew Davies from Michael Dobbs's sequel to the original House of Cards was screened. To Play the King saw Michael Kitchen cast as a future monarch locked in a power struggle with a machiavellian Conservative prime minister, Francis Urquhart.
Projecting this role of public champion on to King Charles is not difficult, thinks Bartlett. He said: "The question is already there; how does a man who is so committed to certain causes now put all that down? In the case of the Queen, no one really knew what she thought. But because of the life the Prince of Wales led, we know his views."
The mystique of the monarchy is significant: "The King, after all, was supposed to be appointed by God and even to be rather godlike himself. But we are seeing the last vestiges of all that, since we now all know more than we want to know, in some ways, about their personal lives."
Bartlett suspects this is why he set his play in a time to come: "The future is still a mystery. Especially now, as Charles has become king at a time of such national unease, when we are questioning our identity."
More often, depictions of the former Prince of Wales have presented him as part of an evolving family saga. In Steven Knight's screenplay for the intense film Spencer, starring Kristen Stewart as Diana, the actor Jack Farthing appears as her unsupportive husband. Josh O'Connor also took on the role of the uncomfortable young prince in The Crown, Peter Morgan's Netflix series. He is to be followed by Dominic West, who will play opposite Imelda Staunton as the Queen in the fifth season of the hit show, which is due to be broadcast in November.
Morgan first handed the part of the future king to Alex Jennings, who played him in The Queen, the film he wrote for director Stephen Frears. With Helen Mirren in the role of the monarch, it arguably started the bold trend for representing the contemporary royal family on screen.
West initially found it "disconcerting" to get the part of Charles in The Crown: "I kept telling the producers that they had cast the wrong person. But they explained that this was not a show of imitations. That was difficult though, as this is a real person who is hugely famous and recognisable."
The issue of impersonation, or even the kind of satirical caricature seen in Harry Enfield's portrayal of Charles in the television sitcom The Windsors, has to be dealt with by anyone who tackles the part.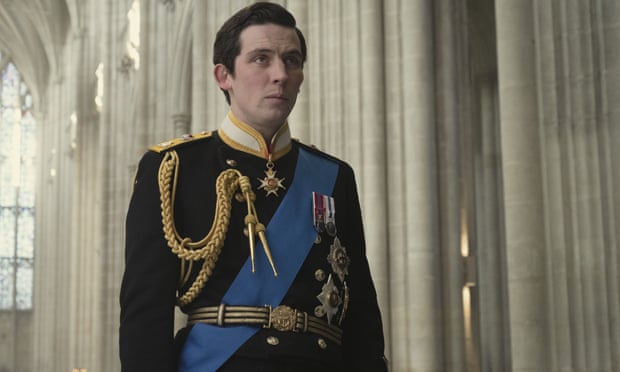 "Tim Pigott-Smith did not do an impression in my play, and there was no mockery in it," said Bartlett. "He didn't feel he had to be faithful to the real man in that way because the focus is the constitutional role rather than his private life.
"The verse couplets helped with that. And there is a speech where he talks about his Spitting Image puppet. That was so we could dispense with the idea of caricature and leave space for the actor."
The playwright received no royal feedback at the time of the first production of King Charles III, although there was a suggestion that Clarence House had taken note when word came through that Pigott-Smith should not be wearing a wedding ring, since the real prince did not.
"It might be worth watching the filmed version on BBC iPlayer now, as I doubt it will be performed again for quite a while," Bartlett suggested.
… we have a small favour to ask. Millions are turning to the Guardian for open, independent, quality news every day, and readers in 180 countries around the world now support us financially.
We believe everyone deserves access to information that's grounded in science and truth, and analysis rooted in authority and integrity. That's why we made a different choice: to keep our reporting open for all readers, regardless of where they live or what they can afford to pay. This means more people can be better informed, united, and inspired to take meaningful action.
In these perilous times, a truth-seeking global news organisation like the Guardian is essential. We have no shareholders or billionaire owner, meaning our journalism is free from commercial and political influence – this makes us different. When it's never been more important, our independence allows us to fearlessly investigate, challenge and expose those in power.
10 Surprising Facts About King Charles III
King Charles III was famously the longest-serving heir apparent in British history. He was just 3 years old when his grandfather, King George VI, died and his mother, Queen Elizabeth II, ascended the throne for her historic 70-year reign as the longest-serving monarch in British history.
But for all the very public events of the king's life that have played out on the world's stage (his marriage to and divorce from Princess Diana; his decades-long relationship with Camilla, the Queen Consort; his oft-strained relationship with his father), Charles spent years working behind the scenes to promote charities and fulfill his duties as a leading member of the royal family. And he even found time to do some landscape painting. Here are nine things you might not know about Charles, who became king after his mother's death on September 8, 2022.
1. King Charles III was the first royal baby born at Buckingham Palace in the 20th century.
Princess Elizabeth was 22 when she gave birth to Charles Philip Arthur George on November 14, 1948 (just six days before his parents' first wedding anniversary). Newspapers reported he was "a lovely boy, a really splendid baby," but Matthew Halton of CBC Radio reminded listeners that the newborn wouldn't be king any time soon. "If his grandfather, the king, and his mother, the princess, both live the full span of life," Halton reported, "he may well be 50 or 60 years old before he ascends the throne."
Halton was off by over a decade: Queen Elizabeth II died when Charles was 73.
2. King Charles III was just 9 years old when he was officially given the title of Prince of Wales.
Though he was already the longest-serving Prince of Wales, he could have held the title for a few extra years if he'd been appointed earlier. The title "Prince of Wales" is only given to a male heir apparent, but it is not an automatic appointment. Charles went from third to second in line to the throne when his grandfather died in 1952, but it wasn't until 1958, when he was 9 years old, that he was granted the title Prince of Wales and its conjoining title, Earl of Chester.
3. People weren't sure if King Charles III would keep his name.
Many monarchs choose a regnal name (as popes do) that is different than their birth name, such as Charles's grandfather George VI, who had been christened Albert Frederick Arthur George and went by Bertie for most of his life. And though the king has been the most famous Charles in the UK for seven decades, the previous two King Charleses did not go down well in British history. Charles I was executed for treason and the monarchy was briefly abolished because of his actions; his son, Charles II, spent time in exile until the monarchy was restored 11 years later. He was generally beloved, but was known as a philanderer who acknowledged at least a dozen illegitimate children. And to some, Charles Stuart—best known as Bonnie Prince Charlie and for the Jacobite rebellion in Scotland that attempted to put him on the throne—was called Charles III.
However, according to the BBC, Charles chose to keep his name; it was one of the earliest decisions he made after becoming king.
4. King Charles III can play the cello.
Charles learned piano, trumpet, and cello as a child, and though he described himself as "hopeless," he stuck with the cello and played in the Trinity College Orchestra while in undergrad.
5. King Charles III's Secret Service nickname is "Unicorn."
Certain visiting dignitaries to the U.S. are given code names of their own, and Charles was given Unicorn. The fanciful name is oddly fitting—the unicorn is the national animal of Scotland and has been part of its coat-of-arms for some 600 years. But the first recorded example of a Scottish monarch using a unicorn as a symbol of strength was from the late 1300s, when either Robert II or III used unicorns as part of the arms and gateway of Rothesay Castle on the Isle of Bute, Scotland. Among King Charles III's earliest titles, which he received at age 5, is Duke of Rothesay.
6. Richard Nixon tried to set King Charles III up with his daughter Tricia.
In 1971, President Nixon's eldest daughter, Tricia, had the first outdoor White House wedding in the Rose Garden. But the summer before, her father was trying to play matchmaker with the future king of England. Charles and his sister, Princess Anne, were 21 and 19 at the time when they took an unofficial trip to Washington, D.C. They were feted as royal dignitaries, taken to various museums and D.C.-area sites, and given rooms in the White House (Charles slept in the Lincoln Bedroom). And, according to Sally Bedell Smith's 2017 biography Prince Charles: The Passions and Paradoxes of an Improbable Life, "The president arranged to have Tricia seated next to Charles at every occasion, which annoyed him."
Even though he didn't hit it off with the first daughter (Bedell Smith says "he would describe her, ungenerously, as 'artificial and plastic'"), Charles was still amused by the president's endeavors. "Many years later on a visit to Washington with Camilla, he was still laughing about Nixon's attempt at matchmaking."
7. King Charles III first met Lady Diana Spencer when he was dating her older sister.
Charles had a playboy reputation in his twenties, and any girl with a family pedigree was considered a potential princess, and therefore media fodder. In June 1977, he met Lady Sarah Spencer at a party at Windsor Castle, and the two invited each other to polo and shooting events. That November, Charles went to the Spencer estate Althorp, where he met Sarah's younger sister. Diana was 16.
According to Bedell Smith in her 1999 biography Diana in Search of Herself: Portrait of a Troubled Princess, after going on a Swiss ski vacation with Charles in February 1978, Sarah told a tabloid that she was not falling for the then-prince, saying "There's no question of me being the future queen of England. I don't think he's met her yet."
8. King Charles III has a frog named after him.
In 2012, a newly discovered (and endangered) species of Ecuadorian tree frog was announced as the Hyloscirtus princecharlesi, or the Prince Charles stream treefrog, in the journal Zootaxa. It was named after him to recognize his rainforest conservation work—he has long been outspoken about the dangers of climate change, and he set up the Prince's Rainforest Project in 2007 as a charity and awareness campaign.
9. King Charles III wrote a children's book.

In 1980, King Charles III wrote a children's book called The Old Man of Lochnagar, based on stories he would tell his younger brothers, Princes Andrew and Edward. It centers around an old man who went to the caves near Balmoral looking for a quiet place to take a hot bath. The book was later turned into an animated short film, narrated by the king.
10. King Charles III won't be coronated right away.
Charles became king as soon as his mother died. But though Charles's coronation, known as "Operation Golden Orb," was planned before Elizabeth's demise, it won't happen immediately. The UK will first enter a period of mourning before beginning to prepare for the extravagant, yet solemn, religious ceremony. Elizabeth II's coronation did not occur until over a year after she became queen.
Sources:
https://www.theguardian.com/uk-news/2022/sep/11/future-history-how-charles-iii-first-trod-the-boards-of-london-stage
https://www.bbc.com/news/uk-wales-62864054
https://thesportsgrail.com/king-charles-iii-3-biography-age-height-family-mother-wife-son-education-net-worth-2022-wiki/
https://en.wikipedia.org/wiki/Charles_III_of_Spain
https://www.dailymessenger.net/international/news/488
https://www.bbc.com/news/uk-england-62861134
https://www.mentalfloss.com/article/563615/charles-prince-of-wales-facts