London — With passing of Queen Elizabeth II, her first son Charles has ascended the throne to officially becoming King Charles III. The new king, who is 73, had been the Prince of Wales — the title reserved for future British kings-in-waiting — for longer than anyone else in the history of the United Kingdom's monarchy.
"There is no way of getting around it, he is not in the first flush of youth," said CBS News royal contributor Julian Payne, who previously served as press secretary to then-Prince Charles. "What we will see instead of that is more than 50 years of experience on the world stage."
He believes Charles will take the same approach to his role as king as his mother took to being queen.
"He, like his mother, takes the view that this is about duty and service," Payne said. "You do your duty. You provide the service to the nation when you're asked to do it. You don't seek it out, you don't try and get hold of it, but when it comes to you, you take on that role, and you try and do it to the best of your ability."
On Thursday, King Charles III issued a statement expressing his sadness at the death of his mother.
"The death of my beloved Mother, Her Majesty The Queen, is a moment of the greatest sadness for me and all members of my family," he said.
"We mourn profoundly the passing of a cherished Sovereign and a much-loved Mother. I know her loss will be deeply felt throughout the country, the Realms and the Commonwealth, and by countless people around the world. During this period of mourning and change, my family and I will be comforted and sustained by our knowledge of the respect and deep affection in which The Queen was so widely held."
In many ways, Charles has been the first modern heir to the British throne: He was sent off to school rather than being tutored privately at the palace, and after that he went on to earn a Bachelor of Arts degree at Cambridge.
The young prince then served in both the Royal Air Force and the Royal Navy, being deployed on several warships during the 1970s.
But as CBS News correspondent Mark Phillips reports, Prince Charles' role up to this point has largely been an exercise in waiting, and in carving out a meaningful role while doing so.
Charles' rocky, mission-critical love life
Charles' life in the public eye has been defined in many ways by the women with whom he has shared it. From early on, the boy-who-would-be-king's most essential duty was to find a wife and produce future heirs.
Lady Diana Spencer seemed to be the perfect partner, though there were hints of the troubles that would come from the very beginning. He was 32, she was 20, and their wedding was a worldwide media spectacle.
Two sons, Princes William and then Harry, dutifully followed.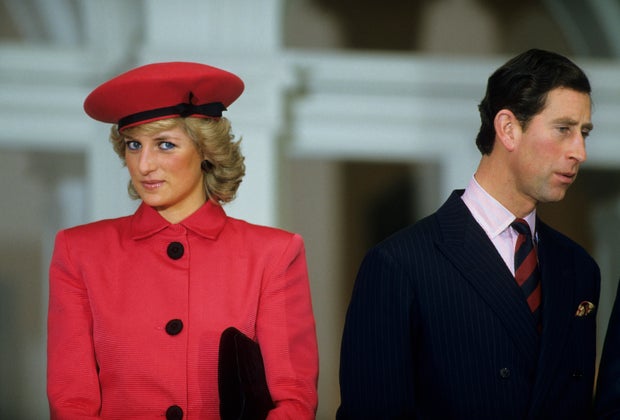 But it became obvious to the world that the royal couple wasn't happy together. As more and more photos showed them looking distant, the tabloids labeled them "The Glums."
In their very public divorce drama, Prince Charles often unwittingly played the role of villain for a voracious tabloid press.
Asked post-split whether she thought Charles' long-time confidant and love interest Camilla Parker Bowles had been a factor in the breakdown of her relationship, Diana said: "There were three of us in this marriage, so it was a bit crowded."
When Diana was killed in a Paris car crash in 1997, Charles' public image was so tarnished that many wondered if he could ever become king at all. It took years of being seen as the dedicated father to his two grieving sons for the prince to emerge from under the cloud.
But he did emerge, and he even went on to marry Camilla in 2005 in the first non-religious, civil ceremony ever for a British royal in England.
Early in 2022, Queen Elizabeth II herself, clearly wanting no doubt to linger over her intentions, said that when Charles did become king, it was her "sincere wish that, when that time comes, Camilla will be known as Queen Consort as she continues her own loyal service" to Britain.
Charles said in a statement that he and Camilla were "deeply conscious of the honor represented by my mother's wish."
A prince's "bonkers" pursuits
Once his life partner and future heirs were determined, Prince Charles concentrated his efforts on the various charities and other causes that he's supported – not all of them hugely popular initiatives in their day.
"I suppose I have spent most of my life trying to propose and initiate things that very few people could see the point of or, frankly, thought were plain bonkers," he said in 2016. "Perhaps some of them are now beginning to recognize a spot of pioneering in all this apparent madness?"
The quip by the man likely to become known as King Charles III was both a demonstration of his characteristic wry sense of humor, and an arguably permissible humblebrag by a royal who was ahead of many in embracing concepts such as organic farming, nature conservancy and the urgency of confronting climate change.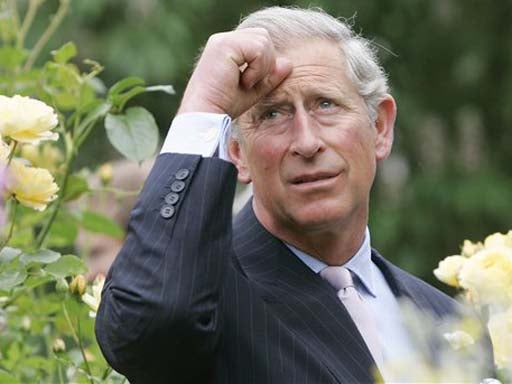 He has continued to be a passionate advocate through his charity work for everything from environmental conservation, to community empowerment. The Prince of Wales has been the patron or president of more than 400 charitable organizations.
"I find myself born into this particular position," he once told an interviewer. "I'm determined to make the most of it and do whatever I can to help and, I hope, leave things behind a little bit better than I found them."
The prince and the presidents
Prince Charles is no stranger to the corridors of power on the other side of the Atlantic. He's visited Washington at least 20 times, and has met every American president since Jimmy Carter.
He met President Biden in November 2021, at the COP26 climate conference in Scotland. Mr. Biden praised the prince for his leadership on environmental matters and reportedly told him: "We need you badly… and I'm not just saying that," crediting Charles for having got "the whole thing going."
During former President Donald Trump's state visit to the U.K. in 2019, Charles was scheduled to sit down for about 15 minutes with the American leader, but they ended up talking for an hour and a half.
Trump later said the prince "did most of the talking," but he described the heir to the British throne as "a very good person" who was "really into climate change."
"What moved me is his passion for future generations," said Trump. "He wants to make sure future generations have climate that is good climate, as opposed to a disaster, and I agree."

In 2015, Charles met with then-President Barack Obama for the second time during a three-day visit to the U.S. In the Oval Office, Obama commented that the American people were "quite fond of the royal family," and even suggested they "like them much better than they like their own politicians."
"I don't believe that," replied the royal.
Will King Charles replace the Queen on money and stamps in the U.K.? Here's what will change after her death
The U.K. has a new monarch, King Charles III, after Queen Elizabeth II died "peacefully" at Balmoral Castle in Scotland on Thursday.
The King referred to the news as "a moment of great sadness" and said his family was mourning the death of "a cherished sovereign and a much-loved mother."
As the U.K. grieves for the loss of its longest-serving monarch, behind closed doors officials will have sprung into action, triggering a meticulously planned strategy for the transition to a new ruler.
While the royal family undergoes major changes, the British public will also gradually become accustomed to a new face and name appearing in their day-to-day lives, as the country enters the era of Charles III.
From food packaging to stamps, here's what will change now that the U.K. has its first King in seven decades.
Money
In 1960, Queen Elizabeth II became the first monarch featured on banknotes printed by the Bank of England.
The central bank said on Thursday that bills featuring the portrait of the Queen would continue to be legal tender, and that a further announcement about notes issued by the Bank of England would be made once the U.K.'s period of national mourning was over.
The Royal Mint, which makes Britain's coins, also has yet to give details about when it will begin sending coins featuring the King into circulation.
Stamps and mailboxes
British stamps—unless they are special editions—feature the queen's portrait, while mailboxes are embossed with her ER royal cypher, which stands for Elizabeth Regina (Latin for queen).
BATH, ENGLAND – FEBRUARY 29: In this photo illustration first and second class postage stamps are displayed on February 29, 2016 in Bath, England. Royal Mail, recently privatised, is set to raise the price of stamps by 1p. The increases that take affect from 29 March, will mean a first class stamp will now cost 64p and a second class stamp will now be 55p. (Photo by Matt Cardy/Getty Images)
ESSEX, ENGLAND – DECEMBER 06: A general view of a Royal Mail postbox on December 06, 2020 in Essex, England. Writing letters to Santa Claus has been a Christmas tradition for children worldwide for many years. These letters normally contain a wish list of toys in exchange for good behaviour. (Photo by Gareth Cattermole/Getty Images)
Following the announcement of the Queen's death, Royal Mail said unused stamps that had already been issued remained valid, and that it would consult with Buckingham Palace before making announcements about stamps featuring the new King "at the appropriate time."
Existing mailboxes would remain unchanged, while those already in production would also retain the insignia of Queen Elizabeth II, Royal Mail added. This is standard practice, and means that some mailboxes in the U.K. still bear the cypher of the Queen's father, George VI.
"For now, we remember the Queen's lifetime of dedication to public service," Royal Mail said on Friday.
Passports
Existing U.K. passports currently read: "Her Britannic Majesty's Secretary of State requests and requires in the Name of Her Majesty all those whom it may concern to allow the bearer to pass freely without let or hindrance."
PAUL YEUNG—BLOOMBERG/GETTY IMAGES
Representatives for the U.K. Passport Office were not immediately available to comment when contacted by Fortune, and have not made any announcements on when passports will be updated to refer to the King.
Royal seal of approval
In the U.K., companies or individuals that provide goods to the royal household are eligible for a royal warrant, which proves their trading ties to the royal family and allows them to use the Royal Arms when marketing their products.
For example, certain food manufacturers in the U.K.—including Cadbury, Heinz, and Champagne maker Laurent-Perrier—can print the Royal Arms on their products' packaging alongside the words: "By appointment to Her Majesty the Queen," which tells consumers the monarch has given them a royal seal of approval.
Royal warrants on display at London's Harrods department store.
LIZ ARTINDALE—CONSTRUCTION PHOTOGRAPHY/AVALON/GETTY IMAGES
After the Queen's passing, holders of royal warrants that she issued will be able to continue using the Royal Arms on their products for two years.
The King was able to issue royal warrants as heir, and any he gave out as Prince of Wales will continue to hold, as the warrants are attached to his household—not his title.
According to the Royal Warrant Holders Association, 620 royal warrants issued by the Queen are currently in use, while the King issued 182 as Prince of Wales.
Law enforcement
In a statement on Thursday, Mark Fenhalls, chair of England and Wales's Bar, said barristers who had the title of Queen's Counsel (QC) would have their titles changed to King's Counsel (KC) with immediate effect.
King's Counsel in the U.K. applies to barristers or solicitors who have been recognized as leading experts in their legal fields. In 2021, 101 legal professionals were appointed as Queen's Counsel.
Elsewhere in the law enforcement sector, police officers will likely see the royal cypher on their helmets change from Elizabeth II's to Charles III's in due course.
National anthem
With King Charles as monarch, the U.K.'s national anthem will be changed from "God Save the Queen" to "God Save the King."
After news of the Queen's death broke on Thursday, crowds gathered outside Buckingham Palace sang a rendition of the national anthem with its new lyrics.
Sources:
https://www.nytimes.com/live/2022/09/09/world/queen-elizabeth-king-charles
https://www.insider.com/king-charles-iii-oldest-person-to-become-king-british-history-2022-9
https://www.insider.com/king-charles-iii-oldest-person-to-become-king-british-history-2022-9
https://www.cbsnews.com/news/king-charles-what-to-know-about-the-new-king-of-britain/
https://time.com/6212155/king-charles-iii-scotland-future-in-uk/
https://fortune.com/2022/09/09/money-stamps-and-police-uniforms-what-will-change-in-the-uk-now-that-charles-iii-is-king/