Former child actress Jennette McCurdy struggled to hold back her tears when she was asked during an appearance on Red Table Talk if she has forgiven her late mother for their fraught relationship.
McCurdy, 30, who is best known for her role as Sam Puckett in the Nickelodeon series iCarly, has stated in her tome that her late mother, Debra McCurdy—who died of cancer in 2013—controlled her life and career, leading to anxiety and self-loathing.
The issues McCurdy endured have been chronicled in her recently-released book, I'm Glad My Mom Died, parts of which she discussed while sitting down with Red Table Talk hosts Jada Pinkett Smith, Willow Smith, and Adrienne Banfield Norris.
At one point, McCurdy spoke the last words she shared with her mother, prompting the screen star to respond: "She was in a hospice bed that was set up in our living room, and was really just detached behind the eyes."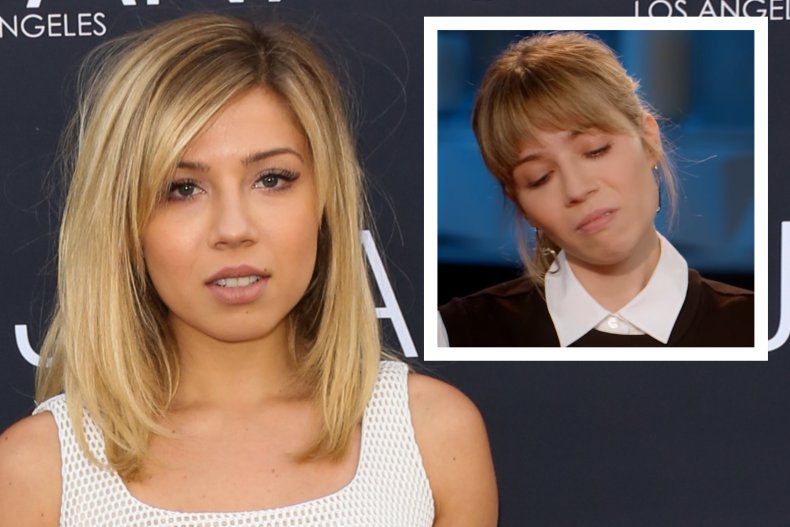 "My brothers had each kind of given the good news of their lives," she recounted. "One of them was getting married, one of them was moving back to California. And then I said, 'Mommy, I'm so skinny right now.'
"Like, the thing that I felt like was the most that I had to offer was my thinness. And I really, really, in my core at that time, I believed that that would get my mother to wake up. I believed that she cared more about my body and my weight than she did about anything else that could possibly be uttered by my brothers' mouths. I really felt that mattered more to her."
Things later got emotional when a viewer called in and asked McCurdy whether she was ever able to forgive her mother for everything that had happened.
"Oh God, I'm gonna get emotional. I can already feel it," said McCurdy as she fought back tears. "I worked toward forgiveness for a really long time, and my therapist said to me one day, 'What if you don't have to work toward forgiveness?'
"I wept, and I knew that that's what I needed to hear. Because I had been trying to find a way to honor my mom and respect [her]. I was still trying to live for her. I was still trying to find a way to make it all mean something because it had to, because it was her. And that was exactly what I needed to hear. It was hugely emotional, but, my God, did it help."
Co-host Smith then stated: "That just blew my mind about, maybe you don't have to forgive her. I feel like we're always trying to take the high road, and I'm gonna heal, and I'm gonna be this and I'm gonna be that."
As the show came to an end, Pinkett Smith told McCurdy that "your honesty, your vulnerability, and your voice has moved so many, including these family faces who wanted to send some love to you."
A collection of video messages was then shared from a host of stars, including
Nia Dennis, David Archuleta, Abby Jasmine, Rosie McClelland, Violet Benson, and Alyson Stoner.
Jeopardy! host Mayim Bialik, who appeared onscreen with her partner Jonathan Cohen, said: "We are thrilled for your success. And we just think you're awesome."
In a separate message, Bella Thorne told McCurdy: "I just wanted to say I'm so, so proud of you. You're in such a strong place in your head, a strong voice for women to see that you can stick up and say how you feel."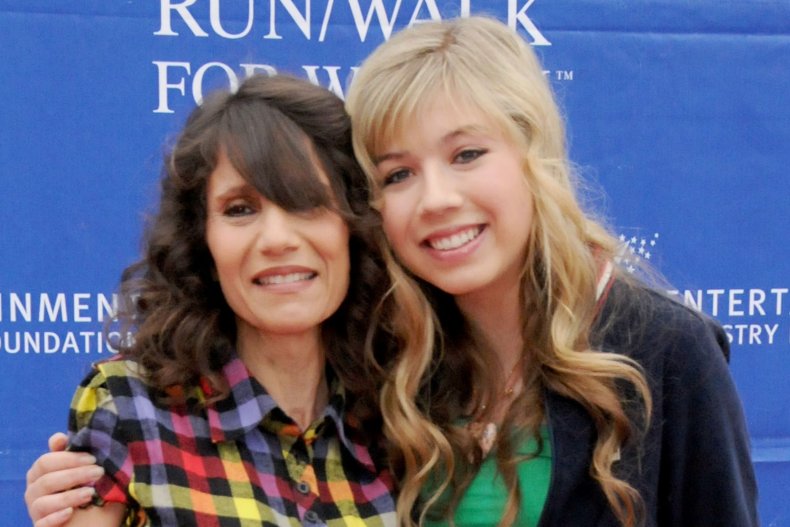 Elsewhere during her appearance on Red Table Talk, McCurdy read out a letter she said she had received from her mother after she saw photos of her online with a man.
"Dear Nette, I am so disappointed in you," read the letter. "You used to be my perfect little angel, but now you're nothing more than a little slut, a floozy, all used up.
"And to think, you wasted it on that hideous ogre of a man. I saw the pictures on a website called TMZ. I saw you rubbing his disgusting, hairy stomach."
Her mother continued to call the former child star a "liar, conniving" and "evil," before telling her she looked "pudgier too."
"What happened to my good little girl?" McCurdy continued reading. "Where did she go, and who is this monster who replaced her? You're an ugly monster now."
"I told your brothers about you, and they all said they disown you, just like I do. We want nothing to do with you. Love, mom. Or should I say Deb, since I'm no longer your mother. P.S. Send money for a new fridge, ours broke," McCurdy read.
In the New York Times bestselling memoir, McCurdy detailed how her mother forced her into acting at age six. She also spoke candidly about battling eating disorders, noting her mom taught her restrictive eating at age 11.
McCurdy's mother was diagnosed with cancer for a second time when she was 18, which caused the star to binge eat. Following her death, the singer began purging to cope.
With the help of Dialectical Behavior Therapy—a type of talking therapy that's often effective for people who feel intense emotions, according to mind.org—McCurdy was able to heal.
"I haven't binged or purged or restricted in years," she told People. "And I feel very deeply and very strongly about saying I've finally recovered."
10 Things You Didn't Know about Jennette McCurdy
All you really have to do is remember iCarly and you'll likely know who Jennette McCurdy is, if you didn't already. If you did then you already understand just how popular she really is and how much of an influence she's had on pop culture throughout the years. She's done quite a bit in her career to impress the right people and has been something of an icon that people have looked up to, kids in particular. Throughout the years she's even diversified as she's taken on new projects and proven that she's not just bound to one aspect of show business. Jennette has shown many people what she can do and has been seen to be someone that might be kind of nice and even appreciative of what she receives, but it's also been noticed that she's been kind of critical of show business and the place of the people that exist within it.
Here are a few things about Jennette you might not have known.
10. There's a rumor about how Star Wars did or didn't get her interested in acting.
It sounds as though the rumor got started when her mother was recovering from breast cancer and Jennette had a chance to watch the movie A New Hope. Later on she had the chance to put things straight in an interview and claimed that this wasn't the case.
9. She started out on MADTv and showed up in a few different TV shows.
Before she made her way to the lead role in iCarly she did manage to show her face on a few different shows that allowed her the kind of exposure she would eventually need to make a big splash in show business.
8. Jennette has been a writer throughout the years as well.
As if being a talented actor wasn't enough she's also been a columnist and has written several posts for a couple of different publications on various subjects that have been well-received and therefore continued to bolster her reputation.
7. Her struggles with bulimia and anorexia started when she was 11.
A lot of this has to do with the fact that she found it necessary to keep a trim figure when on TV, as she's stated that it seems so important for so many to do this. Unfortunately she has lost a tooth thanks to constant regurgitation and was even found passed out in a friend's bathroom at one point.
6. As you might imagine she has a massive following on social media.
Jennette has millions of followers on social media and it's kind of easy to think that a lot of them are those that have been following her career since iCarly if not before. While the show kind of came and went, her reputation has lasted longer and has been seen to carry her forward so far.
5. She's known to love ice skating.
Jennette likes to go figure skating as a hobby and has even entered a few competitions in the past. Just when you think her set of skills and accomplishments is fully known she's able to show something that makes her just a little more unique.
4. She has directed her own short films.
It's easy to see that she doesn't like to be anything other than spectacular since thinking about all the things she's done and still does is kind of hard to imagine since it would seem that she doesn't really sit still all that often. There's just so much that she seems to like to do that trying to find any time that she just sits and does nothing is hard to do.
3. Jennette admits that she tends to get stressed out easily.
Just because a person is in show business, has been, or is still gaining a reputation, it doesn't matter. A lot of them still get nervous and anxious at times, they're human after all and tend to get stressed now and again no matter how poised they might seem.
2. Her net worth is around $5 million.
It's been said that she's earned her net worth and there's not a lot of argument that could say otherwise since as you can see above she's been working pretty hard to make it known that she's the kind of person that will get out there and get things done.
1. She's pretty tight-lipped about her private life.
This is becoming more and more of a thing throughout the years as celebrities tend to want their own time now and again. You can't blame them really since anything that hits the tabloids has a very big risk of becoming something that should have been left as nothing. Being quiet about their private lives makes the paparazzi a little bolder in their attempts to get a story, but it's still important for celebs to have a private life.
Sources:
https://www.newsweek.com/jennette-mccurdy-breaks-down-asked-forgiven-mom-debra-red-table-talk-1741045
https://www.teenvogue.com/story/jennette-mccurdy-revealed-why-she-quit-acting-icarly-reboot
https://hindustannewshub.com/world-news/jennette-mccurdy-from-the-series-sam-cat-and-icarly-reveals-that-nickelodeon-offered-her-money-to-shut-up-abuse-latest-us-news-hub/
https://parade.com/news/jennette-mccurdy-slams-nickelodeon-double-standard-ariana-grande