Rams vs. Bills picks – Super Bowl champions have a strong recent success rate in Week 1 of the following season, and the Los Angeles Rams will hope to keep that trend alive on Thursday when they meet the Buffalo Bills in the 2022 NFL Kickoff Game.
The Rams won Super Bowl 56 at SoFi Stadium to cap last season and recent history is on their side for Week 1. Since 2000, defending Super Bowl champions are 19-3 in their first game the following year and have won four straight. But the Bills, who are the preseason 2023 Super Bowl favorites, will try to buck that trend on Thursday.
Kickoff is at 8:20 p.m. ET. The Bills are 2.5-point favorites and the over-under for total points scored is 53 in the latest Bills vs. Rams odds from Caesars Sportsbook. Before locking any Rams vs. Bills picks, make sure you check out the NFL predictions and betting advice from SportsLine football analyst R.J. White.
White, a Fantasy and gambling editor for CBS Sports, consistently crushes as SportsLine's No. 1 expert in NFL picks against the spread. He went 445-378-24 on his ATS picks from 2017-21, which returned $2,542 to $100 players. Moreover, he's also 44-33 on NFL picks involving the Rams, lending critical insight into this matchup.
White is known for cashing out big in the Westgate Las Vegas SuperContest twice since 2015. He also cashed big on his NFL futures in 2021, including nailing Jonathan Taylor as the NFL rushing leader at 10-1. Anyone who has followed him has seen massive returns.
Now, White has studied the Bills vs. Rams Week 1 matchup from every angle and released a confident against-the-spread selection. You can head to SportsLine now to see White's pick. Here are the NFL odds and betting lines for Bills vs. Rams:
Bills vs. Rams point spread: Bills -2.5  
Bills vs. Rams over-under total: 53 points 
Bills vs. Rams money line: Bills -135, Rams +115 
BUF: Bills have covered four of the last five meetings in this rivalry 
LAR: Rams have covered five consecutive season-opening games 
Bills vs. Rams picks: See picks here
Why the Bills can cover
There's good news for a Buffalo secondary that has been banged up in the preseason. Veteran safety Jordan Poyer, who missed the exhibition season because of a hyperextended elbow, is expected to play in Thursday's opener. Bills coach Sean McDermott told the media it would take an unexpected setback to prevent Poyer from taking the field. The 10-year pro is primed to be a key part of Buffalo secondary that ranked first against the pass last year by DVOA. The Oregon State product is coming off a season in which he was named to the All-Pro first team among numerous other accolades.
Poyer earned the second-best coverage grade by Pro Football Focus and allowed a reception rate of just 48.1%. He also tied a career-high in interceptions with five and logged a career-best three sacks. He also had 20 tackles and a forced fumble in last year's postseason.
Why the Rams can cover
Cooper Kupp is coming off one of the most productive seasons in NFL history for a wide receiver, becoming just the fourth player to ever win the "triple crown" at the position. That is, he led all receivers in catches (145), yards (1,947) and touchdowns (16). The Rams' stalwart was named to the All-Pro first team for the first time in his career and earned AP Offensive Player of the Year honors, among numerous other accolades.
Even so, the 29-year-old says he's determined to avoid a regression this year and has worked harder than ever in the offseason to improve his strength and conditioning, while continuing to dissect game film to identify potential areas of improvement. Kupp also said he's going to avoid dwelling on trying to duplicate his numbers from last year and his sole focus is on doing what's needed to help the Rams win moving forward.
How to make Rams vs. Bills picks
White has analyzed this matchup, and while we can tell you he's leaning Over on the point total, he has also discovered a critical X-factor that has him jumping all over one side of the spread. He's only sharing what it is, and which side to back, at SportsLine.
8 stats and facts to know for Rams vs. Bills in Week 1
The season opener is always easy to get excited about, marking the return of regular-season football. But the NFL made it impossible not to be thrilled for the first game of the year by putting the Rams and Bills in prime time on Thursday night.
It's a huge matchup that many feel could be a Super Bowl preview – which (almost) no one in Buffalo or Los Angeles would complain about. Here are eight stats and facts to know for this season-opening tilt at SoFi Stadium.
1 Rams are 5-0 in Week 1 under Sean McVay
Sean McVay has never started a season 0-1 as a head coach. He's a perfect 5-0 in Week 1 with the Rams, also helping Los Angeles cover the spread in each of those five games. The Rams beat the Colts 46-9 in 2017, the Raiders 33-13 in 2018, the Panthers 30-27 in 2019, the Cowboys 20-17 in 2020 and the Bears 34-14 last year.
It's a testament to the prep McVay and the Rams do leading into the season, finding ways to exploit their opponent's weakness.
2 Bills are 3-2 in season openers since 2017, averaging 16.8 points per game
Sean McDermott was hired the same year McVay was, but he hasn't had as much success in season openers. The Bills are still above .500 at 3-2 in Week 1, but they average only 16.8 points per game, so they've traditionally gotten off to slower starts than the Rams. Last season, they were stunned by the Steelers at home, losing 23-16.
3 Rams are 5-8 all-time against the Bills, losing the last 2
The Bills own the all-time series lead against the Rams, going 8-5 in their 13 meetings dating back to 1970. The Rams have lost the last two meetings, too, most recently in 2020 when they nearly completed a miraculous comeback but allowed a last-second touchdown to lose, 35-32.
The Rams have only faced the Bills twice since moving back to Los Angeles but they allowed at least 30 points in each of those two meetings.
4 First time either team is playing the NFL season opener
The Bills aren't used to playing the season opener, seeing as they've never won a Super Bowl or been selected to face the defending champions. The Rams won the Super Bowl following the 1999 season, but the next year, they didn't get to play the opener, instead playing on Monday night.
Neither the Rams nor the Bills have played the NFL season opener since the league started putting the first game on Thursday night.
5 Bills were 0-6 in games decided by 7 or fewer points last year
As good as the Bills were last year, they were terrible in close games. All of their wins were by at least eight points, losing each of their six games that were decided by seven or fewer points – including their postseason loss to the Chiefs.
Some might suggest that's a reason to think the Bills will be even better this season, but if this is a close game, expect the Rams to prevail, as they did multiple times last year in close contests.
6 Cooper Kupp had nine catches, 107 yards and 1 TD last time vs. Bills
Kupp had plenty of success against the Bills in 2020 when they met, going over 100 yards with one touchdown. He matched up with slot corner Taron Johnson often, who should be Kupp's primary challenger again this week.
Expect No. 10 to have another big game on Thursday night, picking up right where he left off last season.
7 Matthew Stafford is 0-2 with 2 TDs, 1 INT vs. Bills
Stafford hasn't had the best results against the Bills in his career. He's 0-2 against them with two touchdowns passes and one interception. Those games came in 2014 and 2018, with the scores being 17-14 and 14-13, respectively.
He was sacked six times in that 2014 loss, fumbling it twice in the game. In 2018, the Bills scored a fourth-quarter touchdown to take the one-point lead, which they never relinquished.
8 Both of Josh Allen's Week 1 wins came vs. Jets
Josh Allen has started three season openers in his career, going 2-1 in those games. However, both of those wins were against the Jets: once in 2019 and again in 2020. Allen had three touchdown passes and two interceptions in those wins before losing last year's opener to the Steelers.
In the last two years, Allen has three touchdown passes and no interceptions, though he has been sacked six times.
Fun things to know about Buffalo's 2022 draft class
The 2022 NFL Draft is officially a wrap. The Buffalo Bills welcomed eight new members to their team—CB Kaiir Elam, RB James Cook, LB Terrel Bernard, WR Kahlil Shakir, P Matt Araiza, CB Christian Benford, OL Luke Tenuta and LB Baylon Spector.
Here are four fun facts to know about the draft class.
1. Football is family
It's not uncommon for football to run in the family of someone who gets drafted into the NFL. In fact, this year's class has plenty of relatives who played the sport at a high level.
Cornerback Kaiir Elam's father, Abram, played in the NFL from 2006 to 2012 and played collegiately at Notre Dame. Elam's uncle, Matt, was a first-round pick in the 2013 NFL Draft and played for the Ravens for three seasons. The CB gives a lot of credit to how the two helped him grow as a football player.
"Being able to learn from their mistakes, learning things they didn't know at my age, I think just helped me in this process so much and throughout life and becoming a man," Elam said of his dad and uncle. "I would just like to credit those guys and give them their flowers because without them, without my mom, without my family members, I probably wouldn't sitting in front of you right now."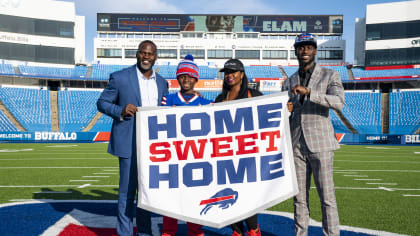 It's not just Elam either. Running back James Cook's brother is running back Dalvin Cook who currently plays for the Minnesota Vikings. Dalvin has had three-straight seasons of 1,000 rushing yards and has scored 35 rushing touchdowns over the last three years.
Cook said his brother helped prepare him for this moment.
"I got to go out there and perform for myself because he's going to go out there and do it for him," Cook said of Dalvin. "So, it's great looking up to him as an older brother, but I've got to go out there and still get the job done and play football."
OL Luke Tenuta has a brother and father who grew up playing football. Tenuta's dad, Jon, played collegiately at Virginia and has been a football coach since the 1980s. His brother, Zach, is currently a defensive coordinator at Norfolk State University and played the sport collegiately.
LB Baylon Spector's father, Robbie, played for Clemson from 1988 to 1990. His brother, Brannon, is currently a wide receiver for Clemson and was Spector's teammate from 2019 to 2021.
2. SEC products
Buffalo's first two picks in the 2022 NFL Draft both came from the SEC. CB Kaiir Elam played collegiately at the University of Florida and RB James Cook went to Georgia. One reason why Bills general manager Brandon Beane drafted these two is because they played for one of the most competitive conferences in college football.
"The SEC for the most part, at most positions seems to be more stacked," Beane said. "And so it is the closest one to our league to be able to project most times. So, with Kaiir (Elam) and then again today with James (Cook), we obviously watch Georgia, all of us that follow college football. He made some really big plays, including in the national championship game against Alabama. So, you see it translate."
Elam and Cook didn't just play in the SEC, they also had impressive careers. Elam was named to the All-SEC First Team in 2020. He also had six interceptions and 26 passes defensed in his three years with Florida. Cook won a national championship in 2021 and also racked up more than 1,000 scrimmage yards and 11 total touchdowns. In his four seasons with Georgia, Cook scored 20 total touchdowns.
3. Familiarity with roster
Some of our newest Bills are already feeling comfortable with Buffalo because of the relationships they have with players on the roster. Running back James Cook is one of those players and has been training with running back Devin Singletary this offseason. Cook is also familiar with several other players who train in or are from the South Florida area.
"Me and Motor (Singletary) work out," Cook shared. "We work out together in the offseason, the whole offseason. Me and Motor are a one-two punch."
Cook said coming from Miami and playing around top-tier talent his entire life has turned him into a better player because of the competition he faced.
4. Adding more height to offensive line room
In last year's draft, the Bills added two 6'8″ offensive linemen to the team in Spencer Brown and Tommy Doyle. Bills general manager Brandon Beane did the same thing in this year's draft and added another 6'8″ offensive lineman in Luke Tenuta.
Beane jokingly said he's continuing to add to his basketball team full of Bills offensive linemen.
"He's a bigger, taller guy similar to Tommy Doyle coming out of Miami of Ohio," Beane said of Tenuta. "Just being able to bend and get up underneath people's pads. He plays tall, so guys at this level can get underneath your pads quickly and they know how to do it. So, the speed, his feet and he'll have to get guys around his edge quicker than probably he saw a lot at Virginia Tech."
Sources:
https://www.buffalobills.com/news/fun-things-to-know-about-buffalo-s-2022-draft-class
https://www.cbssports.com/nfl/news/2022-nfl-kickoff-game-odds-spread-line-rams-vs-bills-picks-nfl-predictions-from-l-a-expert-on-44-33-run/
https://dknation.draftkings.com/2022/9/8/23318811/bills-vs-rams-picks-predictions-best-bets-spread-pick-over-under-player-prop-week-1
https://flipboard.com/@cbssports/best-bets-and-picks-for-bills-vs-rams-nfl-opener-plus-looking-at-nfl-coaches-w/a-u9dAJ5vcQzOgAcr_7ZL7Ig%3Aa%3A729018323-e0a9d28c8e%2Fcbssports.com
https://theramswire.usatoday.com/2022/09/08/rams-bills-final-score-prediction-week-1-analysis/