Glee's Lea Michele seemingly wasn't able to shake the reading rumors during the opening performance of Funny Girl on Broadway.
While many have praised her debut performance overall on Tuesday, one spectator has gone viral for saying some in the August Wilson Theatre audience gasped and laughed when she made a reference to reading books.
The reaction within the venue was due to a rumor that 36-year-old Michele is unable to read. Michele recently refuted the rumor calling it "sad" and suggested the rumor wouldn't follow her about if she was a man, reported The New York Times.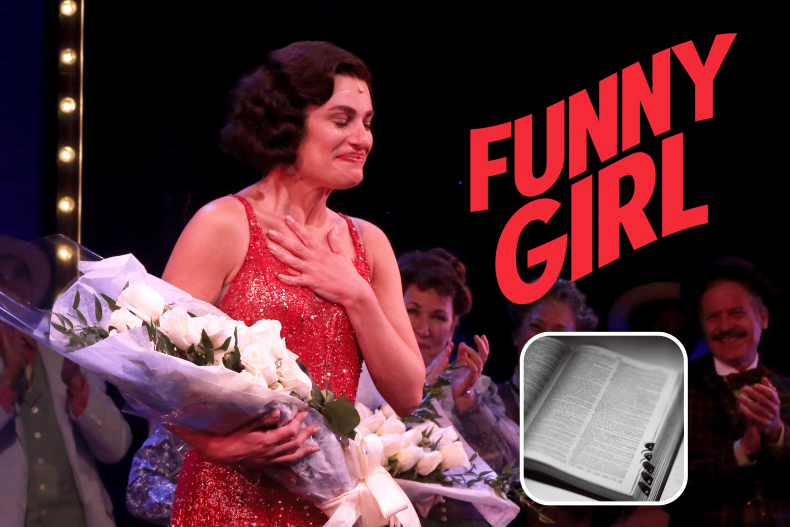 As the reactions to Michele's performance came rolling in online, one person's account stood out.
"At Lea Michele's FUNNY GIRL debut and the audience LAUGHED and GASPED when she delivered the like 'I haven't read many books.'" wrote Twitter user @bequietjoe. Their account of the events inside the theater was shared across Twitter and Instagram, with hundreds of thousands of people liking and commenting on the story.
Twitter user @davibroui had the same account from inside the theater. They said that the audience "guffawed" after she gave her book-related line.
An audio recording of the moment has surfaced online. Michele, playing the lead character Fanny Brice in Funny Girl can just be heard saying "I haven't read so many books," to which a couple of audience members laugh, before more people join in and others start whooping. The audio recording was shared by @plantsackey on Twitter.
As people rushed to comment on the reported incident within the August Wilson Theatre, Michele received a mixture of support and criticism. "This is evil" some wrote while others enjoyed it more: "This is killing me."
"Did you literally tweet this during act 1 wtf" @Spiltmilk asked @bequietjoe. RuPaul's Drag Race contestant Eve 6000 shut the user down though and joked: "It's okay she will never know what it says."
Michele took over the lead role in the Broadway production of Funny Girl after Beanie Feldstein prematurely stepped away from the role. The Booksmart actress had received mixed-to-negative reviews for her performance in the role of Fanny.
The reports of Michele's debut performance in the role have been more positive as she received four standing ovations before the intermission, according to Deadline. She was reportedly watched on by fellow Broadway star and Glee castmate Jonathan Groff, Glee creator Ryan Murphy, and stage legend Harvey Fierstein.
Newsweek has reached out to Michele for further comment.
While Michele's first performance in the show was deemed a success, it didn't stop the internet from having fun at her expense with multiple memes shared relating to her alleged, but refuted, illiteracy.
Michele is a divisive figure on social media as many Glee actors have spoken out about her alleged negative behavior during her time on the show. Recently, actress Lindsay Pearce said she was too nervous to look Michele in the eyes. In previous years, multiple actors from the show have discussed Michele's behavior.
Lea Michele Biography
Lea Michele is an American singer, actress, author, and songwriter. She is known for her acting in the musical show 'Glee.' She began her career at a young age and worked at Broadway when she was in high school. She then went on to become a great success. She has received awards like the 'People's Choice Award' and 'Satellite Awards.' Apart from being an actress and singer, she is also an active philanthropist and is frequently seen supporting gay rights and animal rights.
She is popularly known for her albums 'Louder' and 'Places.' She is also known for her wide vocal range from Eb3 to D6; she is classified as a belter and soprano. From 2010 to 2012, she was much discussed in the media. She has written several books; her books 'Brunette Ambition' and 'You First' are quite famous. She was romantically linked with her co-star Cory Monteith until his death in 2013. On March 9, 2019, she got married to businessman Zandy Reich.
Childhood & Early Life
Lea Michele Sarfati was born on 29th August 1986, in The Bronx, New York, USA, to Mark David Sarfati and Edith Thomasina. Her father was a real estate agent and former delicatessen owner, while her mother was a nurse.
She is of Greek, Thessalonian, Roman, and Neapolitan descent. Her father is a Sephardic Jew and her mother was an Italian American Catholic. She was raised a Catholic.
The family moved to Tenafly, New Jersey, when she was five. At a young age, she started attending Broadway and her family actively supported her by renting a place in Manhattan.
She attended 'Rockland Country Day School' in Congers, New York. Later, she was homeschooled and then attended 'Tenafly High School.'
She started using her middle name as she was teased for her last name. She started using it while working in 'Les Misérables and has since used it professionally. During this time, she acted in plays like 'Les Misérables,' 'Ragtime,' 'Fiddler on the Roof,' and 'Spring Awakening.'
She then attended 'Stagedoor Manor' in the Catskill Mountains for her arts training. When she was just 19, her mother was diagnosed with uterine cancer, which was treated later.
Career
After achieving success in Broadway theatricals, she was picked for the Fox musical drama series 'Glee' as the lead actress and singer. The series started in 2009. Her role was widely appreciated and won her many awards.
In 2010, 'Glee' cast performed on stage at various locations in the USA, including Phoenix, LA, Chicago, and New York. These 'Glee Live! In Concert! Shows' were expanded later.
She performed at various concerts, including 'The Rocky Horror Picture Show' and the 'Grammy's MusiCares.'
She was later cast in 'New Year's Eve' as the love interest of Ashton Kutcher's character. The movie, which released worldwide on December 9th, 2011, was successful at the box office.
In 2012, it was announced that she would release her first independent album. The year 2013 saw the release of her first single 'Cannonball' from the album 'Louder.' It was a smash hit and reached #75 on the Billboard's 'Hot 100' list. The music video was released in January 2014. This was followed by the release of four promotional songs, namely 'Battlefield,' 'Louder,' 'What is Love,' and 'You're Mine.'
In 2014, she voiced the character of 'Dorothy Gale' in the animated movie 'Legends of Oz: Dorothy's Return.'
In 2015, she starred alongside Jamie Lee Curtis in the horror comedy show 'Scream Queens.' The same year, she announced that she is working on her second album 'Places.' She stated that it would have more theatrical roots rather than modern pop music.
In 2017, she embarked on a mini tour titled 'An Intimate Evening with Lea Michele' to support her second album.
From 2017 to 2018, she was seen in the TV series 'The Mayor' where she played 'Valentina Barella.'
She released her third studio album 'Christmas in the City' on October 25, 2019.
Major Works
Lea was a great success at Broadway. Her debut as young 'Cosette' in 'Les Miserables' was well-received. In the later years, she also played 'Eponine Thenardier.' Along with that, she also received notable success in theatricals like 'Spring Awakening' and 'Ragtime.'
'Glee' is her most notable work as an actress as well as singer. The writers and directors, impressed by her Broadway work, cast her as the lead for the series. Her role won her many awards and she received ample appreciation from her fans and critics.
Her first album 'Louder' was released in 2014. The album went on to become a success. It was more of a rock / pop album rather than being theatrical-based, which was considered her forte. The singles in the album were played worldwide and received notable recognition in countries like the USA, Australia, Ireland, Italy, and New Zealand. About 62,000 copies were sold in the first week of its release in the USA.
Her second album was also a hit. However, it was not as popular as its predecessor. It debuted at number 28 on the 'Billboard 200' albums chart.
Awards & Achievements
She won the 'Favorite Female Breakthrough Performance,' 'Favorite Onstage Pair,' and 'Favorite Ensemble Cast Award' at the 'Broadway.com Audience Awards' for 'Spring Awakening.'
She received the 'Do Something Award' in 2012 for her role as 'Rachel Berry' in 'Glee.' She received the award under the 'Best Actress' category.
She won the 'UK Glamour Women of the Year Award' for 'US TV Actress of the Year' for 'Glee' in 2010 and 2012. She also won the 'Satellite Award' for the same.
She won three 'People's Choice Awards' for 'Glee' in 2012, 2013, and 2014. She was nominated for the same award for 'Scream Queens.'
She won the 'Teen Choice Awards' for 'Glee' in the years 2012, 2013, 2014, and 2015.
She won a 'Grammy' for 'Spring Awakening' under the 'Best Musical Theater Album' category in 2008. She has also received three 'Grammy' nominations for other works.
She made it to the Time's '100 most influential people in the world' list.
She was ranked seventh in FHM's '100 Sexiest Women in the World' list in 2010.
She has also won many other awards like 'Victoria's Secret Sexiest Smile,' 'Variety Power of Women,' 'StepUp Inspiration Award,' 'Giffoni Film Festival Award,' and 'Billboard's Women in Music' award.
Personal Life & Legacy
Lea lives in Brentwood, LA. She dated her 'Glee' co-star Cory Monteith from February 2012 until his death in July 2013. 'If You Say So' from 'Louder' and 'Hey You' from 'Places' were her tributes to him.
She is an active supporter of animal rights and gay rights. She actively participates in PETA's advertising campaigns that support animal rights.
She and her best friend Jonathan Groff performed for 'True Colors Cabaret' to support LGBT equality. She also performed at the 'Human Rights Campaign Dinner' to support gay rights.
She believes that happiness is the key to a satisfied life.
Lea Michele announced her engagement to Zandy Reich on April 28, 2018. She got married to Zandy on March 9, 2019, in Napa, California. On August 20, 2020, the couple was blessed with a son whom they named Ever Leo.
Trivia
She was one of the eight singers to perform the charity single 'This is for my Girls.' Written by Diane Warren, the song benefited the White House's '#62MillionGirls' campaign and 'Let Girls Learn' initiative, which was set up by Michelle Obama.
She signed a $1 million deal with 'L'Oreal Paris USA' in 2012.
She has written two books, namely 'Brunette Ambition' and 'You First.'
She was ranked 10th in After Ellen's 'Hot 100' list. She was ranked 28th in Maxim's 'Hot 100' list in 2011.
She lives in a four-bedroom home worth $2.9 million in LA.
Her favorite novel is 'Girl with a Pearl Earring' by Tracy Chevalier. She loves recorders and baking is her favorite hobby.
She is a huge fan of Fanny Brice and Kylie Minogue.
10 Things You Never Knew About 'Scream Queens' Star Lea Michele
The 29-year-old actress is more than her Rachel Berry owl sweaters and Hester neck brace! Here are a few fun facts that might surprise you:
1. Her BFFL is Broadway actor Jonathan Groff.
They starred on Broadway together in the Tony Award winning rock musical, Spring Awakening, and have been inseparable ever since! Aside from numerous TV appearances (including Glee), Groff's most recent success in Hollywood has been voicing Kristoff, the cartoon cutie from Frozen (he even voiced Sven too)!
2. Lea got in a minor car accident on the way to her Glee audition.
The actress says that she was turning into the FOX lot when the incident happened, leaving her pulling glass pieces out of her hair as she hurried to the studio. Luckily for her, things worked out…
3. She also almost hit Bon Jovi with her car on the way to The Ellen Show. At least he reportedly "smiled nicely"?
4. She has 14 tattoos!
Though she played good girl Rachel Berry on Glee, the starlet reported a year ago that she has an astounding 14 tattoos…and the number may have gone up! They range from music notes on her shoulder, "Believe" on her wrist, butterflies on her foot, and one on her ribcage that reads "if you say so" (also the title of a song that she allegedly wrote about deceased co-star/boyfriend Cory Monteith…not ready for the feels).
5. When she was 8, Lea tagged along with a friend to audition for the role of Young Cosette in Broadway's Les Miserables. Her friend didn't get the part, but she did.
6. When she wasn't on Broadway, she worked at a Bat Mitzvah dress shop during high school. Clearly, Lea has always had a taste for style.
7. She initially moved to L.A. to try and snag a guest role on Grey's Anatomy.
Instead of a small guest role, she landed the lead on Glee. Maybe her new self-help book will teach us how to do that?
8. Her BFF Jonathan named a goat on his family's farm after her. Somewhere in the cornfields of Pennsylvania Lea Michele is chomping on grass.
9. She once moved out of her apartment, convinced that it was haunted by a singing woman. Ironic.
10. During a visit to The White House with the Glee cast, Lea stole some toilet paper from the bathroom as a memorable momento. She allegedly still has it to this day.
Sources:
https://www.hollywood.com/celebrities/10-little-known-facts-leamichele-60420511
https://www.thefamouspeople.com/profiles/leamichele-14540.php
https://moviethop.com/heartwarming-leamichele-received-a-standing-ovation-for-her-outstanding-performance-in-her-broadway-debut/
https://www.newsweek.com/leamichele-reading-line-rumor-unexpected-laugh-funny-girl-broadway-debut-1740493
https://variety.com/2022/legit/news/funny-girl-leamichele-opening-night-broadway-1235361336/
https://www.independent.co.uk/arts-entertainment/theatre-dance/news/leamichele-funny-girl-broadway-standing-ovation-b2161475.html