UFC Fight Night 210 went down on Saturday in Paris, and it was not your run of the mill fight card. It marked the UFC's long-awaited debut in France, where MMA was illegal until 2019.
The promotion put together a suitably solid card to commemorate the occasion.
Headlining honors went to a heavyweight clash between No. 1-ranked contender Ciryl Gane—the hometown hero—and visiting Australian Tai Tuivasa, who was ranked No. 3 heading into the fight. Outside of a second-round scare, Gane was in top form in the fight, finishing his Aussie foe with a vicious third-round volley.
The co-main event, meanwhile, saw No. 1-ranked middleweight contender Robert Whittaker—a former champ—risk his spot against Italy's Marvin Vettori, the division's No. 2 fighter. The Australian Whittaker was the picture of dominance in the fight, out-striking his dangerous foe to a clear-cut unanimous-decision victory.
Elsewhere on the card, we saw appearances from a number of French fighters, and fighters from French-speaking regions like Quebec, including No. 12-ranked middleweight Nassourdine Imavov, who picked up a unanimous-decision win over Joaquin Buckley on the main card.
When all was said and done, it was a great night of fights, and just the kind of reward the fans in France deserved for their incredible patience.
Keep scrolling for the real winners and losers from the UFC's debut in the country.
Winner: Rising to the Occasion
There was a lot of pressure on Ciryl Gane's shoulders ahead of UFC Fight Night 210. Not only was he charged with headlining the UFC's first event in his home country against the extremely dangerous Tai Tuivasa, but it was his opportunity to rebound from a decision loss to reigning heavyweight champ Francis Ngannou, and reassert himself as the division's top contender.
He did all that and more.
The French heavyweight was incredible in the fight. While he was dropped by a Tuivasa punch in round two, he was soundly in control of the action outside of that scare, and ultimately scored a third-round TKO with a sizzling attack to the body and head.
After the win, Gane's future is a bit murky. His loss to Ngannou is still visible in the rear-view, and to make matters worse, the champion is embroiled in a heated contract dispute with the UFC that has greatly complicated the title situation at heavyweight.
One way or the other, however, Gane figures to be a big part of any conversations surrounding Ngannou's undisputed title, or the creation of an interim title if the champion doesn't fight again soon.
He certainly seems to see it that way.
"Dana, now I'm going back to the belt, please," he said post-fight, addressing UFC President Dana White.
Winner: Being Great Without a Title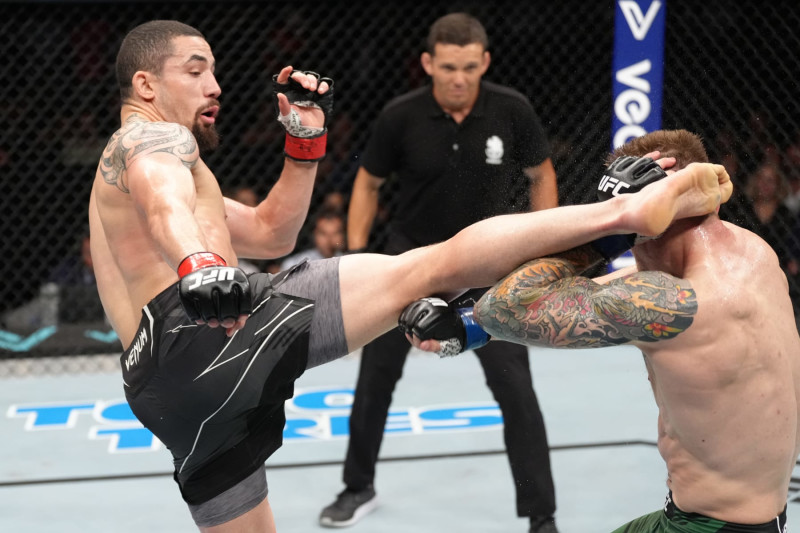 Jeff Bottari/Zuffa LLC
Former UFC middleweight champ Robert Whittaker was back in action in the UFC Fight Night 210 co-main event, taking on No. 2-ranked contender Marvin Vettori of Italy. The former champion made it look easy, pummelling his foe to an obvious unanimous-decision victory.
The performance reaffirmed the prevailing discourse surrounding Whittaker: that he is the best middleweight alive outside the reigning champion Israel Adesanya, whom he has lost to twice. But that might actually be understating things.
After UFC Fight Night 210, it's clear that Whittaker is not only the UFC's second-best middleweight, but one of the greatest fighters in the division's history, irrespective of how he matches up with the current champ.
The Australian has beaten nearly every middleweight worth mentioning over the last few years, including Vettori, Jared Cannonier, Derek Brunson, Darren Till, Kelvin Gastelum and Brad Tavares—all of whom are currently ranked in the Top 15. Throw in his wins over other stars like Ronaldo "Jacare" Souza and Yoel Romero, and there's really no refuting his legacy as one of the division's true greats.
And he seems to know it.
"Including the champion, I'm the most dangerous man in the division," Whittaker said in his post-fight interview with commentator Michael Bisping. "I make people hate fighting. I'm always gunning for that top spot. I'm always going to be lurking there waiting."
Loser: Backing Up the Talk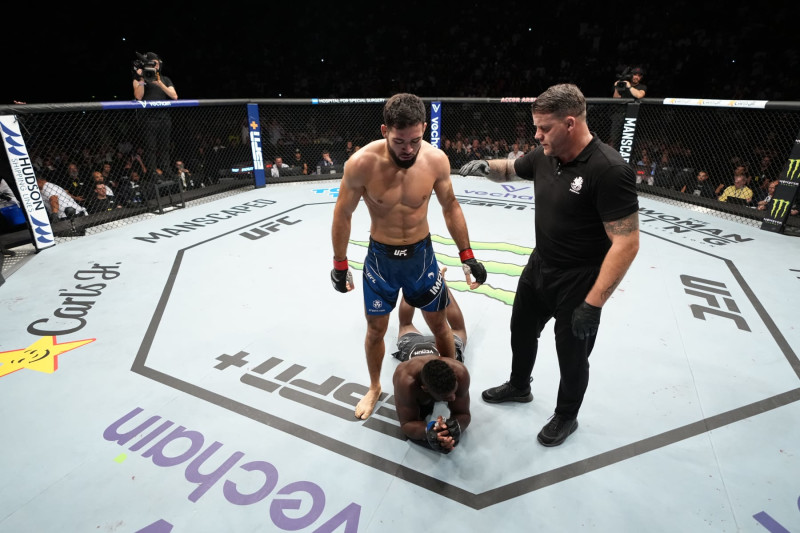 Jeff Bottari/Zuffa LLC
Joaquin Buckley talked himself into a big opportunity at UFC Fight Night 210: a fight with No. 12-ranked middleweight contender and hometown hero Nassourdine Imavov. He entered the fight without a ranking himself, so there was potential for a massive payoff.
The American showed a ton of heart in the fight, and had a strong third round, but was ultimately unable to back up his pre-fight talk. He simply couldn't navigate his foe's substantial height and reach advantages with enough regularity to get his own game going, and lost a unanimous decision as a result.
While Buckley failed to back up the talk that led to his fight with Imavov, however, he was able to gain his foe's respect—quite an accomplishment considering the bad blood that was festering between them all through fight week and even in the fight itself.
"He's a warrior," Imavov said of Buckley after his decision win. "That's why I chose him."
Loser: Last-minute Comebacks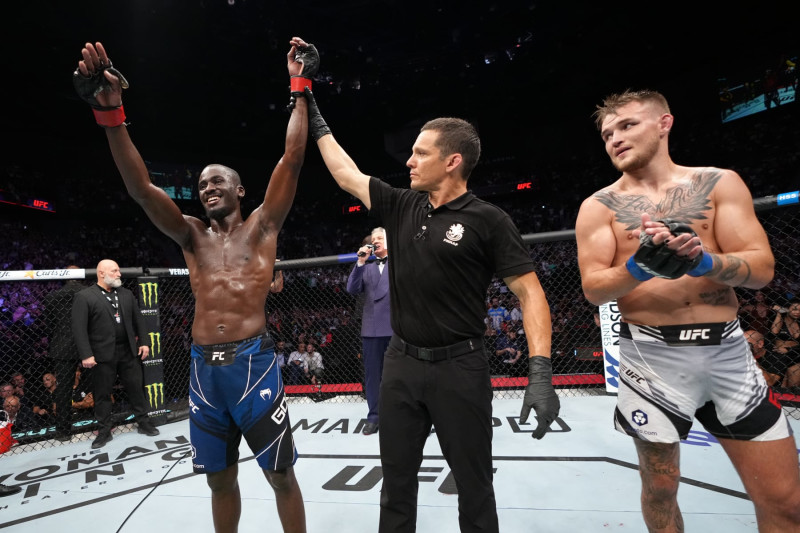 Jeff Bottari/Zuffa LLC
A few weeks ago, Leon Edwards reminded us all that a fight isn't really over until it's over, knocking out pound-for-pound star Kamaru Usman in the final minute of a welterweight title fight he looked doomed to win by decision.
It was a comeback for the ages.
It's the rarity of such comebacks that makes them so special. They just don't happen that often. We were reminded of that in the second bout of the UFC Fight Night 210 main card, when Paris' William Gomis found himself locked up in a triangle choke in the final minute of a fight with Dutchman Jarno Errens—a fight he was on track to win by decision.
The choke looked deep, and it would not have been surprising to see a tap, but after a prolonged battle, Gomis slipped out of danger and survived the rest of the fight to win by majority decision.
"It was really, really complicated," Gomis said of Errens' last-minute comeback attempt. "He had the triangle but then I heard the crowd. I'd rather die than give up."
Winner: Greener Pastures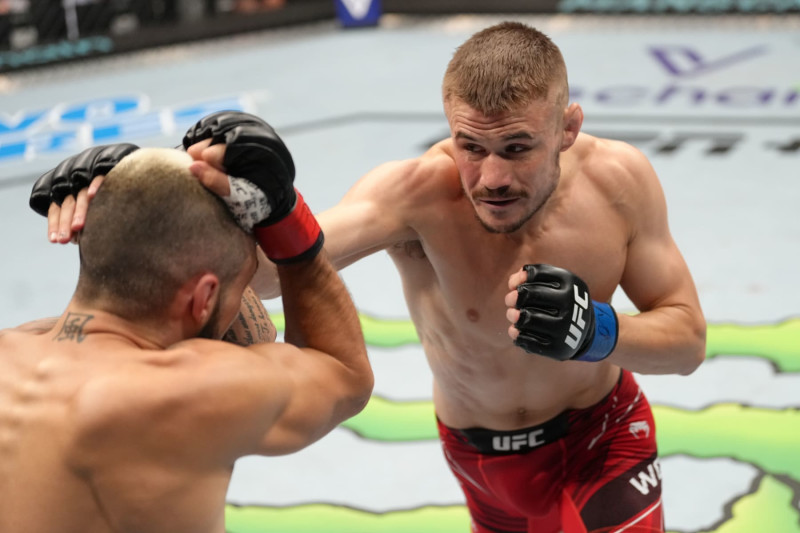 Jeff Bottari/Zuffa LLC
In the first bout of the UFC Fight Night 210 main card, England's Nathaniel Wood debuted at featherweight after a long stint at bantamweight, clashing with Canada's Charles Jourdain.
Early in the fight, commentators John Gooden and Michael Bisping noted how much smaller Wood looked than his opponent, and it gave the impression that the Brit's search for greener pastures in a heavier weight class might end in disaster. But that was not the case.
By the mid-way point of the first round, it was clear that Wood was the faster, sharper striker of the two men. He even managed to wobble Jourdain with a nice punch. He then continued to out-strike his foe in rounds two and three, and mixed in a few trips and takedowns for good measure.
Jourdain offered plenty of return fire, but by the end of the third it was a clear-cut unanimous-decision win for Wood. Time will tell if his move up to featherweight pays off long-term, but it is certainly off to a good start.
Full Card Results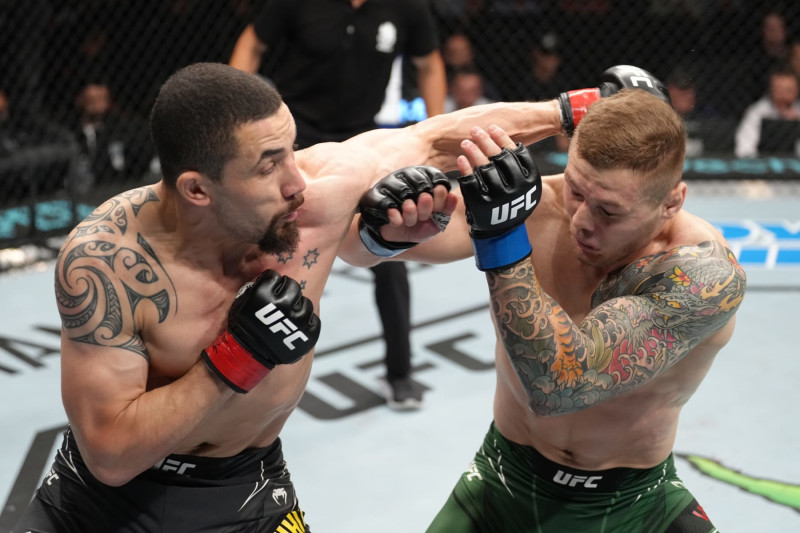 UFC Paris takeaways: Ciryl Gane gives a masterclass, Robert Whittaker reminds how dangerous he is at 185
What were the biggest moments at UFC Paris? Jeff Wagenheim, Brett Okamoto and Marc Raimondi offer up their takeaways from a highlight-packed event in France.
For the first eight minutes of Saturday's UFC main event in Paris, you could have fit the Arc de Triomphe in the space between Ciryl Gane and Tai Tuivasa. That's the way Gane wanted it. For a round and a half, he was showing off why he's considered the most technical heavyweight striker on the planet. With the Frenchman controlling distance while landing crisp jabs to the face and kicks to the body, Tuivasa kept coming forward and throwing huge punches but couldn't touch Gane.
Then Tuivasa did find him with a winging right-hand midway through Round 2, and Gane fell backward to the canvas, stiffened.
"Honestly, Tai hit me so hard he knocked me out. He put the lights out," Gane said through an interpreter. "I fell down, but I had to be a warrior. I got up … and I came back even stronger."
That he did, as Gane immediately went on the attack, closing distance and throwing everything he had. Now Tuivasa was the one on retreat, as the body shots were visibly taking their toll. The round ended with Gane on the offensive and the crowd at Accor Arena roaring. The fight was on.
It would not last another round, though. Gane spent Round 3 mercilessly attacking Tuivasa's tender midsection, and while the Australian fighter remained dangerous, Gane was no longer fighting from distance. In the final minute of the round, he landed a crushing right uppercut that put his opponent on wobbly legs, then floored him with a succession of lefts before referee Marc Goddard jumped in to end it at 4:23.
This was a hugely successful Paris debut for the UFC, partly because two of its top heavyweights put on a stirring performance in which both had their moments — although the one fighting in his hometown had a lot more big moments than the other.
Beyond that, Gane and Tuivasa showed martial arts spirit at its best. There was no bad blood. They smiled at each other throughout, which never got in the way of them trying to knock out the other. It was a treat for the fans, who sang loudly through the opening round and appreciated what they were witnessing.
And what was that? The Parisian fans were watching their 32-year-old countryman emphatically getting back on track following his only career defeat, a five-round decision against UFC heavyweight champion Francis Ngannou in January. This victory puts Gane right back in the title picture, although it's a crowded picture with Jon Jones having the inside track to the champ. The Frenchman's day will come (again), though, and after watching this sublime performance, I can't wait until it does.
And if Ngannou, who used to train in Paris, is still in possession of the belt when Gane's next championship opportunity comes, I hope they hold the title fight in the City of Lights.
'They have to come back': Paris puts UFC on notice with an epic performance
PARIS — Benoit Saint Denis had to pull himself together. He was the first French-born fighter to walk out on the UFC's first card in his home country and entered Accor Arena to a hero's welcome.
By the time Saint-Denis competed, the building was full, and it was only the third fight of the evening. The fans were on their feet, chanting his name and treating him like one of the sport's biggest superstars.
During the first round, as Saint-Denis was slinging leather with opponent Gabriel Miranda, a rumble came up from the stands that was borderline frightening. It didn't end up being ominous — it was just the collective sound of more than 15,405 fans stomping and clapping in support of their hometown UFC star.
"It felt a bit like a video game, the first minute of the fight," Saint-Denis said. "It's huge. The atmosphere. It's difficult for your brain to accept that all those guys are cheering for you. You have to concentrate on the [opponent], because obviously you have a job to do. This is what counts."
Saint-Denis said when Miranda took him down in the first round, he snapped out of the daze. Just 16 seconds into the second round, Saint-Denis dropped Miranda and finished him with a flurry on the ground — as the fans here became unhinged with joy. It was as if Saint-Denis was Conor McGregor, Muhammad Ali and Rocky Balboa all rolled into one, rather than a 26-year-old prospect in just his third UFC fight.
Fares Ziam, William Gomis, Nassourdine Imavov and Ciryl Gane also got the royal treatment. Ziam said the "energy" of the crowd willed him out of an armbar and a bad position when Michal Figlak took his back. The crowd roared when Gomis escaped a deep triangle from Jarno Errens in the third round and won a decision.
And then there was Gane. The crowd roared during his walkout and the loudest it was all night (up to that point) was the first round, cheering Gane's name and singing the French national anthem in unison. When Gane knocked out Tuivasa in the third round, it whipped the fans into an incredible frenzy. There was cheering, dancing, singing and jumping around, and some fans looked like they were on the verge of tears. The atmosphere was unmatched in MMA, save for some unreal cards in Ireland and England over the years. Maybe.
"Nobody on the planet expected this from the fans of France," Gane said in his postfight interview. "But bro, look at this. I'm so happy."
The stands were about 75% full for the first fight and loaded with energy, a stark contrast to Las Vegas UFC shows which don't start filling up until the main card begins. And the only reason why the crowd wasn't entirely in their seats for the first bout in UFC France history was that many were still waiting on long lines outside.
The UFC set up a mobile UFC Store to the side of Accor Arena, adjacent to a huge "UFC" sign and steps painted with the likenesses of Gane, Francis Ngannou, Georges St-Pierre and French women's flyweight contender Manon Fiorot.
Bernie Tamayo, born and raised in Paris, was near those oversized UFC letters before the event, taking photos and meeting up with friends. Tamayo, wearing a Valentina Shevchenko fight kit (his favorite fighter) and a Nate Diaz hoodie, said he has been a UFC fan for ten years. Yet, he wasn't sure if the promotion would ever hold an event in his hometown since the sport was illegal in France until 2020.
"I said, 'I need to be here – no matter what, no matter the cost,'" Tamayo said when he found out about UFC Paris. "It's so important. For us, it's everything.
"We need to show Dana White that Paris is the place in Europe for UFC shows."
Just on a 10-minute walk to the Accor Arena through the Bercy area, you pass the Nihon Judo dojo and the Team Zeitoun Thai boxing gym. France has long been a hot spot for judo, karate and Muay Thai. And now it seems primed to be a new go-to spot for MMA, especially after Saturday night.
"I don't see any other option for [the UFC]," Saint-Denis said. "They have to come back and back and back. Like they do London." — Raimondi
Robert Whittaker is one of the best fighters on the planet
You know what? I love my ESPN colleagues, and I think we do some terrific work on this sport at ESPN. But I've got to take them to task for a minute. You guys need to show some respect for Robert Whittaker. In ESPN's current pound-for-pound rankings, only two of the six voters have Whittaker inside the Top 10. Going into this fight, I had him at No. 7, the highest-ranked non-champion on my list.
I think some people are sleeping on how special of a fighter Whittaker is. This former champion is 12-2 since moving up to middleweight, and his only two losses have come against a generational talent in Israel Adesanya. And when they fought the most recent time, two judges gave Whittaker two of five rounds against Adesanya. What he's doing is tremendous. It's not as impressive as what Adesanya has done, but it deserves recognition and to be valued for what it is.
I love that in his post-fight speech on Saturday, he maintained that he's always gunning for that No. 1 spot and that he'll always be "lurking" at 185. There were some headlines earlier this week about a possible move to light heavyweight, but I hope that doesn't happen. Whittaker is world class as a middleweight — and belt or no belt, I appreciate the level of greatness he's performing at. — Okamoto
Sources:
https://bleacherreport.com/articles/10047586-the-real-winners-and-losers-from-ufc-fight-night-210
https://www.espn.in/mma/story/_/id/34518529/ufc-paris-takeaways-ciryl-gane-gives-masterclass-robert-whittaker-reminds-how-dangerous-185
https://www.jefebet.com/en/featured/ufc-fight-night-predictions-picks-odds-and-betting-preview-sep-3-2022/
https://en.wikipedia.org/wiki/UFC_Fight_Night:_Holm_vs._Vieira
https://www.sherdog.com/events/UFC-Fight-Night-210-Sandhagen-vs-Song-93612
http://www.espn.com/mma/fighter/_/id/3009717/robert-whittaker