When the first details about Weird Al Yankovic's movie were released, people thought they were being trolled. Daniel Radcliffe as Weird Al made little sense at the time. Now, however, with the trailer out and more details about what the movie entails, fans are onboard.
They just have one question — is the Weird Al movie a parody or a real biopic?
It seems to fall somewhere in the middle, to be honest. The trailer features Weird Al's parents telling him plainly to stop being himself. Then we cut to a scene where the police bring him home after he's caught at a polka party.
And there's even a shot of Daniel Radcliffe as Weird Al with a super athletic body that contradicts the lanky parody singer we all grew up with. No matter what the deal is with the Weird Al movie, though, people are into it.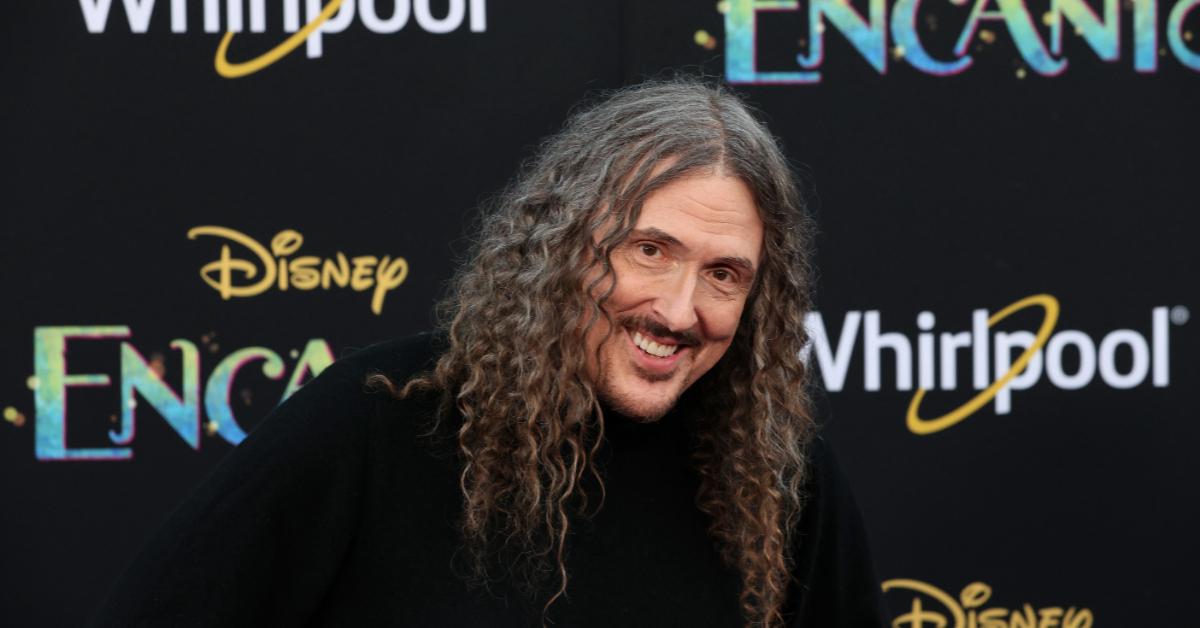 Is the Weird Al movie a parody?
Weird Al is known for making music parodies and embracing the, well, weird side of himself. He also encourages his fans to do the same. And, although he takes his career seriously, he doesn't seem to take much else too seriously, which likely includes his biopic. In January 2022, Weird Al spoke to Deadline about his movie and essentially compared it to his 1989 movie UHF.
UHF is about a guy who starts his own television network with tons of ridiculous and goofy programming. When a rival station catches wind of his success, they fight back. The entire movie is pretty ridiculous, but in the best way.
And, while Weird Al's movie does tell the story of his life, it's clear that there are untrue elements peppered in to make it as goofy as he is in real life. They reflect all of the things you see in other biopics, including illicit affairs, a terrible home life, and addiction. And none of those are true to Weird Al's actual story.
Weird Al is in 'Weird: The Al Yankovic Story.'
Even though parts of Weird: The Al Yankovic Story are clearly untrue (the trailer shows him making out with Madonna, and that never happened, FYI), Weird Al did lend his voice to the movie.
He picked Daniel specifically to play him and Weird Al helped write and produce the movie. And the iconic singer is also in the movie as an executive.
Who else is in the Weird Al movie cast?
Other than Daniel as Weird Al himself, Evan Rachel Wood plays Madonna, actress and comedian Quinta Brunson plays Oprah Winfrey, and Rainn Wilson is in the Weird Al movie as Dr. Demento, a radio DJ.
All of those characters are real life people who may have touched Weird Al's life, even if he wasn't really as close to him as the movie depicts.
So even though it isn't a straight biopic or even parody, there are elements to the Weird Al movie that are as silly as he is in real life. And would we have it any other way?
Daniel Radcliffe gets weird in this new trailer for 'Weird: The Al Yankovic Story'
Daniel Radcliffe is getting weird in the new official trailer for the upcoming "Weird Al" Yankovic biopic.
The new trailer for "Weird: The Al Yankovic Story" dropped on Monday, featuring Radcliffe as the famed quippy singer. Radcliffe — with his curly brown mop of hair, wire-rim glasses and bushy mustache — is almost unrecognizable.
"My whole life all I wanted was to make up new words to a song that already exists," Radcliffe, as Yankovic, says in the trailer. From there, the trailer takes off — chronicling the bizarre rise of Weird Al, including a hook-up scene with Madonna (played by Evan Rachel Wood).
The film, which also features Quinta Brunson as Oprah Winfrey and Rainn Wilson as Dr. Demento, was first announced in January and will premiere in September at the Toronto International Film Festival. It will then be available to stream for free on The Roku Channel on November 4.
Sources:
https://www.distractify.com/p/is-weird-al-movie-a-parody
https://edition.cnn.com/2022/08/29/entertainment/daniel-radcliffe-weird-al-new-biopic-trailer-cec/index.html
https://metro.co.uk/2022/02/24/daniel-radcliffe-jack-black-and-conan-obrien-film-for-weird-al-biopic-16165054/
https://www.indiewire.com/2022/02/weird-the-al-yankovic-story-daniel-radcliffe-1234701138/
https://tribune.com.pk/story/2339448/from-magic-to-music-daniel-radcliffe-to-essay-weird-al-in-biopic
https://collider.com/daniel-radcliffe-weird-al-yankovic-biopic-roku/