Three people, including the suspected shooter, are dead following an attack Sunday night at a grocery store in central Oregon, police said.
Officers were dispatched to the Safeway at the Forum Shopping Center shortly after 7 p.m. after receiving reports of shots fired, the Bend Police Department said in a statement.
Shooting rounds from an AR-15-style rifle, the gunman was believed to have begun the attack in the store's parking lot before moving inside, according to police.
Customer Glenn Edward Bennett, 84, was shot inside the entrance, police said Monday. Medics took that victim to a hospital, but the person was declared deceased, police said.
An employee, 66-year-old Donald Ray Surrett Jr., was fatally wounded while trying to disarm the shooter, police said Monday.
"Police believe the shooter continued firing through the store, shooting and killing an additional person," the department said.
Police on Monday identified the shooter as 20-year-old Ethan Blair Miller, who lived at a nearby apartment complex.
Dexter Chamberlin said he was checking out at the Safeway when he heard gunfire.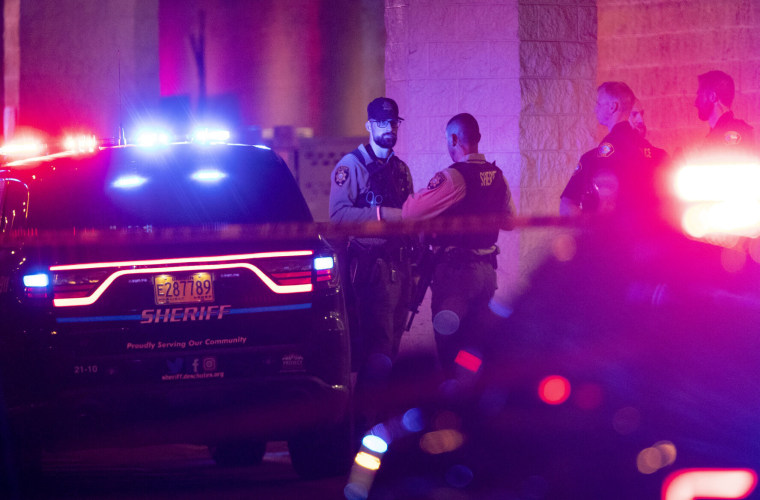 "We started running out the back emergency exit telling other people to do the same," he said. "We ran to a nearby apartment complex and hid behind some building with about a dozen other people."
It was not immediately clear how the suspected shooter, who was identified only as a male, died, but police said they did not open fire during their response.
Oregon police identify victims and suspected gunman in grocery store shooting that left 2 dead
Police in Bend, Oregon, have identified the suspected shooter as Ethan Miller, 20, according to police spokeswoman Sheila Miller.
Police also identified the two victims as Glenn Edward Bennett, 84, and Donald Ray Surrett Jr., 66, according to Miller.
[Previous story, published at 1 p.m. ET]
Another grocery store turned into a scene of bloodshed after a gunman with an AR-15-style rifle opened fire, killing two people and injuring another, police said.
The events unfolded shortly after 7 p.m. Sunday at a shopping center in Bend, Oregon, Police Chief Mike Krantz said.
A person believed to be the shooter was found dead at the scene. Police found an AR-15-style rifle and a shotgun close to that person's body, Krantz said.
The motive for the attack remains unclear. But it follows a spate of other grocery store shootings across the country in the past year and amid an overall surge in "active shooter" incidents, according to an FBI report.
In May, 10 people were killed in what authorities say was a racially motivated attack in Buffalo, New York. A "hero" security guard and a beloved teacher were among those gunned down.
In March, another 10 people were gunned down at a King Soopers grocery store in Boulder, Colorado. A veteran police officer with seven children was among those killed.
Last September, a gunman shot 15 people — including one fatally — at a Kroger in Collierville, Tennessee. Some people hid in freezers to survive.
"I immediately turned to my children and said, 'Run!'"
Investigators believe the killer in Oregon entered the Forum Shopping Center from a nearby residential area and started shooting in the parking lot with an AR-15-style rifle, Krantz said.
The unidentified male shooter then crossed the parking lot and entered a Safeway grocery store, where he fatally shot someone in the entrance, Krantz said.
Police believe the shooter kept firing throughout the store, shooting and killing another person, the chief said.
Customers and employees said they scrambled for safety as bullets flew.
Josh Caba told CNN affiliate KTVZ he and his four children were shopping in the store when the shots broke out.
"We started heading to the front. Then we heard I don't know how many shots out front — six or seven. I immediately turned to my children and said, 'Run!' People were screaming. … it was a horrifying experience," Caba told KTVZ.
Caba said he was worried about his wife, who stayed in the car because she wasn't feeling well. But as he and three of his children fled through exit doors by the produce department, he found that his wife had driven to the back of the store and was "sitting in the car, saying 'Get in the car! Get in the car!'" KTVZ reported.
The father was able to rush back into the store and find their fourth child, he told KTVZ.
An employee who identified himself only as Robert told the Central Oregon Daily News that he and other employees were working a closing shift in the deli when they heard loud gunfire.
"Me and three other employees ran into a walk-in refrigerator and closed the door and stayed there and stayed hidden until authorities arrived," he said.
In addition to the two victims killed, a third victim was hospitalized in good condition at St. Charles Medical Center, spokesperson Lisa Goodman said.
'Get away from the window'
Residents in the central Oregon city were stunned that their community would be the site of the latest grocery store shooting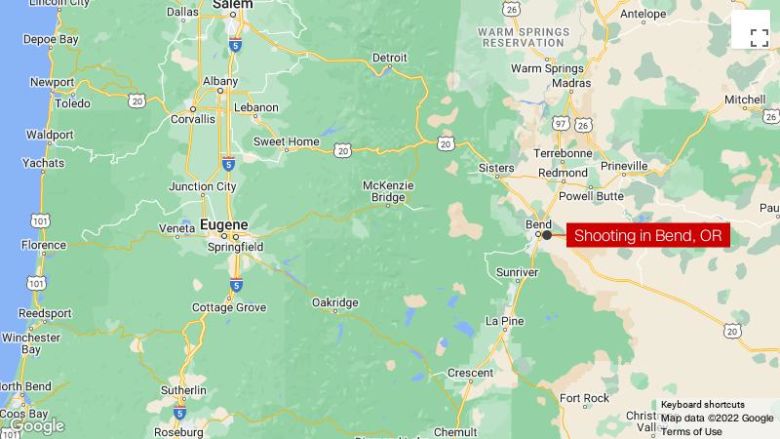 A woman who lives across the street from the Safeway said she initially thought the gunfire was an engine backfiring.
"I heard anywhere from five to eight shots. I thought it sounded like backfire," Heather Thompson told Central Oregon Daily News.
"Less than a minute later, there were 10 to 20 shots, and then another 10 to 20 shots. And by that time, I went inside and told my dad to get away from the window. And people were running out of Safeway."
When responding officers first entered the Safeway, they could still hear gunshots, the police chief said.
Krantz said it did not appear that any officers fired any shots. He said police believe the gunman acted alone.
But he said the investigation is still ongoing, and police are working to obtain warrants for homes in the area.
Sources:
https://edition.cnn.com/2022/08/29/us/safeway-shooting-bend-oregon/index.html
https://www.nbcnews.com/news/crime-courts/least-1-dead-1-injured-oregon-grocery-store-shooting-rcna45206
https://bitlive.stream/sports/three-dead-including-gunman-after-attack-on-oregon-shopping-center/
https://www.kgw.com/article/news/blood-everywhere-convenience-store-clerk-brutally-attacked-in-portland-video/283-48445bfd-8d1c-46a9-9f2e-bce9f98eae96
https://en.wikipedia.org/wiki/1984_Rajneeshee_bioterror_attack