In a rare and lengthy interview, Mark Zuckerberg spoke with controversial comedian and podcast host Joe Rogan about Meta's plans to release a new virtual-reality headset, his newfound love of jiu-jitsu and his company's decision to limit the reach of an article about Hunter Biden that came out in the final weeks leading up to the 2020 election.
In the three-hour chat with "The Joe Rogan Experience" podcast, Zuckerberg detailed his company's plans to release a new virtual-reality headset in October. Zuckerberg said the forthcoming headset will have "a few big features," including eye- and face-tracking so that people's VR avatars can accurately mimic their facial expressions and users can feel as if their avatar is looking directly at another person's avatar in VR social apps.
The company's most recent VR headset, Quest 2, was released in October 2020. The release of the interview with Rogan comes a week after Zuckerberg was widely criticized online for the simplicity of his avatar in Horizon Worlds, which is Meta's flagship social VR app. (Zuckerberg later admitted the image he shared was "pretty basic.")
In his conversation with Rogan, Zuckerberg said more about the new headset will be revealed at Connect, which is Meta's annual VR developer conference. The company hasn't yet announced a date for the conference this year, but it's typically in the fall; last year, it streamed online on October 28.
Zuckerberg doesn't sit for many traditional press interviews. Rogan's podcast, while popular, has also come under criticism for the host's inaccurate claims about Covid-19 and vaccines.
In addition to discussing VR, Zuckerberg was also pressed on some of the company's content moderation decisions. In one exchange, nearly two-hours into the chat, Zuckerberg addressed his company's decision to reduce the spread of a New York Post article published in October of 2020 that made allegations about Hunter Biden.
Zuckerberg said the article's distribution was reduced for several days while it was reviewed by the company's fact-checking partners. "For the, I think it was five or seven days, when it was basically being determined whether it was false, the distribution on Facebook was decreased, but people were still allowed to share it," he said in the interview.
The reduction in the article's distribution was addressed publicly at the time of its publication. In Oct. 2020, Meta spokesman Andy Stone tweeted "While I will intentionally not link to the New York Post, I want be clear that this story is eligible to be fact checked by Facebook's third-party fact checking partners. In the meantime, we are reducing its distribution on our platform."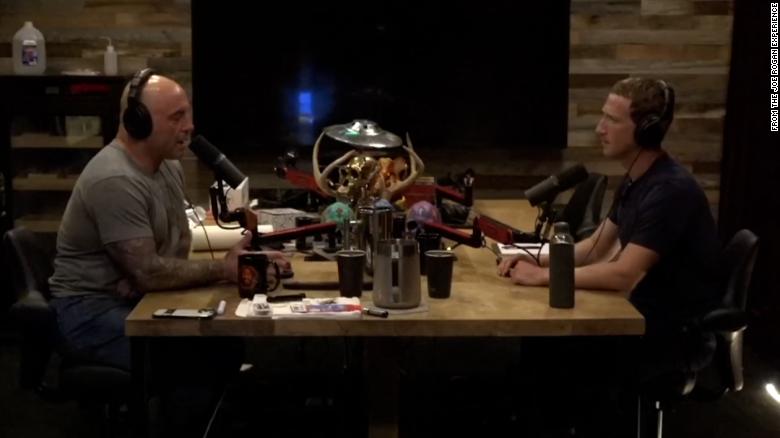 Mark Zuckerberg spoke with controversial comedian and podcast host Joe Rogan for three hours.
When pressed by Rogan about what it means for the distribution to be decreased, Zuckerberg added, "Basically, the ranking and Newsfeed was a little bit less, so fewer people saw it than would have otherwise." Zuckerberg said he didn't know by what percentage "off the top of my head," but said it was "meaningful."
Zuckerberg said the decision to take action on the story came after broader warnings from the FBI to be "vigilant," given Russian propaganda in the 2016 election.
"We just kind of thought, hey, look, if the FBI, which I still view as a legitimate institution in this country, is very professional law enforcement, if they come to us and tell us that we need to be on guard about something then I'm going to take that seriously," he said.
Facebook and Twitter each took steps to limit the spread of the story on their platforms at the time. Twitter's cofounder and former CEO Jack Dorsey later said his company made the "wrong" decision on the matter.
After fact-checkers looked into it, Zuckerberg said no one was able to ultimately say that the story was false. The situation "sucks," he said, "in the same way that probably having to go through a criminal trial, but being proven innocent in the end sucks."
He added: "I think the process was pretty reasonable. You know, we still let people share it, but obviously you don't want situations like that."
On Thursday evening, after Zuckerberg's interview with Rogan circulated on social media, Meta's verified communications account on Twitter responded to tweets related to Zuckerberg's discussion of the Hunter Biden story. "Mark testified before the Senate nearly two years ago that in the lead up to the 2020 election, the FBI warned about the threat of foreign hack and leak operations," the account tweeted.
In the conversation, Zuckerberg also touched on algorithms and content moderation, as well as lighter topics like his morning routine and his family's love of jiu-jitsu. According to Zuckerberg, jiu-jitsu is "a big part of who I am."
20 Remarkable Joe Rogan Facts to Enjoy in 2022
Unless you've been living under a particularly sizable rock, chances are, you've heard of Joe Rogan. Even though he recently found himself embroiled in controversy and became the latest "cancel culture" target, his fan base hasn't abandoned him yet.
Amid this buzz, a whole lot of curious tidbits of info have emerged.
In this article, we'll look at his professional career from television pundit to the world's foremost podcaster. Dozens of Joe Rogan facts await below!
The Most Remarkable Joe Rogan Facts (Editor's Choice)
The longest "The Joe Rogan Experience" podcast episode is 5 hours and 19 minutes.
There are 1960 total JRE episodes.
Joe Rogan averages 11 million viewers per episode.
His audience is quadruple that of the highest-rated cable shows.
Spotify paid $100 million to host his podcast exclusively.
His YouTube channel boasts 11.8 million subscribers.
Some Key Facts about Joe Rogan's Personal Life
Who is Joe Rogan?
How did he become so famous?
What's his family like?
All these questions make it sound like we're compiling a biography… and those can be boring sometimes.
Worry not! We're talking about a man who couldn't be further away from "boring," after all.
We've got all the gossip you need right here.
1. Joe Rogan is 54 years old.
(Source: Wikipedia)
How old is Joe Rogan? It's pretty normal to wonder—he has been around, at least professionally, for more than three decades. Obviously, he's a tad older than that—born in 1967, Joe's already 54 years of age.
2. He is 5' 8" tall.
(Source: Twitter)
You've probably wondered about Joe Rogan's height, too, especially since he got trolled by skywriting in West Hollywood last year.
Seems like whoever wrote out "Joe Rogan is literally 5 foot 3" in the sky hadn't done their homework, though, since the man himself tweeted (all the way back in 2015, too) that he's 5' 8". Furthermore, his IMDB page puts him at 5′ 7½", which is still a lot more than what the sky-written message claimed.
3. Joe Rogan has three kids.
(Source: CheatSheet)
While Joe always said he wouldn't marry, he eventually did—in 2009, he tied the knot with former cocktail waitress Jessica Ditzel. According to the podcaster, the two get along nicely because his wife lets him do what he wants.
They have two children, both girls, born in 2008 and 2010, respectively. But in reality, Joe Rogan has three daughters.
How did that happen? Well, Jessica already had a child from a previous relationship, which Joe ended up adopting when her biological father passed away in a car crash.
4. He last saw his father when he was seven.
(Source: RollingStone)
Joe Rogan's father was a police officer in his hometown of Newark. In an interview, Joe reminisced about a situation where he punched his cousin… and how that made his dad happy. Otherwise, the podcaster doesn't talk much of him, which is understandable since his parents split when he was just five.
5. Joe Rogan recently purchased a $14.4 million estate in Austin, TX.
(Source: Work+Money)
Where does Joe Rogan live now? Well, he's originally from Newark, New Jersey, but left his birthplace quite young. In 2018, Joe settled in California, where he purchased a nearly $5 million mansion. Two years later, he announced he'd be moving to Austin, Texas. His new Texas home is three times more expensive and about 50% larger—10,980 square feet.
Joe hasn't elaborated on his decision to resettle in detail, but it likely has to do with the zero tax on income in Texas, compared to California's 13.3%, the highest in the country by far. In fact, many wealthy people have made the exact same move.
The Joe Rogan Experience Podcast Stats You Need to Know
The Joe Rogan Experience is the single most popular podcast in the world, with viewership completely eclipsing that of any other podcast and traditional cable television.
Below, we've compiled a bunch of Joe Rogan podcast statistics to give you a better idea of the sheer numbers at play here.
6. JRE #1169 has more than 50 million views on YouTube alone.
(Source: YouTube)
Undoubtedly one of the best Joe Rogan episodes, #1169, originally streamed on September 7, 2018, is famous for an excellent reason—it was the first time Elon Musk appeared on the podcast.
Granted, Elon wasn't the world's wealthiest man back then… his net worth at the time was a measly $20 billion, barely earning him a spot in the Top 100.
But he was every bit as ingenious, and people loved the opportunity to get to know him better. We're talking about a two-and-a-half hour conversation on a wide array of topics!
This is probably why #1169 is also the most viewed Joe Rogan podcast to date, with a whopping 51.8 million views just on YouTube. These numbers made him the undisputed podcast leader on the platform. Elon's second appearance on the podcast, in #1470, attracted 25.2 million viewers.
7. Over 700 guests have been on the JRE podcast.
(Source: JREPodcast)
Joe Rogan's guests come from a wide variety of backgrounds. Among them are scientists, politicians, CEOs, activists, musicians, athletes, philosophers, and pretty much anyone else you can think of. If an activity exists, someone doing it has likely been on the podcast—as of this moment, more than 700 people have made an appearance.
8. Bernie Sanders was on the JRE in 2019.
(Source: AndroidAuthority)
At the time, Sanders was seeking the Democratic presidential nomination. He went on to lose to Joe Biden, but many will argue this is still the most interesting Joe Rogan podcast to date.
Joe Rogan had voiced his support for Sanders, a move that unleashed a firestorm of controversy, with many opposing the popular podcast host's endorsement. Regardless, the presidential candidate did appear on the show, thus, making #1330 one of the most watched installments.
9. Edward Snowden appeared on the JRE, too… twice.
(Source: AndroidAuthority)
His first appearance was in 2019, briefly after Sanders' (#1368). Bearing in mind Snowden has been on the run ever since he leaked those classified documents revealing the NSA's mass surveillance program, it's no wonder #1368 became known as one of the best Joe Rogan podcasts.
He later revisited the show in 2020 (#1536), so if you want to learn more about your privacy (or lack thereof), you know where to look. He talks about the difference between mass and individual surveillance, your "permanent record" of anything you've said on the internet, and other unnerving revelations.
10. Joe Rogan averages 11 million listeners per episode.
(Source: The Independent)
The JRE podcast usually has four new episode releases every week, with each one about two-and-a-half hours long. That's ten hours of content weekly!
So, how many people listen to the Joe Rogan podcast? About 11 million per episode on average. No wonder Spotify snapped it up in an exclusive deal. 
11. There are more than 1,770 JRE episodes.
(Source: JRELibrary)
Joe launched the podcast on December 24, 2009. Since then, he has produced an average of three to four programmes every week. This amounts to a total of ~1,770 Joe Rogan podcast episodes over the course of the show's history.
12. Spotify paid $100 million to host Joe Rogan's podcast exclusively.
(Source: The Wall Street Journal)
Up until the spring of 2020, Joe released his vodcast (video podcast) content on YouTube and kept it off Spotify. His main argument was that Spotify didn't pay well enough. The leading streaming platform clearly took those comments to heart, and offered the podcaster $100 million for the exclusive rights to his content.
While the Joe Rogan–Spotify deal meant the end of new episode releases on YouTube, old ones remained available. In addition, Joe still uploads highlights of recent podcasts every few days, though these are usually around five minutes long.
13. Many JRE episodes feature comedians.
(Source: PodcastHowTo)
This fact is probably the least surprising, considering the host's background as a stand-up comedian. Still, it's worth mentioning some of the funniest Joe Rogan podcasts.
#990 is a famous one, starring Jamie Foxx, who told a bunch of hilarious anecdotes about his past. Among them was the story of how he challenged Chris Brown to a dance battle at a Miami party and got owned. He also talked about how he found out what memes were— apparently, he thought the photo of Rihanna wearing a dress made out of pizzas was real at first.
Other notable comedians who have been on the JRE include Dave Chapelle, Jerrod Carmichael, and Russel Brand.
14. The total length of all JRE episodes is 5,058 hours.
(Source: JRELibrary)
This has to be one of our favorite Joe Rogan statistics. We already told you there's nearly 2,000 JRE episodes to date, coming out up to four times a week, but thinking of it in terms of time makes it even more staggering. At two-and-a-half hours per episode on average, it's no surprise it'd take you more than 5,000 hours to watch every single installment in the podcast.
Let's make it clearer, you'd need 211 days to binge the show, or about an entire astronomical year if you also wanted to get some sleep and food every now and then.
And a Few Fun Facts About Joe Rogan's Career
Joe's career encompasses more than 30 years and various occupations. It's been more than a decade since his podcast launched, two decades since he first became a UFC commentator, and more than three decades since his first stand-up comedy appearances. So, what does Joe Rogan do? He talks—a lot.
15. Joe Rogan was the original host of Fear Factor.
(Source: CheatSheet)
NBC recruited him to host the show in 2001, though Joe was reluctant at first. Even though he eventually agreed, he later claimed he only did so to gain experience and improve his stand-up game. Moreover, he was apparently convinced the show would get canceled straight away and was flabbergasted when it became a hit, describing it as "stupid."
Joe Rogan's Fear Factor experience spanned more than 150 episodes, but what's the one moment he won't forget? That one time contestants were forced to drink jugs of donkey semen. Yep. Joe pointed to this episode as the reason the show got canceled. He also said NBC later approached him to host the revived series, but he declined, saying there's simply not enough money in the world. To be honest, we'd probably do the same.
16. Joe Rogan has a net worth of at least $100 million.
(Source: CelebrityNetWorth)
Joe is actually considered one of the world's wealthiest comedians, though he derives a good portion of his income from his podcast, which is not always comical. In 2020, he sold the exclusive rights to said podcast to Spotify, which got him $100 million. Furthermore, he reportedly makes about $20 million yearly from the Joe Rogan Experience show.
17. Joe Rogan's UFC career started in 1997.
(Source: CagePotato)
It's a well-known fact Joe has a thing for martial arts. He has said that martial arts are the reason his teen self didn't feel like a loser.
He got so good that he won multiple national taekwondo tournaments. However, he exited the martial arts competitive scene at 21 as he'd started suffering headaches and worried about more severe injury.
Given this background, it's no surprise that in 1997, he started doing backstage and post-fight interviews for the UFC and enjoyed it even though he was paid "barely enough money to show up."
Later, Joe Rogan hosted TV shows over the early noughties; in 2001, when he was on Fear Factor, UFC's new president, Dana White, offered him a job as a color commentator. Joe initially said no, but when Dana offered him free prime event tickets, he agreed. The rest is history.
18. Joe Rogan holds two black belts.
(Source: Distractify)
We told you young Joe Rogan was good at fighting. Actually, scratch that—he still is. The man does karate, taekwondo, Brazilian jiu-jitsu, kickboxing, and he holds two black belts. Can you guess which martial arts he has mastered? Well, you don't win the US Taekwondo Championship in all three divisions without being really good at taekwondo, so that's one.
But the more impressive part is that his second black belt is in jiu-jitsu—a martial art he became infatuated with much later in his life. In fact, he first started practicing in 1994, when he was nearly 30 years old. Goes to show it's never too late to pick up a new hobby.
19. Joe once fought off a frenzied Fear Factor contestant.
(Source: Sportskeeda)
Now that you know all about Joe Rogan's martial arts skills, you'll love this one.
In Fear Factor's season 6, episode 10, a fumbled-up challenge attempt and some devious taunting agitated one contestant so much he ended up attacking the host. If you've seen that famous video where Joe showcases his kicks, you'll know just how bad of an idea picking a fight with him of all people is. Luckily for the man, Joe only put him in a headlock… and a third contestant did have to interfere to prevent the fight from escalating.
20. Joe Rogan co-hosted The Man Show in 2003-2004.
(Source: The New York Times)
Originally co-hosted by Adam Carolla and Jimmy Kimmel, the show found itself in the hands of Joe Rogan and Doug Stanhope for its last two seasons. While it was meant to poke fun at the stereotypical loutish male of the time, many of its jokes eventually came to be considered unacceptable even as comedy (such as Kimmel's blackface impression and the petition to end women's suffrage), and it came to an end in 2004. Nowadays, most of the comedians involved, including Joe Rogan, completely refuse to talk about it, which is probably for the best.
Sources:
https://webtribunal.net/blog/joerogan-facts/#gref
https://www.wane.com/news/joerogan-says-hes-passed-on-opportunities-to-have-trump-on-podcast/
https://en.wikipedia.org/wiki/JoeRogan
https://www.nytimes.com/2021/09/01/business/joerogan-covid-19.html
https://theconversation.com/how-joerogan-became-podcastings-goliath-176124
https://edition.cnn.com/2022/08/26/tech/mark-zuckerberg-joerogan-interview/index.html