It has been less than a month since we've heard news of Nick Cannon's sperm, which means it's high time for an update. And boy, has he delivered. Astoundingly, Cannon announced via Instagram that he is expecting yet another child — his third with model Brittany Bell.
Cannon posted what appear to be outtakes from a pregnancy shoot with Bell, writing in the caption, "Time Stopped and This Happened…" I do believe time works differently for Cannon, who has managed to conceive no fewer than six babies in the past two years.
His announcement comes two months after the arrival of Legendary, his baby with Bre Tiesi. Featured in the video were Cannon and Bell's two other children: 1-year-old Powerful Queen and 4-year-old Golden. I refuse to believe he has this much time and sperm.
In case you do not currently have access to your Google spreadsheet tracking Cannon's offspring, let me fill in the gaps. Aside from his kids with Tiesi and Bell, he has two sets of twins: Roc and Roe (with Mariah Carey) and Zillion Heir and Zion Mixolydian (with Abby De La Rosa, who's rumored to be carrying a third child with him). Cannon and Alyssa Scott lost a 5-month-old son, Zen, in December.
While Cannon claims to have briefly considered both celibacy and a vasectomy, something tells me he's not planning on stopping anytime soon. Maybe he's pitching a Masked Singer season in which all the contestants are his kids? I'd watch.
Who is Brittany Bell and How Many Kids Does She Have With Nick Cannon?
On Wednesday August 24, Nick Cannon announced that he was expecting another child in a post on Instagram.
The TV host confirmed the news by sharing a video on social media which showed him posing with Brittany Bell, the mother of his ninth child, for a maternity photoshoot.
Who is Brittany Bell and How Many Kids Does She Have With Nick Cannon?
Brittany Bell is a journalist and model who was previously crowned Miss Arizona USA in 2010 and Miss Universe Guam in 2014.
Bell also has a business, the Mama Gang. This has a YouTube podcast that she hosts with SoulFia Perez King.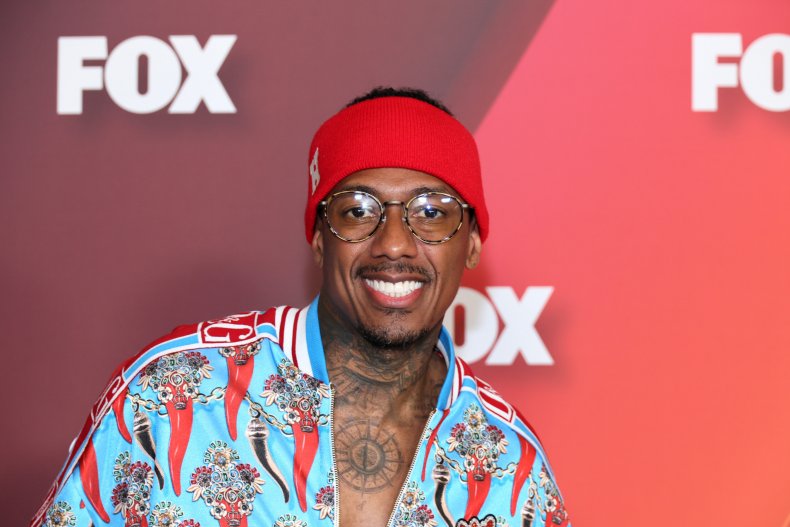 Cannon has two children with Bell— 5-year-old son Golden and 19-month-old daughter Powerful Queen. Both children featured in the video shared by Cannon to announce he and Bell were expecting their third child together.
Alongside the video, he wrote: "Time Stopped and This Happened…" with the hashtags "sunshine" and "sonRISE." Bell has not publicly acknowledged the pregnancy.
The comedian and model are said to have met in 2015 and dated on-and-off before welcoming their first child together in February 2017.
Following the birth of their daughter in 2020, Bell wrote on Instagram: "The best gift ever. we have been surprised with… A GIRL!!!!!… All I can say is that Nick was my rock through the most intense yet empowering natural water birth. It was nothing but POWERFUL.
Cannon has seven surviving children with several women, including fraternal twins Moroccan and Monroe, who he welcomed with ex-wife Mariah Carey in 2011.
He also shares twins Zion and Zillion with DJ Abby De La Rosa, who were born in June 2021.
Cannon welcomed his seventh child, a son named Zen, with model Alyssa Scott on June 23, 2021. Sadly, Zen passed away at just five-months-old from a brain tumor caused by hydrocephalus, which is an abnormal increase in fluid in the brain.
In July 2022, he welcomed his eighth child, a son named Legendary Love, whose mother is Bre Tiesi.
Cannon expressed his delight at being a father to so many children in an interview with People in May, saying: "Every day I just wake up excited as a father.
"I'm so excited about all my kids. Constantly, from every aspect of it. From them getting citizen of the month awards in the first grade to the birth of the new ones."
Sources:
https://www.newsweek.com/who-brittany-bell-how-many-kids-does-she-have-nick-cannon-ninth-child-1736762
https://people.com/parents/nick-cannon-celebrates-birth-son-legendary-love-harmonious-spirit/
https://pagesix.com/2021/11/08/nick-cannon-volunteers-to-make-some-babies-with-saweetie/
https://www.menshealth.com/entertainment/a40062470/nick-cannon-interview/
https://paperwriter.ca/so-how-does-nick-cannon-make-time-for-all-his-kids-the-mother-of-his-8th-child-speaks-out
https://www.thecut.com/2022/08/nick-cannon-another-baby.html