Shaquem Griffin, the only known one-handed player in NFL history, has decided to call it a career as a player.
Griffin announced his retirement from football Wednesday in a self-written post at The Players' Tribune — titled "Plan A" — but he's not leaving the NFL.
At a recent meeting with NFL Commissioner Roger Goodell, Griffin accepted a position to join the league's NFL Legends Community, assisting retired players and helping mentor current and former players on "everything from the transition into and out of the game to how to navigate mental health issues. It's a resource to provide guidance and support to players in whatever they might be going through or trying to achieve, including assisting with community service initiatives," Griffin wrote.
That's his Plan A.
Griffin said this conversation with Goodell and a few other people at brunch during Super Bowl week helped him see his path to this next phase of his life. Upon the morning of his retirement, Griffin appeared on Good Morning Football to elaborate on the next stage of his journey.
"Plan A, for me, was always to help people," Griffin said on Wednesday. "You know, not knowing how it was going to look, not knowing how it was going to come about, but I always want to pave that way to help anybody. My mom was somebody who always helped somebody and my dad kind of preached to us like, 'Plan B is football. Plan A is what you need to focus on.
That's what you got to school for, that's what you get the good grades for.' Now it's starting to become a real thing, and that's why I was smiling so hard because It's an exciting thing. It's bittersweet, yes, but it's an exciting moment to embark on a journey that I always wanted to be in, and that's motivating people, helping people. Having people have that positive mindset; that mentality to be better than what you think you really are because you have so many people who believe in you, love you and sometimes you got to tap into that side to see more for yourself and that's what I was able to do."
Griffin starting at UCF, being drafted into the NFL and playing three full seasons with a playoff contender might have been viewed as incredible achievements for any player, much less a one-handed one.
He first captured the imagination of the football-watching nation with a banner performance for Central Florida in a Peach Bowl win over Auburn, with 12 tackles (3.5 for loss) and 1.5 sacks. Then Griffin stunned observers at the 2018 NFL scouting combine, running a reported 4.38-second 40-yard dash.
Selected in the fifth round of the 2018 NFL Draft by the Seattle Seahawks, where he played alongside his brother Shaquill Griffin, Shaquem appeared in 46 games (one start) over three seasons with Seattle. The 6-foot, 227-pound linebacker mostly played on special teams, notching 25 tackles, one sack and six QB hits during his career while also finding another big sack during the 2019 playoffs in Green Bay. Griffin also spent time on the Miami Dolphins' roster before being released last summer.
If his work with fellow ex-players is as impactful as his football achievements have been to date, Griffin would be a tremendous asset to the league.
Griffin wrote that "it's almost unthinkable" that he's moving on from playing but that "I know the positive effect I'm having on others. I'm speaking at colleges and universities, talking to football teams and even presenting to corporate America about never doubting yourself and tirelessly pursuing your dreams. People at companies want to hear what I have to say when actually I'm the one that can learn so much from them. It's crazy," he wrote.
Griffin said that the lessons he learned growing up will help guide him in his new role. He wants to "go build something new so I can do what Dad always told us to do: leave the world a better place than when we found it."
The NFL is a better place with players such as Griffin around the game. It's a good thing he's not leaving the league, even if he's not playing anymore.
Seahawks Player Q&A: 12 Things You Don't Know About Linebacker Shaquem Griffin
Here are some facts.
1. You can find him in Florida for most of the offseason.
"I'm usually in St. Petersburg with my family hanging out with. Typically, in the offseason I give myself four weeks off, and then I'll start my training and conditioning. I'll usually be in St. Petersburg but train in Tampa. If we're in Seattle we workout early in the morning. We took a few trips along the West Coast, but an offseason day in Seattle is different from an offseason day in St. Petersburg."
2. The grind doesn't stop for him, even when it comes time for community involvement.
"I wake up at around 7 a.m. Then I'll eat breakfast and workout at around 9:30 a.m. and finish at 11 a.m. After that, I grab lunch and drive back to St. Petersburg and hang out with my family. We have a track team that we coach called the St. Pete Nitro track club. We usually coach between 6 p.m. to 8:30 p.m. After that we just relax and maybe play games and get ready for the next day. We workout five days a week."
3. Instagram is his number one social media app.
"Instagram. It's cool because you can post pictures, let the ladies see your outfit for the day, and there's always funny videos on there. It doesn't matter what I'm doing, when I get on my phone, I'm going to touch Instagram every single time. You can even go to the explore page and find exactly what you're looking for."
4. He has a 90's soul.
"If I could live in any era, I would probably have to choose the 90's. I say that probably because of the music, and how it was back then. It was just different. The way of living was different, the way people interacted with each other was different. In today's world, we text more than we talk on the phone.'
5. If it's the day before the game, he has to have his cheesecake.
"If I don't have cheesecake the day before the game, I'll feel awkward. It started in college. They used to always have cheesecake day and whenever I ate cheesecake, I was balling. When I didn't eat cheesecake, I feel like I didn't play my best game."
6. If he's not with his twin brother Shaquill, you can catch him with some of his brothers on the team.
"Besides my brother, I spend the most time with Tre Flowers, along with Tedric Thompson and Lano Hill. We just hang out and play Fortnite for the most part. We have our little group that we play the game with. Now that Jadeveon Clowney is here, we spend a lot of time on the game with him too. We get nothing but W's when we play online."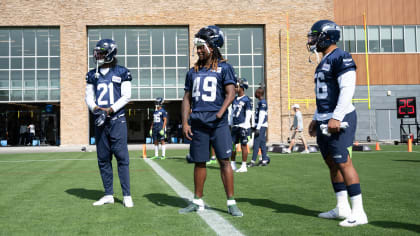 7. Some of the best advice he has ever received came from a family member, and a locker room family member.
"My brother picked up a saying here with the Seahawks that said, 'control the controllables.' Another great piece came from coach Ken Norton, Jr. he told me to 'be where your feet are at.' It's easy to worry about things that have came and went instead of living in the moment."
8. His favorite moment as a rookie was significant for multiple reasons.
"My first NFL start was my favorite moment as a rookie. Being out there with my brother and having our parents there was a blessing. It was a dream we both had, and for it to come true the way it did is something I'll never forget."
9. Football wouldn't be the same for him if his twin brother Shaquill wasn't on the same team.
"It would've been different. It wouldn't be the same because our parents wouldn't be able to come to all of our games. When we were apart it was even more challenging because we were on completely different coasts, too. I'm glad we're on the same team."
10. The most influential coach he has ever had is the same man that he calls father.
"My dad would always give us advice and help us figure out what it was that we could do better. He was a huge influence. He would push us to be the best versions of ourselves as possible. He was our best coach and our biggest critic."
11. In his mind, a perfect road trip would be in the company of Tedric Thompson and Tre Flowers en route to Las Vegas.
"Tre Flowers and Tedric Thompson would be two perfect people to go on a road trip with besides my brother. If I had to choose where, I would probably say Vegas. Those are my boys; I could go anywhere with them."
12. He plans to leave behind an extraordinary legacy.
"For me, I don't want to just be successful, I want to be remembered as extraordinary. I don't want to be categorized in the same realm as those who are only successful. Success can be measured in many ways. There are many successful people, but I always think of ways to separate myself from that category, and it's me being extraordinary. Not even just within football. Even it's me helping different communities, making a difference in the world. I want to be known even when I'm no longer here."
Sources:
https://www.nfl.com/news/shaquem-griffin-announces-retirement-from-football-accepts-position-within-nfl-s
https://www.espn.com/nfl/player/_/id/3054029/shaquem-griffin
https://www.tmz.com/2022/08/24/shaquem-griffin-first-one-handed-player-drafted-nfl-retires-27/
https://www.pinterest.com/pin/11329436549000411/
https://www.si.com/nfl/2021/03/18/shaquill-griffin-jaguars-signing-shaquem-threw-up