SONY HAS ANNOUNCED a new PlayStation 5 controller called the DualSense Edge. This fully customizable version of the DualSense is the PS5's equivalent of an Xbox Elite controller, offering a slew of options like swappable stick caps, mappable back buttons, and custom profiles.
This new device will no doubt improve the performance of competitive PS5 gamers, and for many players, its announcement during Gamescom Opening Night Live 2022 was a welcome surprise. Here's what you need to know about the PS5 DualSense Edge controller, including details about its features, possible release window, and expected price.
WHEN IS THE PS5 DUALSENSE EDGE CONTROLLER RELEASE WINDOW?
Sony has yet to announce a release date for the PS5 DualSense Edge controller. As part of a PlayStation Blog post, the company said it would announce more about the controller in the months ahead. It would definitely be smart to get this controller out by the holiday season of 2022, but it's unclear if that will happen.
WHAT ARE THE PS5 DUALSENSE EDGE CONTROLLER FEATURES?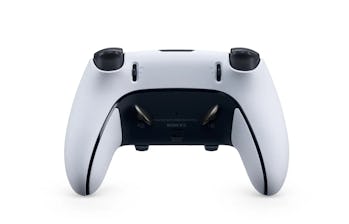 Much like the Xbox Elite controller, the PS5 DualSense Edge is highly customizable, with adjustable controls, stick caps, back buttons, and even the ability to save control profiles. It'll include a USB-C charge cable and a carrying case.
CONTROL CUSTOMIZATION
The PS5 DualSense Edge controller gives players the ability to remap buttons, and customize stick sensitivity and drift, with adjustable trigger settings, as well. Specifically, you can control trigger sensitivity, which will no doubt come in handy while playing competitive shooters.
It will include three different stick caps: Standard, high dome, and low dome, giving users plenty of ways to play exactly how they want. And the PS5 DualSense Edge controller is further enhanced by its two sets of back buttons that can be mapped to any button input.
Sony will also offer different stick module replacements, though these will be sold separately.
PROFILES
To make it easier to play various games with different control schemes, the PS5 DualSense Edge controller offers profiles — with the ability to switch between them on the fly. This means you'll get to spend more time gaming and less time tinkering with your controls.
IS THERE A PS5 DUALSENSE EDGE CONTROLLER TRAILER?
There is! This was the trailer shown during Gamescom Opening Night Live 2022. It's only around 36 seconds, but it does give us a good look at the controller's design.
WHAT IS THE PS5 DUALSENSE EDGE CONTROLLER PRICE?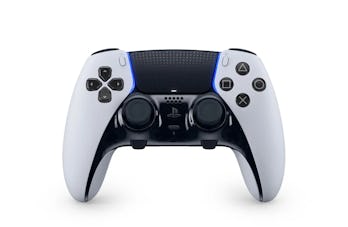 Unfortunately, Sony has yet to reveal how much the PS5 DualSense Edge controller will cost. The Xbox Elite Controller Series 2 costs around $180, so it's possible the DualSense Edge will match that price. Sony says it'll reveal more about pricing at a later date.
PS5 Dual Sense Edge Controller Has to Get Its Pricing Right
Based on the rumors circulating online right now regarding the next PlayStation Showcase, Sony's muted appearance at the Gamescom Opening Night Live event probably should have been expected. Considering the recent Helldivers 2 and Ballistic Moon leaks, all signs point to the publisher having its own imminent event in the pipeline. Despite all of this, though, Sony was still able to generate some excitement toward the start of the show via the PS5's brand-new DualSense Edge controller.
During a brief trailer at the Geoff Keighley presented event, Sony showed off the PS5's new controller for the first time. In an article published on the PlayStation Blog moments later, it went a step further and provided a break-down of all its key features. Even though the idea of an 'elite controller' isn't revolutionary, and the DualSense Edge's existence leaked online earlier this year, it's easy to see it still being a coveted piece of technology – which is all the more reason why the asking price Sony sets for it needs to be just right.
The DualSense Edge's Value
From all the information that Sony has shared about the PS5's DualSense Edge controller so far, it looks as though it will be a solid piece of technology. Based on the extensive list of features that have been promised, it's also clear that the publisher has set out to improve what players loved about the original DualSense. Two mappable rear paddles, changeable stick caps, and an extensive raft of customizable options, all should offer enhanced ways to experience games like God of War: Ragnarok.
From a pure functionality perspective then, the DualSense Edge is ticking all the right boxes. So much so that it's easy to see it going toe-to-toe with Microsoft's own line of Xbox Elite Wireless Controllers. Both of those factors however, mean there's a distinct possibility that the PS5's new controller will be positioned as a premium piece of technology as well. It's worth keeping in mind that the original launch DualSense still retails for around $69.99, so players should set their expectations for north of that figure when it comes to a price.
Although no release date or price has been shared, from Sony's perspective, setting the DualSense Edge at around $150 could be right for its own bottom line. Considering how the PS5 is still supply constrained, the publisher is likely hoping that the controller and upcoming PS VR2 will recoup some of the hardware revenue it's not currently raking-in. Positioning it as a slightly cheaper alternative to the second generation Xbox Elite Wireless Controller, which currently retails for around $179.99, could also be a factor it's currently weighing up.
Dual Sense Edge's Adoption Rate
What would work best for Sony's profit margins, though, wouldn't be great for the general public. If the DualSense Edge is going to be adopted by PlayStation owners, and therefore become successful, its creator is going to have to be careful working out an asking price. For most people, whatever price it ultimately lands on will make or break their desire to buy one. As a piece of optional hardware, the PS5's brand-new controller won't define the overall health of Sony's ecosystem. Still, that doesn't mean the publisher will want it to be a blot on its record because of an expensive price tag.
There's also two moral elements to the DualSense Edge's price that Sony would do well to keep in mind. Based on how PlayStation fans are going to have it and a second generation PS VR headset marketed to them in the coming months, asking that same audience to pay through the nose for both wouldn't be a great look. The original DualSense was plagued with drift issues, so the fact that the Edge's sticks will reportedly be replaceable for a price, will also likely have spooked more than a few Gamescom viewers. An affordable base price tag would subsequently be a considerable PR win.
Ever since the PS3's infamous $599 price reveal, the publisher hasn't been able to fully shake off the idea that it likes to charge a premium for new hardware. Although it's taken steps to address that with the likes of the PS4 and PS5, the Dual Sense Edge represents the perfect opportunity for it to set things right more definitively. While there's been praise in the aftermath of its reveal, how long the controller lives in the memory of Sony's fan-base will be determined by how much the publisher asks them to pay for it when launch details are shared.
Sources:
https://gamerant.com/ps5-dualsense-edge-controller-fair-price-needed/
https://leedaily.com/2022/08/24/dualsense-edge-wireless-controller-from-sony/?amp
https://jinicms.com/technology/the-ps5-dualsense-edge-controller-is-playstations-take-on-the-xbox-elite/
https://www.inverse.com/gaming/call-of-duty-season-5-release-date-trailer-updates
https://www.ign.com/articles/ps5-dualsense-controller-haptics-can-be-turned-off