Dallas Weather — A flash flood warning remains in effect for Dallas County through 1 p.m. Monday, but the overnight storms have already brought deep pooling, and morning commute headaches aplenty, to roads throughout North Texas.
More than seven inches of rain fell over DFW Airport overnight, with the City of Balch Springs — located just east of Dallas — reporting more than 10 inches of rain in just a few hours.
Cars across the Metroplex can be seen stranded on the sides of roads, seemingly in the wake of drivers attempting — and failing — to drive through flooded stretches of road.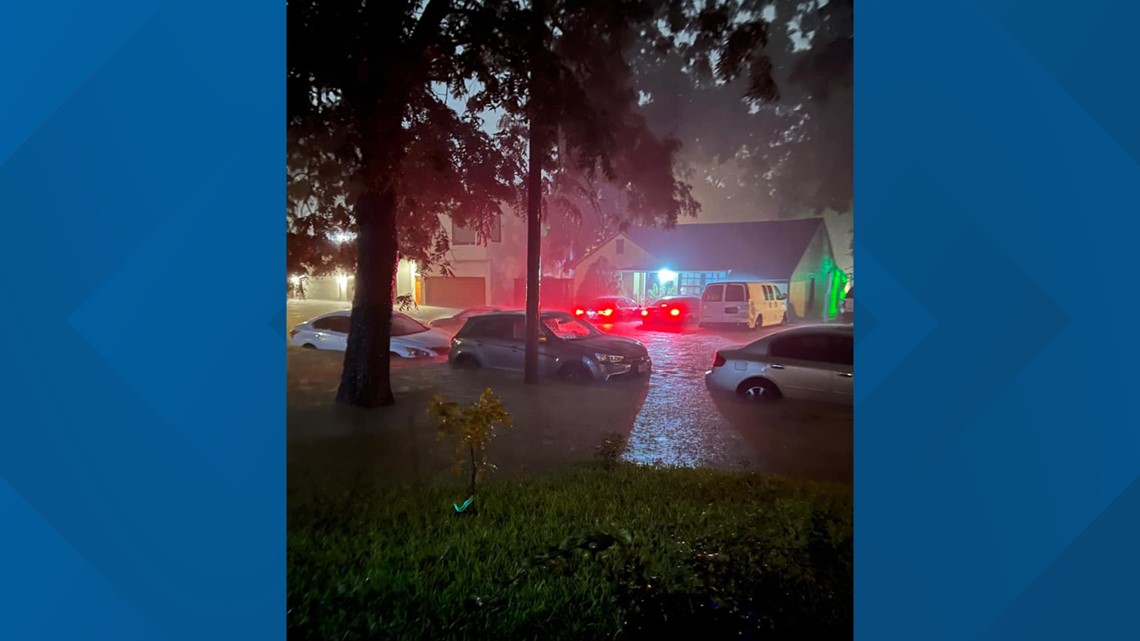 Credit: Cari Weinberg
Watch live radar of the still-active storms here:
Arlington
Arlington Public Works is advising drivers to avoid several roads due to high water. 
Balch Springs
In Balch Springs, the rain has led to power outages and reports of flooding Arrowdell Road at Hickory Creek. The city has opened the Balch Springs Recreation Center as a shelter in the meantime.
Some residents had to be rescued from their homes in Balch Springs.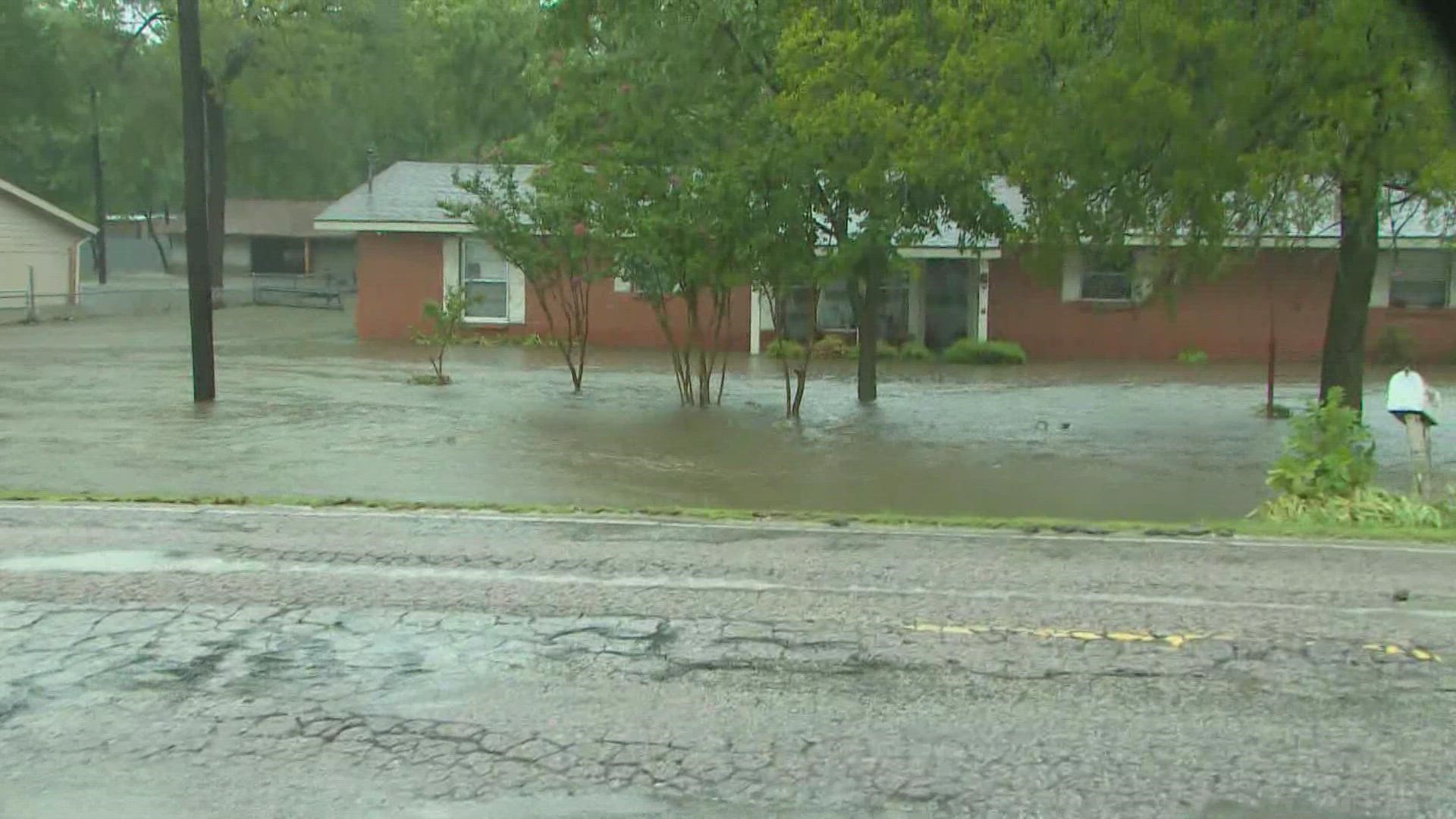 Dallas, Dallas County
A Flash Flood Warning has been issued for Dallas County until 1 p.m. Monday.
An areal flood warning was issued for Dallas County until 4 p.m.
Dallas ISD said some buses may be delayed as they navigate through the city.
For any questions about DISD transportation, the district urges parents to call 972-925-4BUS.
Ground stops have been issued at both Dallas Love Field and Dallas Fort Worth International airports due to storms. At DAL, the ground stop is until 9:15 a.m. with a medium chance it could be extended. At DFW, the ground stop is until 10:15 a.m. with a medium chance it could be extended.
Dallas Police said it was responding to several high water calls in the city.
"Be prepared to find alternate routes today," tweeted Dallas Police. 
According to Dallas Fire & Rescue, crews have responded to roughly 200 high water incidents since Sunday night
In Dallas County, there are more than 5,600 customers without power, according to Oncor.
DART
Dallas Area Rapid Transit has also sent out a notice warning rides that both its bus and light rail services could be delayed this morning due to flooding concerns.
Duncanville
The City of Duncanville, meanwhile, is warning families that its school buses could see delays this morning because of the rains.
Ellis County
A Flash Flood Warning has been extended for Ellis County until 3:15 p.m.
Fort Worth, Tarrant County
A Flood Warning has been issued for Tarrant County until 1 p.m. Monday.
An areal flood warning has been issued for Tarrant County until 4 p.m.
In Fort Worth, MedStar reported that it responded to at least 23 crashes overnight and conducted at least one water rescue.
Roads across North Texas are experiencing backups due to weather-related concerns.
According to Fort Worth Fire, crews are responding to 133 high water investigations since Sunday evening.
Fort Worth Police tweeted Monday morning that drivers should avoid driving on Forest Park from I-30 to Weatherford Street as Trinity River levels were overflowing onto the road.
In Tarrant County, Oncor said there were more than 6,600 customers without power.
Remember: As it's difficult to determine the depth of flooding on roads, officials recommend drivers never proceed through pools with their cars. In situations where that's unavoidable, here's what officials recommend you do.
Henderson County
A Flash Flood Warning has been issued for Henderson County until 2:30 p.m.
Johnson County
A Flash Flood Warning has been issued for Johnson County including Burleson, Cleburne and Keene until 1:15 p.m.
Mesquite
Mesquite ISD said students on buses have arrived to campuses, but some of them who were not able to get dropped off to their home campuses were taken to the nearest accessible campus. Those students will be fed and supervised by staff, MISD said.
TEXRail
TEXRail is operating at reduced speeds due to safety.
"Riders can expect delays throughout the day as the rain continues," the TEXRail. 
Dallas Flood Live Updates: Water Rescues, Roads Closed, Flights Delayed
Dallas-Fort Worth has officially picked up 10.03 inches of rain so far in August, with much of that falling since late Sunday. That's closing in on the wettest August on record in the Metroplex, which was 10.15 inches set in 1915.
(1:15 p.m. ET) Power Outage Hits DFW Airport
There are reports of a power outage affecting some parts of Dallas Fort Worth International Airport. Passengers are advised to check their flight status with the airlines and allow plenty of time to get to the airport.
Departures are currently delayed up to 30 minutes with arrivals running up to an hour behind, according to flight tracking website FlightAware.
More than 200 flights were canceled so far today and nearly 1,000 have been delayed.
More than 150 flights have also been impacted at Dallas Love Field.
(1:01 p.m. ET) Dallas Police Advise Residents To Avoid Flooded Streets
Police in Dallas responded to more than 40 high water calls this morning. Residents were told to be prepared to take alternate routes.
(12:58 p.m. ET) Flooding Continues Where Heavy Rain Has Fallen
The National Weather Service in Fort Worth tweeted a few minutes ago:
"There are reports of high water over many DFW roadways, especially city streets. Despite the heaviest rainfall moving further south, flooding will continue where heavy rain has fallen. Do not drive into flooded roadways, and avoid traveling if at all possible.
(12:26 p.m. ET) Heavy Rain, Flood Danger Moving South And East
The heavy rain threat slowly is sagging southward and eastward from north Texas into central and east Texas, Louisiana, southern Arkansas and Mississippi early this week.
Parts of northeast Texas received 4 to 7 inches of rain over a 24-hour period ending this morning, and more than 4 inches fell around Shreveport, Louisiana.
Total rainfall through Thursday could top 3 inches from parts of North and East Texas eastward into central Mississippi.
Click here for the full forecast.
(11:48 a.m. ET) Dallas Area Resident: 'What Do I Do?'
Brittany Taylor moved into her Dallas-area apartment two days ago. Now, her belongings are floating in it.
"I'm freaking out. My apartment is literally flooding," Taylor said in an emotional online post earlier this morning. "I just woke up. Should I call 911!? What do I do?"
See more of Taylor's story here.
(11:42 a.m. ET) NWS Experiencing 'Major Comms Outage'
"There's a major comms outage affecting dissemination of radar data," the NWS Forth Worth office said in an update on social media. "The good news is that NWS meteorologists are still receiving all radar data to make warning decisions. We are able to communicate and transmit all warnings and product information through our backup offices."
Backup offices are typically other NWS locations.
(11:23 a.m. ET) More Water Rescues In Fort Worth
The Fort Worth Fire Department is responding to more than two dozen high water-related calls, including rescues.
(11:19 a.m. ET) Nearly 14 Inches of Rain In Dallas Area
In less than 12 hours, 13.94 inches of rain fell at White Rock Creek and Lawnview on the city's east side, according to Harris County meteorologist Jeff Lindner.
(11:09 a.m. ET) NWS Warns Of 'Dangerous, Life Threatening' Flooding
The National Weather Service in Fort Worth says 2 to 6 inches of more rain is likely across the DFW metroplex.
The agency tweeted: "DANGEROUS/LIFE THREATENING flash flooding is expected thru 1 pm. Do not drive through flooded roads!"
(10:55 a.m. ET) Hundreds Of Flights Delayed, Canceled At DFW
Dallas-Forth Worth International Airport is experiencing arrival and departure delays of up to 30 minutes, with the time expected to increase, according to airline tracker FlightAware.
Incoming flights are being held at their point of origin until at least 11:15 a.m. ET.
More than 130 flights have been canceled and at least 550 delayed.
Dozens of flights are also affected at Dallas Love Field.
(10:46 a.m. ET) 40+ Streets Closed In Dallas
The Dallas City Flooded Roadway System is a series of flashers that alerts drivers to roads that may be covered with water. Lights are currently flashing on 44 streets in the city. Drivers should avoid these areas.
You can check the current status of city streets here.
(10:38 a.m. ET) What To Know About Flash Flooding
Nationwide, at least 73 people have died in floods so far this year, according to the National Oceanic Atmospheric Administration. Forty-six of those happened in July.
Summer is the peak time of year for flash floods in most of the U.S. due to slower-moving weather patterns, ample warm and humid air, and occasional tropical storms and hurricanes.
Local National Weather Service offices issue flash flood warnings when flash flooding is either already happening or expected to develop based on rainfall rates and radar trends.
Regardless of whether a warning is in effect at the time, avoid flooded areas.
Most importantly, never, ever, attempt to drive through a flooded stretch of road or drive around barriers saying a road is closed ahead due to flooding.
Vehicles are one of the most common locations for deaths during floods, according to the NOAA statistics.
Click here to read more on ways you can stay safe during flash flooding.
(10:22 a.m. ET) Dozens Of Emergency Calls in Fort Worth
Police in Fort Worth responded to 53 water-related emergencies between 10 p.m. last night and 5 a.m. this morning, according to a tweet from the agency.
(10:12 a.m. ET) Flash Flood Threat Continues
Flash flooding continues to be a threat for the next few hours as a line of heavy rain forms from Jacksboro to Dallas-Fort Worth to the Canton area, according to the National Weather Service.
(8:34 a.m. ET) One Of Heaviest 24-Hour Soakings On Record
Dallas-Ft. Worth International Airport reported 7.17 inches of rain had fallen in 24 hours ending at 7 a.m CT.
According to statistics from the National Weather Service, this is the fifth heaviest 24-hour rainfall on record in the Metroplex in at least 122 years.
This is more rain in 24 hours than the average from July, August and September, combined (6.98 inches).
(7:20 a.m. ET) Feet Of Water In East Dallas Apartment
One Dallas resident says they have at least 2 feet of water in their home.
(7 a.m. ET) Flooding In Fort Worth Overnight
Photos and video posted to social media showed streets swamped with water in Fort Worth.
(5:45 a.m. ET) Water Rescues on Interstate
Video footage from storm chaser Brandon Clement showed people being rescued from vehicles stuck in floodwaters in Dallas.
(5:10 a.m. ET) Numerous Roads Submerged Around Downtown
A National Weather Service flash flooding warning stated that flooding was ongoing near downtown Dallas. Numerous roads and cars were reported to be submerged, including Interstate 30, the warning said.
(5 a.m. ET) Nearly 10 Inches Of Rain In One Location
Many parts of Dallas saw up to 8 inches of rain in just hours overnight. One location in eastern Dallas picked up 9.41 inches in six hours.
The flooding was caused by slow-moving thunderstorms with intense rainfall rates along a stalled frontal boundary. The heavy rain overwhelmed an area that was in extreme to exceptional drought heading into the weekend.
Dallas-Fort Worth International Aiport saw 6.65 inches of rain from Sunday afternoon to 4 a.m. CDT Monday morning. That put a major dent in the rainfall deficit of 10.32 inches it had heading into the weekend.
The Metroplex could see more rain on Monday, but then a drying trend is expected the rest of the week as the flood threat shifts south and east.
(4:30 a.m. ET) Water Up To Doors on Cars
Photos from Brandon Clement showed flooding of streets with cars underwater in Dallas
Sources:
https://www.wfaa.com/article/weather/dfw-weather-upwards-of-7-inches-of-rain-causes-dallas-flooding-north-texas-highways/287-7b1cfb56-71b1-458e-b648-121f565a8428
https://weather.com/news/news/2022-08-22-dallas-texas-flash-flooding-live-updates
https://www.wfaa.com/article/weather/dfw-weather-forecast-how-much-will-it-rain-and-when-in-dallas-fort-worth-north-texas-forecast-wet-pattern-returns-north-texas-next-week/287-292dfad3-2b42-43dc-a947-53892eb2a396