What's common between burgers across types? Mayonnaise. Yep, I know, it makes temporary visits in paninis and wraps too. But then doesn't the food favourite have a bad rep … for being extensively unhealthy? High on fat, mayonnaise may not be the first thing you think of having when you're in the mood to care for your gut and body. But then, what about the jar lying in your kitchen? You wouldn't want to shove it into the bin, right?
Turns out, you can leverage the fatty goodness of the condiment for your skin and hair. As we know, mayonnaise is whipped out of egg yolks, oils, sugar and more to achieve that gloppy texture — all of which may not be great for your health but can definitely boost your skin and hair's health. Here are some great ways to make mayo a part of your beauty regime.
Dry Skin Saviour: Whether you're struggling with severe dryness or a compromised skin barrier, mayo can help you out. Trust the fat complex in the condiment to aid with the moisture loss and soften your skin considerably. In the process, your barrier is also bestowed with nourishment; that it is strengthened too is a domino effect.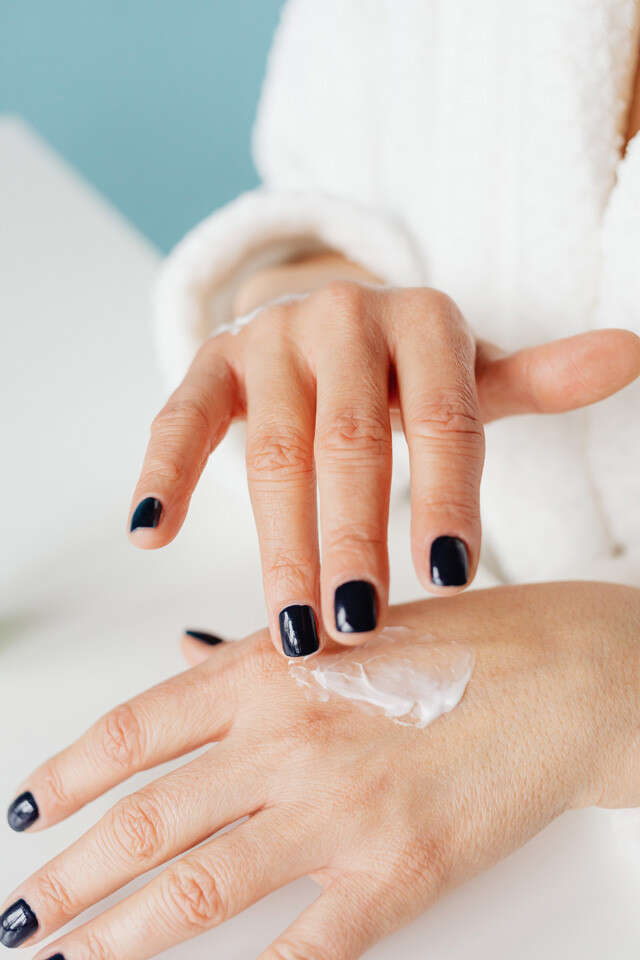 Image: Pexels
Pre-Shower Mask: Why just have pre-shower masks for the hair? Your skin can enjoy some nourishing care as well when you have mayonnaise by your side. Simply mix up some mayonnaise, honey and olive oil and slather the mix on your face about 20 mins before you hit the shower. Once you wash it off, your skin will feel smoother.
Heal Sunburns: It may sound strange but yes, mayo can heal 'em sunburns, or atleast aid with them. The whipped condiment greatly moisturises the skin and relieves pain and uneasiness in the area.
Anti-Frizz Mask: The aforementioned fat-rich properties can be enjoyed by your locks too. Cz why not? Your hair not only deserves but also requires that extra nourishment that is lost due to environmental damage. Mix a heavy conditioner – think coconut oil or almond oil – in a few spoons of mayo and spread across mid-lengths to ends. Use a shower cap to lock in the moisture. You can expect better sheen, softness and hydration post hair wash.
9 Most Effective Mayonnaise Hair Masks To Treat Different Hair Problems
Innovation is always exciting; be it for your outfit, beauty or hair care. So, put aside the traditional henna, amla and curd for a while as we bring you a new ingredient to battle those hair problems and keep your mane healthy.
Try the yum and delicious mayonnaise, which is the next big thing when it comes to taking care of your lovely locks. These hair masks made with mayonnaise will leave you with long, lustrous and envious tresses. Scroll and check out how these masks are made!
#1. Mayo and banana mask
Rich in potassium and vitamins, banana makes your hair healthy and unclogs the pores, and helps oxygen and moisture to reach the hair shafts. Mayonnaise also offers essential nutrients and minerals to hair that further enhances the texture of the hair.
Treats: Dull and rough hair
Method: Take a ripe banana for your hair recipe. Mix it with mayo. Apply and leave on hair for an hour. Wash hair with lukewarm water. It's a great recipe for sun damaged and weak hair.
#2. Mayo and egg mask
Both the wonder ingredients are healing agents for your tresses and scalp and ensure good hair growth. The presence of L-cysteine; an amino acid in mayonnaise and egg help nourishes your scalp and promote healthy growth.
Treats: Hair fall and boosts hair growth
Method: Yes, egg is already there in mayonnaise, but for that extra health of hair, you may add an egg too. Vegetarians can add curd instead. Take half cup of mayonnaise and one egg/half a cup curd. Add two or three drops of oil. Apply the paste on your hair and let it sit for around half an hour. Now wash off with mild shampoo and conditioner. The results of the tender love and care to your hair will just be awesome.
#3. Mayo and coconut milk mask
These kitchen ingredients can't help like a re-bonding treatment, but a regular frizzy hair can appear more straightened after its application. As coconut milk and mayo reduces the frizz and waviness, it offers a straightening effect.
Treats: Frizzy hair and provides straightening effect
Method: Take mayonnaise and coconut milk in equal proportions and prepare a mixture.  Use it as a hair mask. You can also go for a hot towel treatment after the application. Now wash off gently. You will notice the difference straight away.
#4. Mayo and petroleum jelly mask
Mayonnaise is one of the most popular home remedies to deal with hair laced with lice. Mayo and petroleum jelly have oil that makes it difficult for the creepy and dreaded crawlies to breath. So when applied in huge quantity, it suffocates and puts an end to the louse's life.
Treats: Lice present in hair and provides clean scalp
Method: Mix petroleum jelly and mayo in equal quantities and apply a thick layer into your hair. Leave it for more than an hour and wash out using lukewarm water. You will be saying goodbye to both lice and the eggs from the scalp.
#5. Mayo and papaya mask
Split ends occur when there is a lack of amino acid and nourishment to the hair. Without proper moisture, hair becomes dull and breaks easily. So, that is when you need to use mayo and papaya, both of which are rich in proteins and moisture.
Treats: Split ends
Method: Take two medium slices of papaya and blend it properly. Mix two tablespoons mayo in it, and apply to your scalp and hair. Cover your hair with a shower cap to lock the moisture. Leave it on for 30 minutes, and then wash off with shampoo.
#6. Mayo and avocado mask
Mayonnaise and avocado, both are packed with essential nutrients like amino acid, fatty oil and antioxidants, which condition and nourish your scalp.
Treats: Rough and dry hair
Method: Mash avocado till it's completely soft and mix it with mayonnaise. Apply the smooth mixture to your hair starting from the roots and down to the tips. Leave it as a hair mask for twenty minutes. You can wrap your hair in a towel for better results. Wash the mixture out of your hair. The application acts as a conditioner and prevents the hair from further damage.
#7. Mayo and coconut oil mask
Coloured hair means high chances of damaged cuticles and bleeding out of the colour. But mayonnaise helps repair and seal the cuticles. Coconut oil is a blessing in order to take care of coloured hair.
Treats: Coloured hair
Method: Mix a tablespoon of coconut oil to mayo and apply it to your hair. Shampoo it off after an hour for absolutely luscious and damage-free locks. Also Check Out: 10 Unheard Benefits Of Malai For Flawless And Milky White Skin
#8. Mayo and vinegar mask
Fungal infection on the scalp is one of the main causes for the appearance of dandruff. So, what's important is to have vinegar treatment to your hair that balances the scalp pH levels and keeps that extra oil secretion in control. Vinegar and mayo together will act like magic to get rid of that itchy and flaky scalp.
Treats: Dandruff
Method: Mix both the ingredients and form a paste. Apply the mixture to your hair and let it sit for around half an hour at least. Wash it off with tap water. You will find this as an amazing cure for your dandruff problem.
#9. Mayo and fenugreek mask
While, the ingredients in mayonnaise like vinegar, egg yolk work together to nourish the hair, fenugreek seeds add shine and provide extra layer of moisture to the hair strands. When applied together, mayo and fenugreek act as a natural conditioner giving your hair a healthy bounce and shine.
Treats: Dry hair and gives shiny and luscious locks
Method: Soak fenugreek seeds in water overnight. Grind it in the morning to form a paste and mix it with mayo. Apply the mix onto your hair. Leave the pack for around 25-30 minutes. The methi and mayo application will give an instant boost to your hair providing the required health and shine.
Sources:
https://www.bollywoodshaadis.com/articles/effective-mayonnaise-hair-masks-to-treat-hair-problems-6672
https://www.femina.in/beauty/skin/though-not-very-healthy-mayonnaise-is-a-great-diy-ingredient-for-the-skin-233554.html
https://homemadeforelle.com/mayonnaise-hair-mask/
https://www.healthline.com/health/beauty-skin-care/hair-mask-for-dry-hair
https://www.herbazest.com/remedies/deep-conditioning-mask-for-dry-hair