One does not have to compromise on discipline because you love your child. Both, according to experts, can go hand in hand. One of the biggest responsibilities as a parent is to teach your child how to behave without being tough on them or spanking them. It's a job that necessitates patience and time. However, learning effective and healthy disciplinary tactics is beneficial. "The moment one hears the word discipline, an image of harsh punishment, unkindness, and strictness comes to mind –more so of a mother who is usually the disciplinarian in a family.
Discipline is a very important and effective tool if practiced with a positive and loving approach," says Jyotika Bedi, Psychologist and Founder of Happiness Is Love, New Delhi who strongly feels Children are mini-adults and if corrections are made about learning rather than instilling the fear of the outcome or consequence, then kids definitely respond more effectively. "Children learn best by seeing individuals in their environment, particularly parents who serve as role models. Adults must model the behaviour they want their children to emulate," she says, offering a few suggestions for instilling discipline in your children while remaining kind.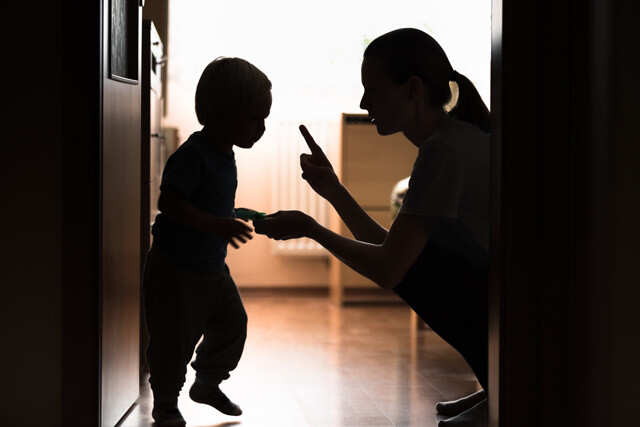 Image: Shutterstock

Refrain From Physical Punishments: Physical punishment, such as spanking, shaking, or slapping, can instil fear, produce trust issues, and encourage children to act violently and aggressively as adults. We need to discover alternatives to corporal punishment and deal with children in a way that fosters internal transformation, realisation, and motivation to mend. Violent and aggressive behaviour with children may temporarily cease an unpleasant behaviour, but spanked youngsters are more prone to strike and fight with other children, steal objects, and participate in antisocial behaviour.

Positive Reinforcement Works Effectively: When a child does something successfully, he or she should be praised in order for them to feel encouraged to repeat the behaviour.
Be Kind On Yourself: When we make mistakes on our journey as adults, we must be fair and forgiving to ourselves. Parenting is a difficult task, and we will inevitably make mistakes. Rather than punishing ourselves for yelling, screaming, or being disrespectful to our children in the heat of the moment, we should forgive ourselves and ask our children for forgiveness. Our children will learn to apologise from our example if we have the fortitude to request an apology from them.
10 Reasons Not to Hit Your Child
1. HITTING OR SPANKING MODELS HITTING
There is a classic story about the mother who believed in spanking as a necessary part of discipline until one day she observed her three-year-old daughter hitting her one-year-old son. When confronted, her daughter said, "I'm just playing mommy." This mother never spanked another child. Children love to imitate, especially people whom they love and respect. They perceive that it's okay for them to do whatever you do. Parents, remember, you are bringing up someone else's mother or father, and wife, or husband. The same discipline techniques you employ with your children are the ones they are most likely to carry on in their own parenting. The family is a training camp for teaching children how to handle conflicts. Studies show that children from spanking families are more likely to use aggression to handle conflicts when they become adults.
Spanking demonstrates that it's all right for people to hit people, and especially for big people to hit little people, and stronger people to hit weaker people. Children learn that when you have a problem you solve it with a good swat. A child whose behavior is controlled by spanking is likely to carry on this mode of interaction into other relationships with siblings and peers, and eventually a spouse and offspring.
Hitting Leaves Lasting Impressions
But, you say, "I don't spank my child that often or that hard. Most of the time I show him lots of love and gentleness. An occasional swat on the bottom won't bother him." This rationalization holds true for some children, but other children remember spanking messages more than nurturing ones. You may have a hug-hit ratio of 100:1 in your home, but you run the risk of your child remembering and being influenced more by the one hit than the 100 hugs, especially if that hit was delivered in anger or unjustly, which happens all too often.
Physical punishment shows that it's all right to vent your anger or right a wrong by hitting other people. This is why the parent's attitude during the spanking leaves as great an impression as the swat itself. How to control one's angry impulses (swat control) is one of the things you are trying to teach your children. Spanking sabotages this teaching. Spanking guidelines usually give the warning to never spank in anger. If this guideline were to be faithfully observed 99 percent of spanking wouldn't occur, because once the parent has calmed down he or she can come up with a more appropriate method of correction.
VERBAL AND EMOTIONAL "HITTING"
Physical hitting is not the only way to cross the line into abuse. Everything we say about physical punishment pertains to emotional/verbal punishment as well. Tongue-lashing and name-calling tirades can actually harm a child more psychologically. Emotional abuse can be very subtle and even self-righteous. Threats to coerce a child to cooperate can touch on his worst fear—abandonment. ("I'm leaving if you don't behave.") Often threats of abandonment are implied giving the child the message that you can't stand being with her or a smack of emotional abandonment (by letting her know you are withdrawing your love, refusing to speak to her, or saying you don't like her if she continues to displease you). Scars on the mind may last longer than scars on the body.
2. SPANKING DEVALUES THE CHILD
The child's self-image begins with how he perceives that others – especially his parents – perceive him. Even in the most loving homes, spanking gives a confusing message, especially to a child too young to understand the reason for the whack. Parents spend a lot of time building up their baby or child's sense of being valued, helping the child feel "good." Then the child breaks a glass, you spank, and he feels, "I must be bad."
Even a guilt-relieving hug from a parent after a spank doesn't remove the sting. The child is likely to feel the hit, inside and out, long after the hug. Most children put in this situation will hug to ask for mercy. "If I hug him, daddy will stop hitting me." When spanking is repeated over and over, one message is driven home to the child, "You are weak and defenseless."
Joan, a loving mother, sincerely believed that spanking was a parental right and obligation needed to turn out an obedient child. She felt spanking was "for the child's own good." After several months of spank-controlled discipline, her toddler became withdrawn. She would notice him playing alone in the corner, not interested in playmates, and avoiding eye contact with her. He had lost his previous sparkle. Outwardly he was a "good boy." Inwardly, Spencer thought he was a bad boy. He didn't feel right and he didn't act right. Spanking made him feel smaller and weaker, overpowered by people bigger than him.
SLAPPING HANDS
How tempting it is to slap those daring little hands! Many parents do it without thinking but consider the consequences. Maria Montessori, one of the earliest opponents of slapping children's hands, believed that children's hands are tools for exploring, an extension of the child's natural curiosity. Slapping them sends a powerful negative message. Sensitive parents we have interviewed all agree that the hands should be off-limits for physical punishment.
Research supports this idea. Psychologists studied a group of sixteen fourteen-month-olds playing with their mothers. When one group of toddlers tried to grab a forbidden object, they received a slap on the hand; the other group of toddlers did not receive physical punishment. In follow-up studies of these children seven months later, the punished babies were found to be less skilled at exploring their environment. Better to separate the child from the object or supervise his exploration and leave little hands unhurt.
3. HITTING DEVALUES THE PARENT
Parents who spank-control or otherwise abusively punish their children often feel devalued themselves because deep down they don't feel right about their way of discipline. Often they spank (or yell) in desperation because they don't know what else to do, but afterward feel more powerless when they find it doesn't work. As one mother who dropped spanking from her correction list put it, "I won the battle but lost the war. My child now fears me, and I feel I've lost something precious."
Spanking also devalues the role of a parent. Being an authority figure means you are trusted and respected, but not feared. Lasting authority cannot be based on fear. Parents or other caregivers who repeatedly use spanking to control children enter into a lose-lose situation. Not only does the child lose respect for the parent, but the parents also lose out because they develop a spanking mindset and have fewer alternatives to spanking. The parent has fewer preplanned, experience-tested strategies to divert potential behavior, so the child misbehaves more, which calls for more spanking. This child is not being taught to develop inner control.
Hitting devalues the parent-child relationship. Corporal punishment puts a distance between the spanker and the spankee. This distance is especially troubling in home situations where the parent-child relationship may already be strained, such as single-parent homes or blended families. While some children are forgivingly resilient and bounce back without a negative impression on mind or body, for others it's hard to love the hand that hits them.
4. HITTING MAY LEAD TO ABUSE
Punishment escalates. Once you begin punishing a child "a little bit," where do you stop? A toddler reaches for a forbidden glass. You tap the hand as a reminder not to touch. He reaches again, you swat the hand. After withdrawing his hand briefly, he once again grabs his grandmother's valuable vase. You hit the hand harder. You've begun a game no one can win. The issue then becomes who's stronger—your child's will or your hand—not the problem of touching the vase. What do you do now? Hit harder and harder until the child's hand is so sore he can't possibly continue to "disobey?"
The danger of beginning corporal punishment in the first place is that you may feel you have to bring out bigger guns: your hand becomes a fist, the switch becomes a belt, the folded newspaper becomes a wooden spoon, and now what began as seemingly innocent escalates into child abuse. Punishment sets the stage for child abuse. Parents who are programmed to punish set themselves up for punishing harder, mainly because they have not learned alternatives and click immediately into the punishment mode when their child misbehaves.
5. HITTING DOES NOT IMPROVE BEHAVIOR
Many times we have heard parents say, "The more we spank the more he misbehaves." Spanking makes a child's behavior worse, not better. Here's why. Remember the basis for promoting desirable behavior: The child who feels right acts right. Spanking undermines this principle. A child who is hit feels wrong inside and this shows up in his behavior. The more he misbehaves, the more he gets spanked and the worse he feels. The cycle continues. We want the child to know that he did wrong, and to feel remorse, but to still believe that he is a person who has value.
The Cycle of Misbehavior
One of the goals of disciplinary action is to stop the misbehavior immediately, and spanking may do that. It is more important to create a conviction within the child that he doesn't want to repeat the misbehavior (i.e, internal rather than external control). One of the reasons for the ineffectiveness of spanking in creating internal controls is that during and immediately after the spanking, the child is so preoccupied with the perceived injustice of the physical punishment (or maybe the degree of it he's getting) that he "forgets" the reason for which he was spanked.
Sitting down with him and talking after the spanking to be sure he's aware of what he did can be done just as well (if not better) without the spanking part. Alternatives to spanking can be much more thought-and-conscience-provoking for a child, but they may take more time and energy from the parent. This brings up the main reason why some parents lean toward spanking—it's easier.
Sources:
https://www.askdrsears.com/topics/parenting/discipline-behavior/10-reasons-not-hit-your-child/
https://www.femina.in/relationships/parenting/here-are-some-ways-to-help-you-discipline-your-child-with-love-221864.html
https://stock.adobe.com/ca/images/parental-punishment-child-abuse-mom-punish-a-little-daughter-with-a-belt-and-puts-her-in-a-corner-don-t-hit-the-kids-help-to-protect-children/259771772
https://www.getepic.com/in/video/41483631/dont-hit-dont-bite-no-hitting-song-for-children