Early childhood education (whether it is traditional or e-schooling) is the initial and crucial step in a child's educational journey. Ontario's pedagogy classified early childhood education into four aspects: 1. Belongingness. 2. Physical and mental wellbeing. 3. Engagement through inquiry-based and play-based activities. 4. Developing the ability to express.
These aspects of early childhood education were well-catered to by schools and early childhood teachers and experts. This year a shift from classroom teaching to a remote e-schooling environment has occurred. The home of every student became a new learning environment and parents became part of the semi-teacher community as well as the main source for providing learning resources and creating a learning environment at home. Roopkosh A, HOD, Early Childhood Education R&D at the Narayana Group offers an insight into just how to ensure the children's educational journey goes on smoothly.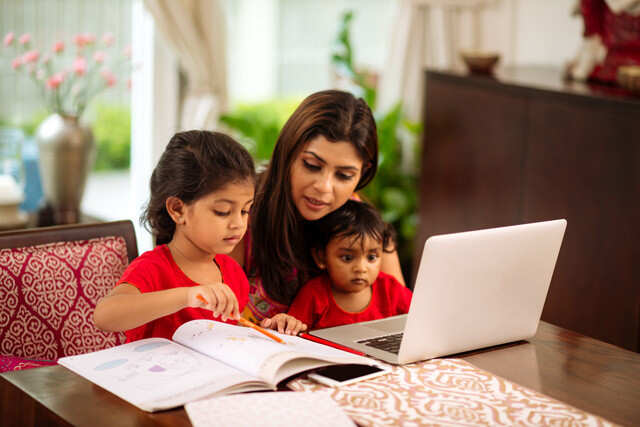 Image: Shutterstock
Challenges And Changes
Last year was a revolutionary period in the field of education with numerous challenges, innovations and developments observed in the sector. Technology began to play a major role in delivering education. According to a survey by the Kids International schools, 95 per cent of the parents polled have enrolled their child in some form of learning – e-schooling or homeschooling, to ensure continuity in their learning.
During this chaotic hour of adapting to the new change, learning among students can be stated as near zero but not zero. Early childhood education was most impacted due to less time that was available to learn and adapt to the learning environment.
Parents can play a crucial role in early childhood education. It's time to explore different strategies on how we as parents can enrich the learning of our children and overcome different challenges during this academic year. The main challenge is bridging the gap or learning loss that occurred last academic year. This learning gap can be reduced by creating a smooth connection between recap of basic concepts and current concepts.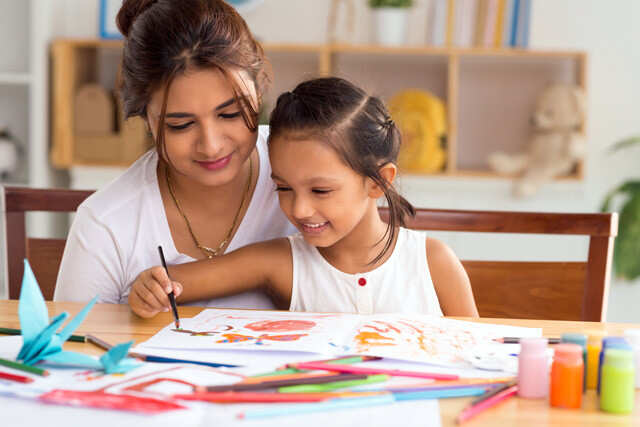 Enhance The Learning Experience
Adapting research-based strategies can provide a good learning experience for our children. Some of them are as follows:
• Increased knowledge and awareness can reduce the anxiety among parents and can empower them with the ability to train and support their kids as semi-teachers. To do so, parents along with teachers must be provided orientation sessions on all teaching-learning procedures.
• Belongingness can be developed by increased communication with our children and allowing them to interact more with their family members without any restrictions. Mental wellbeing, freedom to express and literacy skills can be developed through increased opportunities to interact.
• A daily routine for our kids can be followed at home. This will also help working parents in better time management.
• Allowing access to recorded classes can help parents visit the missed sessions in their free time and help their child to recap and learn. This facility will to some extent address issues to time, power cuts, internet issues or their busy work schedules.
The myth that children learn only by sitting in one place must be erased. Early learning in children happens mostly during play while interacting with a variety of environments. It must be understood that this kind of learning can be messy, and it should not be stopped for the same reason. Providing more opportunities for free exploration and free play can enrich the child with many skills like motor skills, increased vocabulary, literacy and numeracy skills, analytical skills and best of all being creative skills
• Educational resources provided by institutions must be used to the full extent.
• Regular communication with the teacher community and being open to change can lead you to provide better education at home.
Among all the strategies mentioned above, it is very much required to be optimistic and focus on finding solutions to challenges that arise rather than problems. This attitude helps us to enjoy every learning moment of our child.
Know The Benefits Of E-Schooling For Your Child
With the lockdown, a new era of schooling has come into the picture. Virtual classrooms have become a regular phenomenon and children across age-groups are sitting at the computer or laptop or even smartphones to get their daily classes done. While what the future holds – whether this continues, or the traditional in-class education returns or a mix of both – is not known for now, but it's here to stay in some form or the other.
As parents, you might find your child being at home the whole day a boon and a bane. Having them at home makes it easier to spend quality time with them and bond. Knowing where they are at any point is also assuring, isn't it? You and your child both now have the advantage of your time as you no longer have to get your child ready, prepare his lunch box and spend hours on travel.
That's additional time for the kid where he can take up a hobby or learn something extra-curricular! But having them studying from home, when you're working from home too can be a struggle with balancing all the work, right? And the children themselves might be feeling a little overwhelmed too. Check this out to know how to help them cope with it.
Easy Access
Sapna Karia, visiting faculty at Savitribai Phule Pune University and Symbiosis Institute of Management, shares her insight on how e-schooling has affected the student body amidst the lockdown. "While studying online, tools for both students and the teacher are easily available online. It also saves the time spent on the commute which can instead be utilized in studying. Along with this, since most of the online courses are uploaded for further reference of the students, it negates their backlog of understanding of any topic," she shares.
While interactive sessions are hard to conduct e-schooling sessions as it tends to get chaotic, the schools and teachers are finding ways to overcome this. Classes are held in batches to ensure students and teachers can interact properly and the information gets through properly. The studies are divided into actual video interactions with the teacher and by getting the children to work on worksheets. E-learning is the best solution for students who have a hard time focusing in the classroom full of 30+ students. Even teachers find it difficult to focus on one particular kid in the classroom.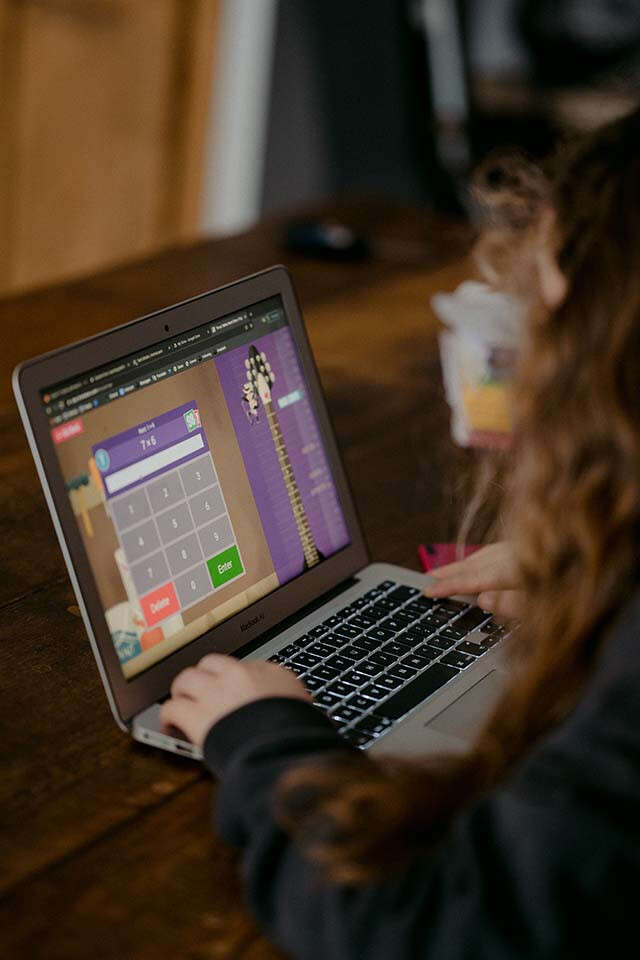 Added Effectiveness
Dr Jyoti Tewari, a counsellor at Army Public School, Bolarum feels that exploring all the options of technology available for online teaching can make it very interesting, both for the faculty as well as the students. Conducting more graphic oriented sessions will impact the students more as pictures tend to stick more in the memory than text. She feels that maintaining continuity by follow up sessions can help understand the effectiveness of the sessions conducted. Parents can make use of various articles and videos and plays available online to teach your kid. "You have to accept that you cannot give your child the classroom experience but you can give them the freedom of exploring more. The great part is that parents are allowed to sit with their kids during difficult e-schooling classes and help their child making learning easier for the kid," shares homemaker Mannat Shivnani, and mother of two.
Convenience
While parents have to take a more active part at some level in their child's education, especially with younger children, it is a way to help your child not only understand some topics but a way to bond with them. "Life sure has become extremely easy now. We've been taking it one day at a time and I schedule my child's learning hour after am done with my kitchen responsibilities and online meetings," says homemaker Jassica Vig, mother of two, who herself is undertaking some online courses. After they have their online classes with their teacher, she sits with them to go over what was taught and helps them find out more information on the topic.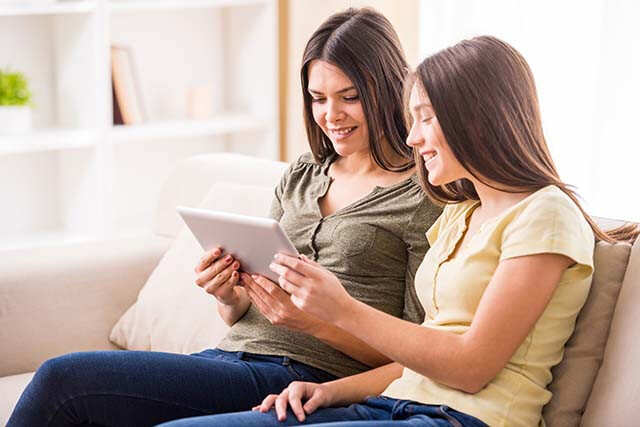 Image: 123rf
Tech-savvy
With learning moving online, young students are becoming comfortable with technology. "My daughter did not know how to operate a laptop earlier and now spends hours on it. Referencing and researching is the need of the hour and is a fresh change from the book-ish methods of the past. I've also discovered that my daughter grasps things better with videos. The downside is that she now wants to spend every waking minute glued to the laptop," shares Shivnani. It can become very easy for the student to become addicted to technology and we highly recommend you to keep track of the number of hours your kid spends on their phones and to keep it in check.
Sources:
https://www.femina.in/life/knowledge-and-education/ensure-your-childrens-early-milestones-198152.html
https://www.femina.in/life/knowledge-and-education/benefits-of-e-schooling-for-your-child-162716.html