Life is not easy, with many people believing that whining and complaining are a natural part of being human. Now, complaining is a habit that can be hard to break and stress relief tips are helpful. Devina Kaur, published author, inspirational speaker, and Founder of the Sexy Brilliant Non-Profit Foundation, says, "Complaining is not all bad. We all need to vent sometimes, and complaining can be cathartic. But this doesn't mean that we should complain constantly, or at the wrong time, or to the wrong people."
Devina shares some brilliant tips to being happier!
Knowledge Of Self for Stress Relief
Firstly, be aware of your thoughts. "It's easy to get into a habit of thinking negatively about everything and everyone around us, but if you become aware of your thoughts, it'll be easier for you to stop complaining," says Devina. Learn the power of positive self-talk and remember you are in charge of your life. It's up to you to love and appreciate your own body and mind. You are the centre of your own universe. All that you call life, unfolds as a result of how you think, feel, intend, speak and act on the world. You owe it to yourself, and to the universe, to think abundantly.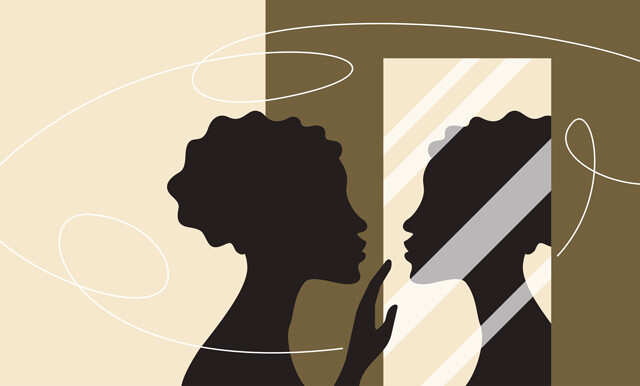 Spread The Love and Let Go of Stress
Sometimes, when we're feeling down, the best thing we can do is make someone else feel good about themselves. "Doing something nice for someone else is a simple idea that has a big impact on your life. It can be as little as sending a text message to someone to say 'I love you' or it can be something bigger. By doing so, you are making the world a better place by spreading joy and happiness," says Devina.
Build Intuition and De-Stress
Make the decision to pay attention to your inner voice and pay heed to your gut instincts. Even though you're terrified every time you share your weaknesses, have the confidence to walk one step ahead of dread! Knowing and embracing oneself develops wisdom, which you should maintain as you progress through life. "Intuition connects you with people who will encourage you to be brave and believe in your dreams. Take effort in knowing that the only voice you need to listen to is your inner voice," advises Devina.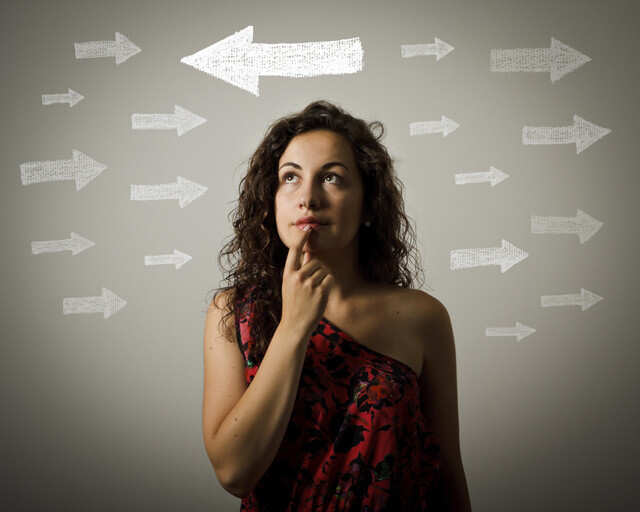 Accept Responsibility For Your Actions
Take responsibility for your own faults, but never for the mistakes of others. Self-respect is the first step towards becoming responsible. If something bothers you, either repair it or accept that you can't do anything about it right now, so why complain? "Complaining is a passive action. Change your grumbling into action to address the situation, or simply accept it and divert your attention elsewhere. Begin with admiring yourself and your decision-making abilities. Maintain a circle of individuals that appreciate you and don't take advantage of you. You will automatically return respect if you surround yourself with individuals who like and respect you," suggests Devina.

Embrace Yourself
You desire nothing more than a loved one cheering you on your bad days. You want to be cared for. You want someone you care about to reassure you that everything will be fine. You won't always have this kind of help, so you'll have to become your own best buddy. Persuade yourself to have the confidence you require. Encourage your own self-confidence and stand up for yourself.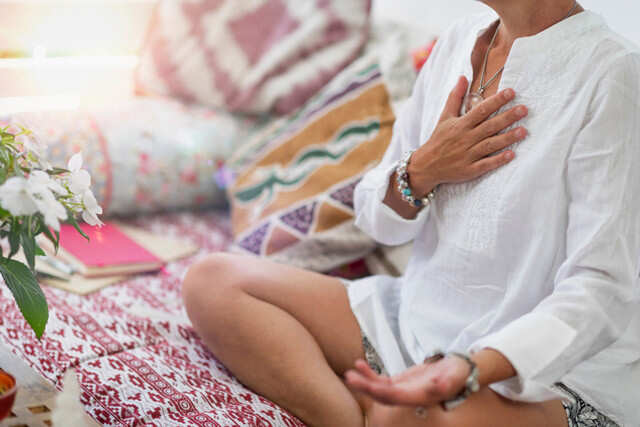 Self-Care Is A Must for Stress Relief
"Self-care can take on a variety of forms, and saying no is one of the most crucial lessons I've learned," says Devina. Saying no to someone else is the same as saying yes to yourself. Remember that you have the option of declining, so learn to say no to negative people, situations, objects, and even food. Embrace your future self without fear or guilt. You will be able to say yes to what feels right once you have said no to what feels incorrect. Not everyone is destined to be in our lives, and not everything will be the appropriate fit. It's unhealthy to hold on to something just because you think you should.
Consider Taking Help
Social support is a terrific stress reliever, and if you're lucky, you will have some extremely helpful and smart people in your life to confide in when you're feeling bad. Laugh with them rather than whining to them. If you don't have such people in your life, see a therapist who can help you identify and address the mental flaws that prevent you from being happy and satisfied.
A Lifestyle Guide For Mompreneurs To Strike Work-Life Balance
As an entrepreneur, your work will never come to an end, but if you are also a mother, then that's akin to managing two full-time jobs, which can be quite a challenge. Akshita Gupta, CEO, ABL Workspaces, who also recently became a mom, is of the opinion that between being a caregiver and a business leader, while the ride may not be too smooth, it will be worth it.

Sharing her experience, Akshita says, "Initially, it was not easy for me to juggle two worlds, and I always wondered how other mothers managed it so efficiently. I then realised that you can't do everything at once, and started focusing on my daily routine to create a sustainable work-life balance." With some minor changes in her day-to-day life and strong willpower, she has created a win-win situation for both of her 'avatars'. She shares below some tips that will help other mompreneurs lead a peaceful and stress-free life.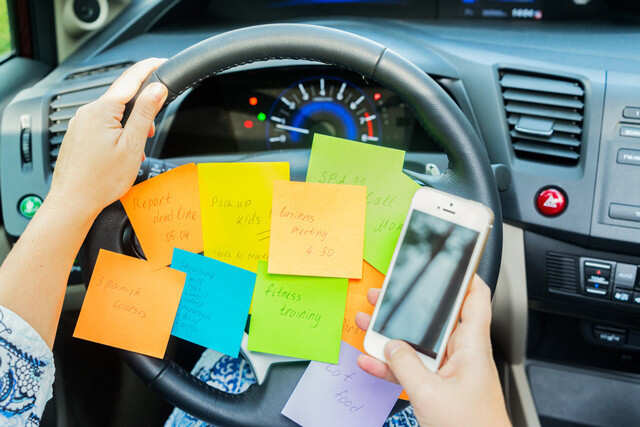 Plan Your Week
Being a mompreneur is full of stress and requires you to plan better and have clarity on your every day or weekly task list. It's good to take out some time before the start of the week and list down issues that need your attention both at the office and at home, including your business meetings and the vaccination of your child. Once done, set clear timelines and execute them. A shambolic routine can hamper your productivity and might leave you disoriented with no clarity on your priorities. Following your planner will help you achieve your important business targets on time and will leave you with ample time for your little one and family.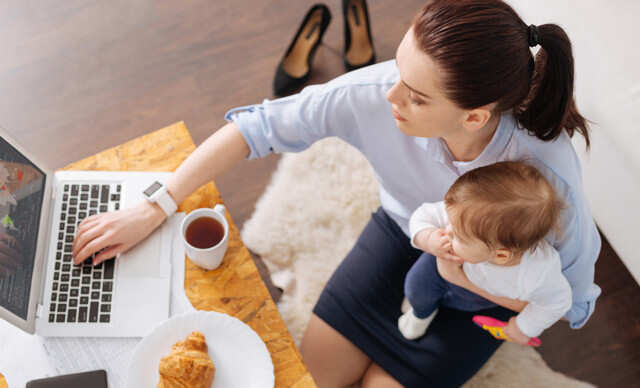 Avoid Overlaps
Women are born multi-taskers with a strong sense of self-worth and usually take on responsibilities early in life. It's in-built that we take up every single task to our heart and believe in finishing it end-to-end, and at times let one commitment overlap the other. However, once you are a mother, things are different, and overlapping will not help. Set work timings for yourself and finish your tasks during those defined timings. Never let your work take over your family time. Have a stress free life

Embrace Help
"Having been born and raised in a joint family, I have always seen family members coming together and helping each other – be it in the kitchen or the business world. So, never shy away from reaching out to your loved ones including your spouse, in-laws, or parents, and let them support you," says Akshita. If not family, then engage someone who can help you manage your things in the office or at home. Make sure that you give 30 minutes to yourself every day to sit back and relax and let go of stress.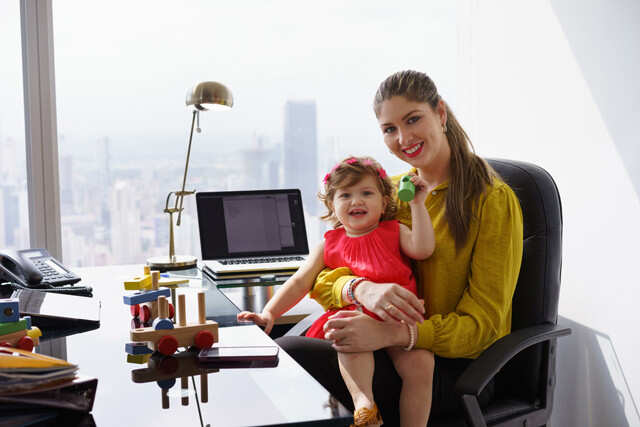 Image: Shutterstock

Baby's Day Out (In Office)
Many corporates have day-care centres near their offices or even allow employees to bring their kids to the office occasionally. See if you can then take your kids to your workplace; let them see your commitments and the extra pressure you take at work. Allow them to help you and take your stress away with their jokes, smiles, or even hugs. Kids are much smarter than we think and it's ideal to let them know how you manage your time.
Quick Getaways
Being an entrepreneur, you cannot afford to take a long break. So, try to spend at least one day a week with your family. If possible, stay away from your computer and emails to protect your family time and spend some quality time with loved ones. Always remember, you are never too old to play with your kids or let them defeat you in their games. Being a mompreneur is a roller coaster ride, and it is okay to slow down and learn from your mistakes. 
Sources:
https://www.femina.in/wellness/7-tips-to-stop-complaining-and-being-happier-232565.html
https://www.verywellmind.com/tips-to-reduce-3145195
https://www.femina.in/wellness/health/a-lifestyle-guide-for-mompreneurs-to-strike-work-life-balance-228983.html
https://www.binghamton.edu/its/blog/Stress%20Relief%20Tips%20for%20Keeping%20your%20Calm%20During%20COVID-19%20Quarantine.html