Modern Christmas lore is expansive enough to fill an encyclopedia. We've got songs about reindeer and snowmen, weird elf traditions, and letters to Santa. But how much do we really know about Mrs. Claus?
The Secret History of Mrs. Claus
Marriage is a relatively new gig for Santa Claus. There's no record of his original incarnation, Bishop of Myra St. Nicholas, having a wife. Although it's not impossible for a fourth century Turkish bishop to have had a wife, the figure would expand and morph until, by the end of the 18th century, the bishop had transitioned into a full-time behavior monitor, jolly-maker, and bringer of toys.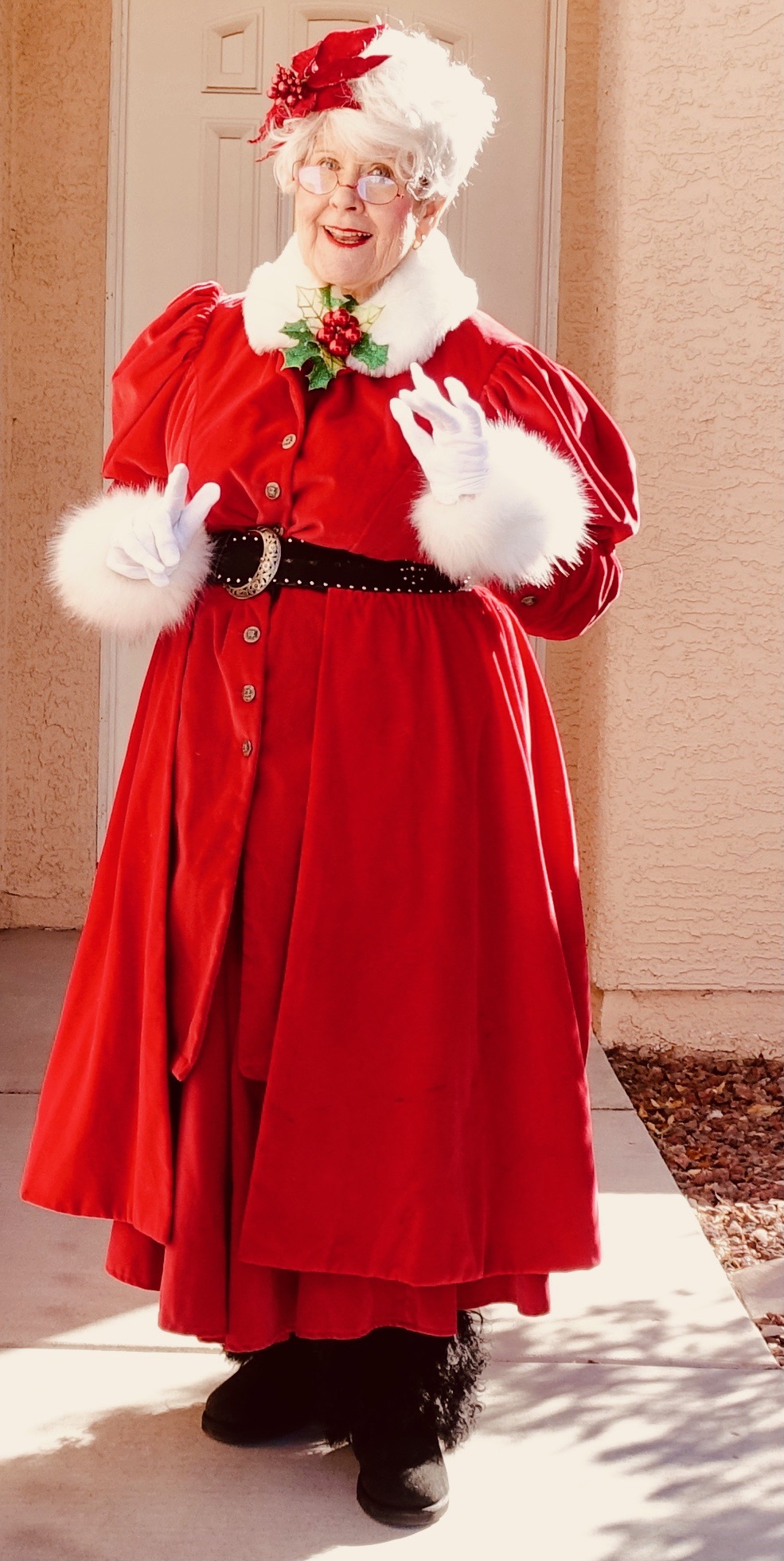 But even mythological love affairs don't just pop up overnight. It would be years and years before Santa found his lady. The first mention of Mrs. Claus appears in the 1849 short story "A Christmas Legend" by missionary James Rees, in which a couple disguise themselves, angel-like, as travelers, and seek shelter with a family. As it turns out, the two strangers are not the Clauses at all, but long-lost family members in double disguise. Still, real or not real, Rees had created a legend.
Over the next few decades, the legend took shape. Mentions of Mrs. Claus appeared in short stories, poems, and songs. She also began accompanying her husband to Christmas parties. Some reported that she dressed in red; others, like the architect/narrator in E.C. Gardner's 1887 fanciful essay "A Hickory Back-Log," decked her out in green and plaid while simultaneously debating himself about her existence:
… if there is a patron saint who presides over this day which the nation devotes to feasting and giving thanks, as Santa Claus presides over the Christmas holidays, and if he has a wife, which of course he must have or he can't be much of a saint, then this was the person who stood before me.
That person, "keen and nervous, but benignant," has come to the narrator with a list of complaints about the hazards of contemporary kitchen design, and she intends to get through the entire thing. Several times the architect attempts to speak; each time, Mrs. Claus smacks him down. "Don't interrupt me," she says.
Perhaps as a foil for Santa's benevolence and cheer, Mrs. Claus continued to develop a blunt, take-charge attitude. While often sweet and helpful, she was also feisty. The Mrs. Claus of "America the Beautiful" writer Katharine Lee Bates's 1889 poem "Goody Santa Claus on a Sleigh Ride" demands to accompany her husband on his rounds and wants to deliver the toys herself.
Home to womankind is suited? Nonsense, Goodman! Let our fruited Orchards answer for the value of a woman out-of-doors. Why then bid me chase the thunder, while the roof you're safely under, All to fashion fire-crackers with the lighting in their cores? See! I've fetched my snow-flake bonnet, with the sunrise ribbons on it; I've not worn it since we fled from Fairyland our wedding day; How we sped through iceberg porches with the Northern Lights for torches! You were young and slender, Santa, and we had this very sleigh. Jump in quick then? That's my bonny. Hey down derry! Nonny nonny! While I tie your fur cap closer, I will kiss your ruddy chin. I'm so pleased I fall to singing, just as sleigh-bells take to ringing! Are the cloud-spun lap-robes ready? Tirra-lirra! Tuck me in.
(He did.)
Over the last hundred-plus years, Mrs. Claus seems to have mellowed. These days she's often depicted as a plump, cheerful helpmeet, filling Santa's Thermos with cocoa and waving goodbye as his sleigh ascends. But no marriage is that simple. Mrs. Claus was a fireball once, and we like to think that, deep down, she still is.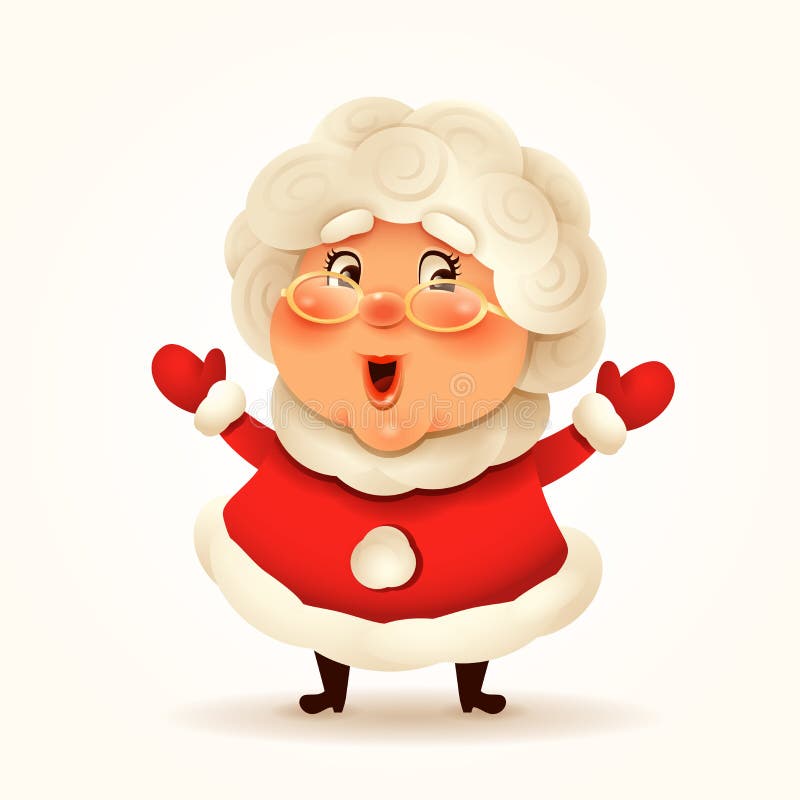 Does Mrs. Claus Have a Life of Her Own?
What is the first name of Santa Claus' wife?
Trick question. Not only does Mrs. Claus have no definitive first name, her identity is so tied up in that of her husband that she is best known for elf-wrangling, cookie baking, and assisting with toy assembly. Since she first emerged in the mid-19th century, Mrs. Claus has been a secondary character living in the shadow of her famous, workaholic husband. But along the way there have been glimmers of who she is as an independent person–and even a few suggestions for what her name could be.
One of the first hints of Mrs Claus' existence came in the 1878 children's book Lill's Travels in Santa Claus Land and Other Stories. In it, Lill, a young girl, goes for a stroll beyond the family orchard, encounters a wall that extends into the sky, and follows it to Santa Claus Land, where she encounters "a lady sitting by a golden desk, writing in a large book."
This unnamed woman, whom Lill's sister, Effie, speculates is "Mrs. Santa Claus," is essentially Santa's secretary. Lill watches as the big man in red spies on children through a telescope, then dictates his naughty-or-nice observations for the apparent Mrs. Claus to transcribe. An accompanying illustration shows the scene: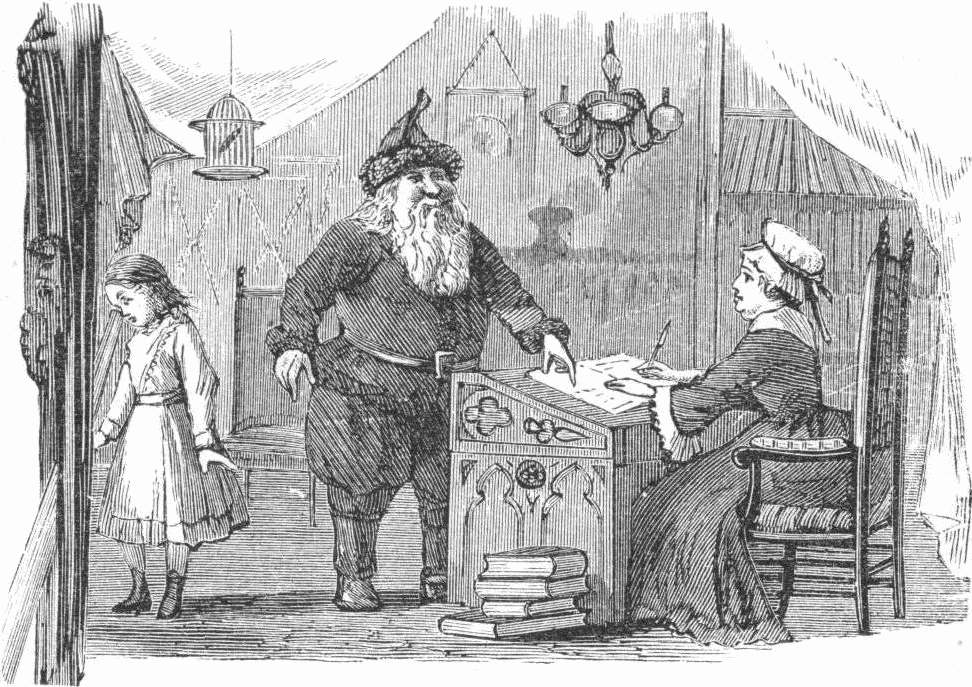 After lurking in the background of Santa-focused tales for a few decades, Mrs. Claus finally got a starring role in "Goody Santa Claus on a Sleigh Ride," an 1889 poem by Katherine Lee Bates. The poem is told from the perspective of Mrs. Claus herself, who is given a name of sorts: Goody, which is short for Goodwife, a polite form of address once used in place of "Mrs."
Goody has a few bones to pick with her jolly old husband. Bates depicts her as a dutiful wife prone to asking the odd passive-aggressive question. "Santa, wouldn't it be pleasant to surprise me with a present?" she asks, having laid out the fact that Santa gets "all the glory of the joyous Christmas story" while "poor little Goody Santa Claus" gets "nothing but the work." Two stanzas later, the resentment gets more intense:
You just sit here and grow chubby off the goodies in my cubby
From December to December, till your white beard sweeps your knees;
For you must allow, my Goodman, that you're but a lazy woodman
And rely on me to foster all our fruitful Christmas trees.
Eventually, Goody convinces Santa to let her come on his Christmas Eve present delivery run, during which she fulfills her dream of descending a chimney to mend the hole-filled socks of a poverty-stricken child. Live it up, Goody.
In the 20th century, tales focusing on Mrs Claus tended to tell the same general story: Santa's wife takes his sleigh on Christmas Eve, either sneakily while he is asleep, or by necessity due to him being incapacitated by illness or injury. She dresses in his clothes, stuffs her shirt with pillows, and makes the global round of deliveries, often screwing things up along the way by mixing up the presents—but in an endearing, forgivable manner.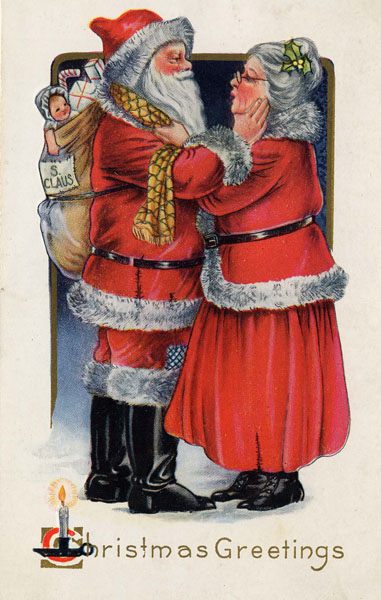 This "Mrs Claus delivers presents while Santa is indisposed" trope was established in a 1914 one-act comedic play entitled Mrs. Santa Claus, Militant. In this story, Mrs. Claus goes rogue and steals the sleigh while Santa sleeps, having gotten fed up with receiving no recognition for her hard work:
Here I sit year after year in Iceland dressing dolls and making candy bags and aprons and slippers and caps and what-not, and when they are all done Mr. Santa Claus just packs them in his sleigh and hitches his deer and away he goes to have all the fun and all the thanks. (Laughs merrily.)
Having discovered her ruse and chased her down, Santa resolves to take Mrs Claus—whom he refers to as "my helpmate"—along for the ride on all future Christmas deliveries. A similar storyline unfolds in the 1923 book The Great Adventure of Mrs. Santa Claus, as well as the 1963 poem, "How Mrs. Santa Claus Saved Christmas," in which the "cozy, rosy, grandmotherly" woman accidentally delivers "ribbons to tomboys" and toy dump trucks to doll-loving girls. In all of these works, Mrs. Claus remains unnamed.
The most radical image shift for Mrs. Claus came in the 1970 Rankin/Bass stop-motion Christmas special Santa Claus is Comin' to Town. 
The program tells the story of Kris Kringle, a plucky redheaded guy voiced by Mickey Rooney who goes on to become Santa Claus. In the tale, Kringle travels to Sombertown, a grey-hued bummer of a place in which toys have been outlawed. There he meets a school teacher named Miss Jessica who will eventually become his Mrs. Claus. Santa's main squeeze goes from being a kindly, put-upon grandmother type to a fetching young fashionista with a real first name and a sleek red Vidal Sassoon-style coif.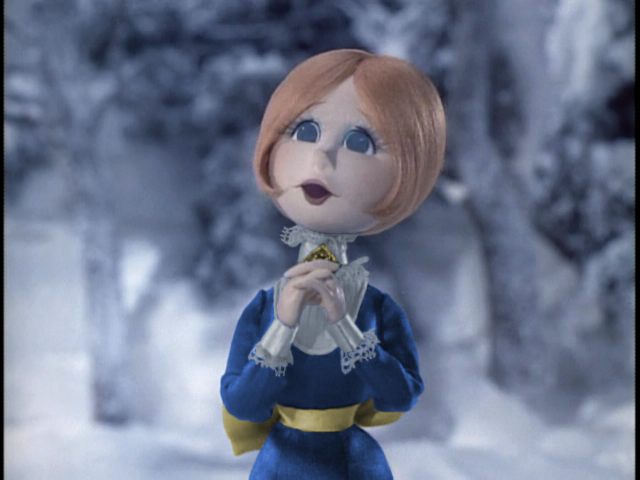 The Rankin/Bass depiction of Mrs. Claus as a hip chick with a beehive is something of an anomaly, but it did usher in stories of Mrs. Claus that give her a fuller life of her own. The 21st century has thus far shown a greater appreciation for Mrs. Claus as main character in books like A Bit of Applause for Mrs. Claus (2003), The Story of Mrs. Santa Claus (2007), and What Does Mrs. Claus Do? (2008).
As for her name, Mrs. Claus was called Anna in a 1996 made-for-TV film starring Angela Lansbury–though the title of the film was Mrs. Santa Claus. (The plot also follows the same old "Mrs. Claus, feeling neglected, takes the sleigh out for a joyride" story.) A 2011 children's book about the origin story of Mrs. Claus dubbed her Annalina, while in Jeff Guinn's 2006 book, The Autobiography of Santa Claus, Santa refers to his wife as Layla.
"She's a much more interesting person than the meek little lady people usually picture," he assures.
Remembering When Mrs. Claus Cracked the North Pole's Glass Ceiling
CLEMENT CLARKE MOORE'S 1823 POEM "Account of a Visit from St. Nicholas" redefined Christmas in America. As historian Steven Nissenbaum explains in The Battle for Christmas, Moore's secular St. Nick weakened the holiday's religious associations, transforming it into a familial celebration that culminated in Santa Claus's toy deliveries on Christmas Eve.
Nineteenth-century writers, journalists, and artists were quick to fill in details about Santa that Moore's poem left out: a toy workshop, a home at the North Pole and a naughty-or-nice list. They also decided that Santa Claus wasn't a bachelor; he was married to Mrs. Claus.
Yet scholars tend to overlook the evolution of Santa Claus's spouse. You'll see brief references to a handful of late-19th-century Mrs. Claus poems, especially Katharine Lee Bates' 1888 "Goody Santa Claus on a Sleigh Ride."
But as I discovered when I began work on a class about Christmas in literature, the writers who created Mrs. Claus were not just interested in filling in the blanks of Santa's personal life. The poems and stories about Mrs. Claus that appeared in newspapers and popular periodicals spoke to women's central role in the Christmas holiday. The character also provided a canvas to explore contemporary debates about gender and politics.
Christmas in 19th-century America depended on women's time and labor: Women prepared family celebrations, organized community and church events, and worked in industries that fed seasonal demand for cards, toys, and clothing. This work was both essential and, at times, exhausting. As the century drew to a close, the Ladies' Home Journal urged its readers not to "tire themselves out preparing for Christmas."
Many literary depictions of Mrs. Claus paid tribute to the long hours, practical know-how, and managerial skills that women's holiday preparations required. Sara Conant's 1875 short story "Mr. and Mrs. Santa Claus," which appeared in an 1875 issue of Western Rural: Weekly Journal for the Farm & Fireside, celebrated these efforts by describing Mrs. Claus working alongside women across America as they cooked, cleaned, and sewed. In Ada Shelton's 1885 story "In Santa Claus Land," Santa acknowledged his debt to Mrs. Claus: Without her hard work, he could "never get through" the Christmas season.
But on Christmas Eve, Mrs. Claus hit the North Pole's glass ceiling. For Conant, Mrs. Claus was as "indispensable" as Santa, an equal partner in the "joint work" of preparing for holiday festivities. Still, in most Mrs. Claus literature, Santa traveled the world filling stockings while Mrs. Claus stayed home to await his return. In 1884's "Mrs. Santa Claus Asserts Herself," Sarah J. Burke's tearful Mrs. Claus, ignored by Santa and his fans, is left to "cower alone" clasping the fingers she'd "worked to the bone" as Santa speeds off on his sleigh.
A few writers did, however, reward Mrs. Claus's hard work with a sleigh ride of her own.
A few writers did, however, reward Mrs. Claus' hard work with a sleigh ride of her own. Georgia Grey's 1874 short story "Mrs. Santa Claus's Ride" allows Mrs. Claus to venture out alone, but only after Santa—adamantly "not a woman's rights man"—makes her promise to remain unseen. To avoid questioning Santa's authority or the belief that women belonged at home, the anonymous author of the 1880 tale "Mrs. Santa Claus's Christmas-Eve" manufactures an emergency: Santa has taken off without some dolls, so Mrs. Claus must saddle Blitzen and deliver them.
Other writers were less willing to allow Mrs. Claus to step outside the home. Negative representations of her Christmas Eve travels reflected backlash against women's demands for independence and the vote. The majority of Mrs. Claus writing took place after the Civil War, alongside state and national efforts to grant voting rights to women.
Publications geared toward women didn't necessarily advocate for more rights and political power. In 1871, the popular woman's magazine Godey's Lady's Book published an anti-suffrage petition addressed to Congress and signed by a number of prominent women, with Godey's female editor, Sarah Hale, encouraging readers to collect additional signatures. Like Georgia Grey's Santa, the petition argued that women's place was in the home, not in public.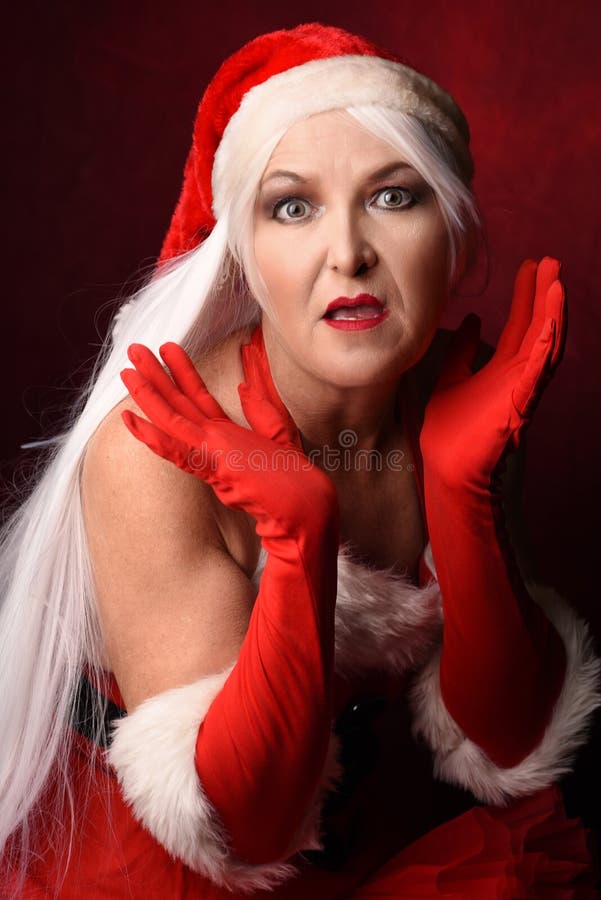 Charles S. Dickinson's "Mrs. Santa Claus's Adventure," which appeared in the Dec. 1, 1871, issue of Wood's Household Magazine, offered a cautionary tale for disobedient wives. Refusing to believe that some children were too naughty to visit, Mrs. Claus trades places with Santa on Christmas Eve. But when she attempts to climb down chimneys to deliver gifts, she is attacked by "hateful imps" that embody children's "naughty words and deeds." Depicting Mrs. Claus' advocacy for children as unrealistic and naive, Dickinson echoes anti-suffrage arguments that emphasized the dangers awaiting women who abandoned the home.
M.B. Horton's "A New Departure" took its title from the National Woman Suffrage Association's failed strategy to register women voters. The 1879 story—published, like the anti-suffrage petition, in Godey's Lady's Book—discredits women's rights activists through its negative portrayal of Mrs. Claus, called "Mrs. St. Nicholas" in this telling. Jealous of Santa's fame, Mrs. St. Nick tries to deliver gifts in his place, but her plot to usurp Santa's role as gift-giver fails when Santa tricks her into delivering a sack of worthless, embarrassing goods.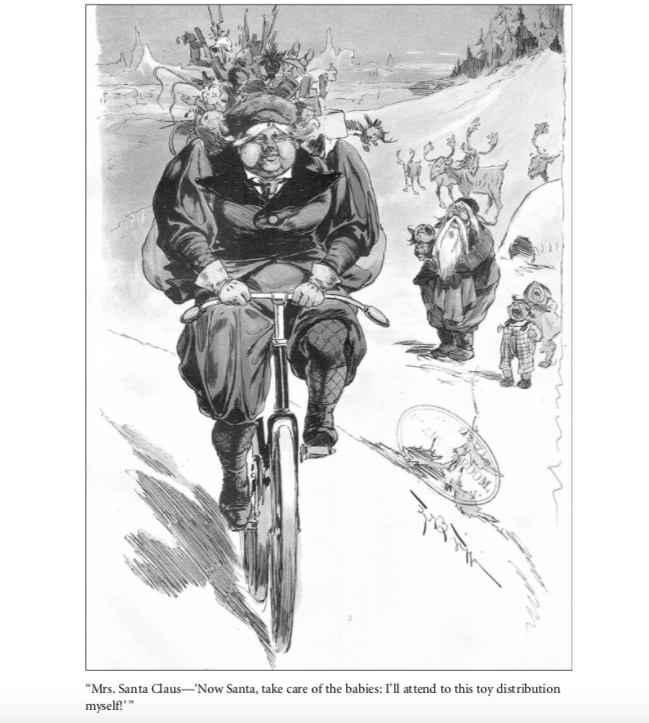 Mrs. Claus seems an unlikely target of anti-suffrage propaganda, but her association with the ultimate domestic holiday made the idea of an independent Mrs. Claus especially shocking.
Nineteenth-century writing about Mrs. Claus focused primarily on her work ethic and whether that work would ever allow her a share of Santa's Christmas limelight. But scholar and suffragist Katharine Lee Bates, best known as the author of "America the Beautiful," took a different tack: She gave Mrs. Claus a voice and personality of her own.
Drawing upon elements of previous Mrs. Claus literature, Bates's "Goody Santa Claus on A Sleigh Ride" creates an outspoken Mrs. Claus who loves her work and her husband—and is not about to be left behind when Santa makes his deliveries. Like Burke's despondent Mrs. Claus, Bates' Claus—whose title, Goody, stands in for "Mrs."—begins her monologue with a question: Why does Santa get "all the glory" while she has "nothing but work"?
"Goody Santa Claus on a Sleigh-Ride" first appeared in the children's periodical Wide Awake. While the illustrations cast Mrs. Claus as affectionate, grandmotherly and nonthreatening, Bates's text reveals the powerhouse behind Goody's meek exterior.
Most Mrs. Claus literature highlights her domesticity, but Bates's Goody is equally adept at housework and outdoor chores. As Santa snacks on Christmas treats and relaxes by the fire, Goody tends Christmas trees, an orchard and toy-growing plants; she also raises livestock and takes on the risky-sounding task of chasing thunder to "fashion fire-crackers with the lightning."
Although Santa allows Goody to ride beside him, her North Pole work resume isn't enough to convince him that she has enough "brain" to fill a stocking, and he fears that seeing her climb a chimney would "give his nerves a shock." Left alone on the rooftop while Santa does his work, Mrs. Claus is on the outside looking in as she peers through the skylight.
But the holes in a poor child's Christmas stocking stop Santa in his tracks: Sewing was Mrs. Claus' department. Seizing her chance to shine, Goody mends the sock, proving the value of women's work and breaking Santa's rules about chimney-climbing and stocking-filling in the process.
The themes and plots of 19th-century Mrs. Claus writing—including stealth sleigh rides—reappear in Mrs. Claus narratives to this day, and for good reason. Katharine Bates's thunder-chasing, bonnet-wearing, sweet-talking Goody—and the many Mrs. Clauses who came before her—still speak to every woman who has ever dreamed of a little rest, a little recognition, and a seat in the sleigh.
Mrs. Santa Claus- A Strong and Supportive Woman for All Seasons
​
Mrs. Santa Claus has been a part of both the oral and written Santa Claus story as long as Santa himself, but in some centuries she has been a silent partner. She has been pictured as a smiling, plump, good natured, stay- at- home and back ground wife offering cookies and moral support to Santa Claus as he fulfills his toy delivering responsibilities around the world. Through the years besides answering to the name of Mrs. Santa Claus, she has also answered to other names including Amelia, Jessica, Mary and Anna.
Mrs. Santa Claus hasn't always been content to remain an anonymous, silent and often overlooked part of Christmas. Sometimes her transformation and voice have changed so gradually that it takes many Christmas seasons to recognize the change. Often, Mrs. Santa Claus magically changes her personality to reflect her society and her society often reinvents her every Christmas season. Fragments of her history and personality appear in every Christmas season.
Mrs. Santa Claus Stepped Out of Santa's Shadow
One of Mrs. Santa's first appearances in literature occurred in an 1849 short story by James Rees, a Christian missionary living in Philadelphia. His story, A Christmas Legend, took place on Christmas Eve when Robert Paxson, and his wife Gertrude offered shelter to two weary travelers bent under the weight of the packs they carried on their backs. Robert and Gertrude were sad because they had no Christmas presents for their children. They couldn't pay their rent and they expected the landlord to come and evict them from their home on Christmas Day. John, their ten year old son fetched some shabby wooden chairs for the guests and their daughter, seven year old Jane, hung up her stocking hoping that Santa Claus would visit even their humble home.
After enjoying a good meal, good conversation and a warm fire, the travelers and the Paxson family went to bed. The next morning when the children Jane and John, woke up, they found Jane's full stocking and gifts for John as well. To their amazement, Robert and Gertrude discovered that the couple was not merely "old Santa Claus and his wife", but Amelia, their oldest daughter and her husband William Sandford who had eloped on Christmas Eve seven years before. After surviving a dissipated youth, William matured and turned out to be an English heir. The family was reunited and their fortunes vastly improved. The Paxson's daughter Amelia and her husband William Sandford were Santa and Mrs. Santa in this story. James Rees depicted Mrs. Santa/ Amelia as kind, generous, and forgiving and as the traditional wife and helpmate, the ideal woman at the time. American magazines have briefly noted Mrs. Santa. In 1851, The Yale Literary Magazine featured a story by student author A.B. who described Santa Claus attending a Christmas party. A.B. wrote that Santa Claus, that "jolly, fat and funny old elf," had done his best to be fantastically dressed "and we should think, had Mrs. Santa Claus to help him."
An 1854 story in The Opal about a Christmas musicale at the State Lunatic Asylum in Utica, New York, featured Mrs. Santa Claus appearing at a Christmas party. After Mrs. Santa Claus had smilingly greeted the group, a lady handed her a baby and Mrs. Santa waltzed around the room with the baby in her arms. An 1862 Editor's Arm Chair essay in Harper's Magazine compared a rich lady who provides a Christmas tree to poor children to Mrs. Santa Claus.
Katherine Lee Bates Revealed Goody Santa Claus' Feminist Side Author and poet Katherine Lee Bates transformed Mrs. Santa Claus into a woman with a mind and personality of her own. Most famous for her poem America the Beautiful, Katherine Lee Bates in her 1889 poem Goody Santa Claus on a Sleigh Ride, introduced a much more assertive Mrs. Santa Claus than had appeared in previous literature. Goody Santa Claus, short for Goodwife which means Mrs., used her wifely wiles to convince Santa Claus to take her along on his Christmas Eve sleigh ride to pay her back for tending the Christmas trees, the Thanksgiving turkeys, and the chickens that laid Easter eggs. She asked him, "Why should you have all the glory of the joyous Christmas story, And poor little Goody Santa Claus have nothing but the work?"
Goody Santa Claus painted a pretty word picture of herself and Santa snuggling cozily the sleigh like "two loving snowballs in fuzzy Arctic furs," with sleigh bells jingling in the background. Then she emphasized the reality that Santa continued to get fat from her cooking and lack of exercise while he sent her out to take care of the Christmas trees. She pointed out to him that she performed all of the necessary tasks to get him and his toys ready for Christmas Eve. Santa received all of the credit for her hard work and she didn't want to stay home working as the silent partner any longer. As Goody Santa Claus put it: "Home to womankind is suited? Nonsense, Goodman!"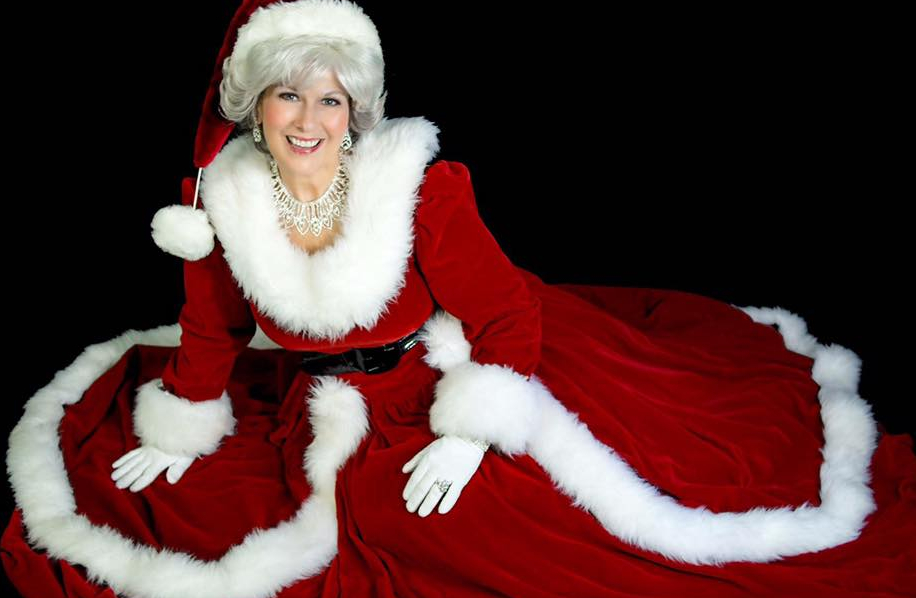 Santa Claus relented and took Goody Santa Claus along, but while Santa Claus climbed up and down chimneys delivering gifts, he left her waiting in the sleigh steadying the reindeer. Growing tired of sitting in the sleigh, Goody Santa Claus reminded Santa Claus that although she had worn her snowflake wedding bonnet for the first time since their wedding, it had not lost any of its magical properties. Finally convincing Goodman Santa to allow her to climb down a chimney, Goody Santa Claus used an icicle for a needle and threaded it with the last pale moonbeam to darn an orphan's Christmas stocking. After she finished darning the stocking, Goody Santa filled it with gifts. When their shared tasks were finished, Santa and Mrs. Santa headed home. Goody Santa Claus told Goodman Santa Claus that she considered herself "the gladdest of the glad" because "her own sweet will" has prevailed.
Katharine Lee Bates who imagined the Goody Santa Claus version of Mrs. Santa Claus infused much of her own personality into Goody Santa Claus, remarkably so, because Katharine Lee Bates lived in a Victorian world that wasn't comfortable with a strong women like Goody Claus. Most men in 1889 considered women who were as capable as men threats or devoid of "womanly" qualities. Women didn't win the right to vote until 1919. Katharine Lee Bates imagined and wrote her anti-war and women's issues poems far ahead of her time and her depiction of Mrs. Santa Claus as a strong woman with determination and power is timeless.
Goody Santa Claus didn't guide the sleigh down a straight but slippery road into the 21st century; instead, she and her sleight hit speed bumps and took a few detours during her journey. Since 1889, Mrs. Santa Claus has been pictured in literature and movies as a plump, kind, white haired, cookie baking wife. Sometimes she helped Santa make toys and supervised his elves, but she didn't serve on the front lines of Christmas. The vision of Katharine Lee Bates of Goody Santa Claus and her partnership with Santa in making Christmas possible slowly filtered into Christmas customs.
In the following decades, Mrs. Santa Claus and her husband became part of a Christmas culture of books, movies, and television programs Mrs. Santa Claus Again Changes with the Times Another book, this time a book published in the 1960s, reaffirmed the role of Mrs. Santa Claus for new generations of children and adults. Phyllis McGinley in her book How Mrs. Santa Claus Saved Christmas, once again gave Mrs. Santa Claus commanding role in her husband's life and his impact on Christmas.
In the 1970 movie Santa Claus is Coming to Town, Mrs. Claus assumed the role of a teacher named Jessica who first met Santa Claus, known as Kris Kringle, as a young man trying to illegally deliver toys to a town controlled by a dictator. Jessica helped Santa and they fell in love and got married in the nearby forest. In 1974, Mrs. Santa played a larger role in The Year Without a Santa Claus when she worked to change Santa's mind about staying home for Christmas that year because he felt that no one appreciated or believed in him any longer. She finally proved to him that the Christmas spirit still existed in the world and he needed to continue Christmas.
Mrs. Santa Claus showed a strong feminist facet of her personality again in a 1996 television musical called Mrs. Santa Claus. Angela Lansbury played Mrs. Santa Claus who in 1910 no longer felt the magic of being married to Santa Claus and decided to take charge of her own life. Tired of feeling neglected and lonely at the remote North Pole and weary of living in Santa's shadow, Mrs. Claus decided to change her life. She devised an alternative delivery route for Christmas Eve and set out with the sleigh and reindeer to test it out. A rogue wind plopped the sleigh in the middle of Manhattan's multi-cultural Lower East side, and Cupid, one of the reindeer, hurt his leg. Mrs. Claus had to stay where they landed until Cupid's leg healed, and they stayed at the home of a Jewish family who didn't celebrate Christmas. Mrs. Santa ultimately led a suffragist parade to win women the vote and organized the children in a toy factory to fight for child labor laws.
Back at the North Pole, Santa's head elf, Arvo, comforted a remorseful Santa. Eventually, Mrs. Santa returned to the North Pole and a welcoming, more sensitive and aware Santa. Santa Clause, The Santa Clause 2, and The Santa Clause 3: The Escape Clause featured a strong, independent Mrs. Claus who knew her own mind and successfully dealt with being Mrs. Claus, motherhood, and an eccentric husband.
In her movie as well as her literary career, Mrs. Claus is increasingly liberated and her own modern person, but her personality rests on a foundation of serenity, kindness and patience. She often serves as a steadying influence to the more excitable Santa Claus Christmas present is still dominated by classic male figures including Santa Claus, the male reindeer, The Little Drummer Boy, and the other colorful and beloved Christmas cast of characters. Using her wit, intelligence, and determination, not to mention her domestic skills, Mrs. Santa Claus has managed to maintain a female Christmas space for herself on her own terms.
Sources:
https://www.mentalfloss.com/article/90113/secret-history-mrs-claus
https://www.atlasobscura.com/articles/does-mrs-claus-have-a-life-of-her-own
https://www.atlasobscura.com/articles/mrs-claus-literature
https://historybecauseitshere.weebly.com/mrs-santa-claus–a-strong-and-supportive.html